Experts: Should You Dip Into Your Emergency Fund for Holiday Gifts?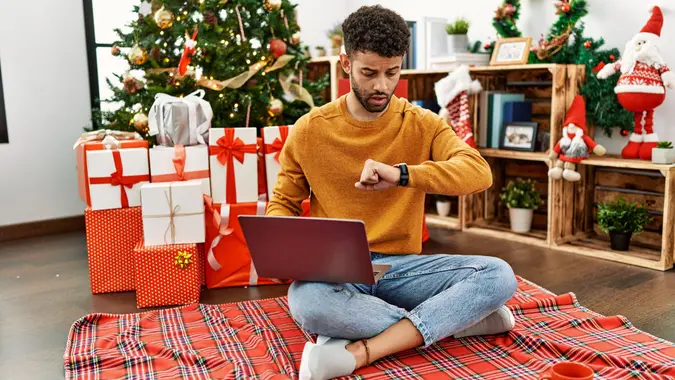 AaronAmat / iStock.com
Holiday shoppers feeling the pinch of inflation this year may be tempted to pay for gifts using the money in their emergency fund. Despite feeling pressured to do it for the purpose of having the best holiday ever, the general recommendation is to avoid this impulse as much as possible. Here's why it isn't a good idea to use your emergency fund to pay for holiday gifts.
Why You Shouldn't Use an Emergency Fund for Holiday Gifts
Let's revisit the definition of an emergency fund. This is where you set aside at least three to six months' worth of savings as your financial safety net. You can easily access these funds in the event of a true emergency. 
An emergency is generally determined by being in an unexpected or urgent situation in which you need extra money to stay financially afloat. Some common emergency situations include the loss of a job, medical emergencies and unexpected car or home repairs.
Holiday presents are not an emergency expense. While it can be tempting to see emergency savings as cash on-hand to manage through the holiday season, one needs to ask themselves a key question before dipping into the fund, said Michael Liersch, Ph.D. in behavioral science and head of advice and planning for Wells Fargo Wealth and Investment Management.
This is the question: If you need the money in an emergency fund to fix an appliance, heat your home, repair a roof, pay rent (due to job loss) or go to the emergency room, would you regret spending the money on presents for others?
Make Your Money Work for You
What Should You Do If You Can't Pay for Presents?
If you cannot afford to buy presents this year, Liersch recommends considering other ways to give gifts. A few ideas include making ornaments for people's trees with inexpensive materials sold at the craft store, giving the gift of time spent with others, making a homemade card or hosting people at your home for a meal shared by many like a stew.
You can also host a gift exchange with family or friends. Assign everyone a dollar limit for gifts, like $20 to $50 tops, and buy something fun or thoughtful. Gather together and create rules to open gifts, trade them and make the exchange exciting and festive. Participating in this exchange, Liersch said, allows each person to leave with a gift, the holiday spirit and warm memories.
What if you have children? While this type of gift exchange may work for adults, it can be more challenging when gift-giving to children. Liersch said to ensure you have a budget and focus on needs while carefully evaluating wants.
"Stuffing stockings with small, but practical, gifts like toothbrushes, soap and snacks is a tradition many families have which lowers cost, yet still makes it fun to open presents," Liersch said.
Smarter Holiday Spending Approaches
Instead of tapping into an emergency fund to pay for holiday gifts, get smart about your holiday spending.  Jacob Ayoub, VP of consumer and competitive insights at Discover, recommends making these savvy money moves.
Setting a Holiday Budget
Create and outline a budget that will keep you on track while spending for holiday shopping purposes. Ayoub said your holiday budget should include not only gifts but other costs such as greeting cards, decorations, travel, lodging and food.
Make Your Money Work for You
Leverage and Maximize Your Credit Card Rewards
"Consider redeeming your credit card rewards for gift buying or cashing them in for statement credits," Ayoub said. "Take advantage of points which can be used for future purchases."
Shop Sales
Keep tabs on upcoming promotions at retailers where you do your holiday shopping and see if you can find a gift for everyone on your wish list for less. Ayoub recommends conducting an online search for the gifts you're looking to buy to find which retailers are selling the items at the lowest price.
More From GOBankingRates