Experts: Why You Should Save for the Holidays 3 Months in Advance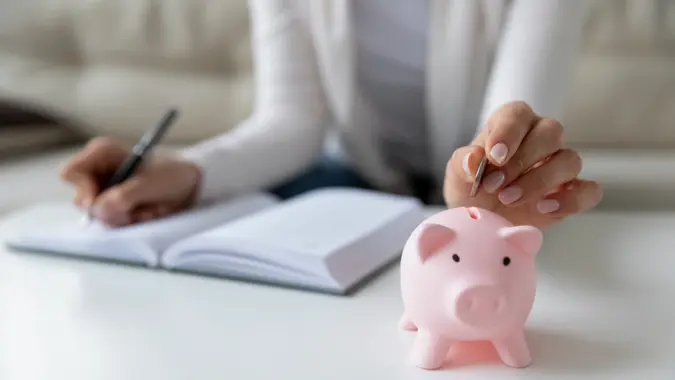 fizkes / Getty Images/iStockphoto
While most of us are still sweating it out in the dog days of summer, retailers are already planning their holiday layouts. From tree displays to the season's must-have gifts, the shelves will be lined with everything merry and bright in no time. With record high inflation, this year may be the right year to make some changes in your holiday spending habits.
Important: How Much Cash To Have Stashed at Home at All Times
Find Out: This Credit Score Mistake Could Be Costing Millions of Americans
Our experts recommend saving at least three months in advance for holiday purchases. All agree that planning and budgeting can help you avoid post-holiday blues or buyer's remorse. According to the National Retail Federation, in 2021, people planned to spend, on average, $998 on gifts and other items around the holidays. Given that few people have an extra thousand dollars or more just lying around, putting away money ahead of time can help alleviate the financial hardship and headache that the holidays can create.
Make Your Money Work for You
Avoiding Added Stress
Holidays are stressful; whether you're hosting a crowd or having to attend a family function, they can be mentally and physically draining. However, they don't have to be financially draining as well. Saving three months in advance can help ensure that you don't deplete your bank account. 
Removing last-minute shopping from your list means one less stress. Taking the time to lay out precisely what you want to spend and what you want to spend it on will help you avoid adding any more to your already overloaded plate. 
According to the National Retail Federation, consumers have started shopping earlier and earlier. Over 60% of holiday shoppers start in early November, compared to 51% a decade ago. The early shopping trend is believed to have taken hold so that people can "spread out their budgets and avoid the stress of holiday shopping."
Take Our Poll: What's the Table Time Limit on a $400 Restaurant Meal?
Make Your Money Work for You
Preventing Overspending
In addition to avoiding additional stress, saving three months in advance can help stop you from overspending. Waiting until the last minute may put you in desperation mode, meaning you'll pay a higher price because you don't have any more time to shop around. 
Jonathan Cusimano, in-house head of FX for Statrys, recommends that you "track your progress so that you are aware of how much you have already saved." He said this can be achieved through a traditional spreadsheet or a thermometer chart, "which could be a fun and accurate way to track your savings and help you meet your goals." He further suggests for people who are struggling to save enough to "reduce monthly expenses that are unnecessary," such as "lessening restaurant visits and canceling unused monthly subscriptions."
Finding the Best Deals
Another reason to start saving early is that you may be able to find better deals. If you start saving early enough, "you can better capitalize on deals offered for Labor Day and Black Friday," said Kristin Lee, a budgeting expert and author of the travel blog Global Travel Escapades, which focuses on making travel more accessible.
Lee warns consumers, "Businesses know last-minute shoppers are willing to pay higher prices for items because they are desperate to get the perfect gift." Consumers waiting until the last minute will "likely pay a premium or get a worse deal." 
Make Your Money Work for You
It isn't only gifts that come with a better price tag the earlier you start shopping; things like hotels and airfare may be cheaper too. So if your holiday expenses include a vacation, the three-month savings plan will really pay off. 
Reaching Your Financial Goals
Finally, saving in advance for the holidays can go a long way in helping you achieve your goals. Kelly Richards, co-founder and finance expert at Cashfloat, recommends the savings plan, noting, "It's a more manageable way to reach your financial goals, especially when you have other essential needs and bills to pay. It helps ensure you don't cut on your gifts and other expenses during the holidays."
And it may not just be in the short term; planning ahead can help you keep your long-term goals achievable too. By preparing a budget and sticking to it, you are less likely to overspend, meaning that money goes where you want it instead of on a last-minute, overpriced gift. If you need help using only the money that you have set aside, consider opening a holiday savings account. It can help you keep track of your spending and may make it easier to hold yourself accountable. Happy saving and shopping!
More From GOBankingRates
Make Your Money Work for You