How To Host a Safe and Affordable Friendsgiving

5 min Read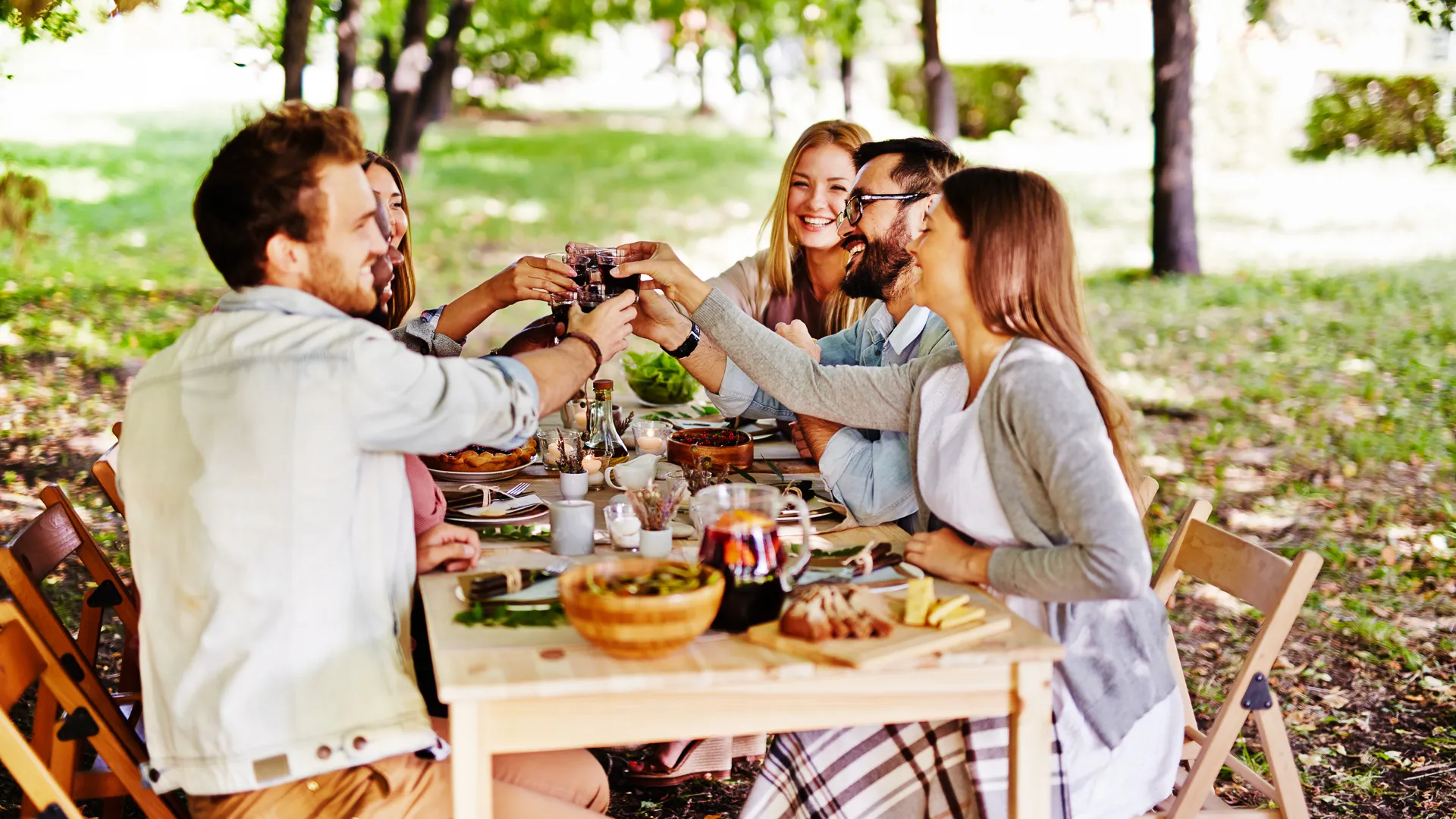 Thanksgiving is usually one of the busiest travel times of the year, but that doesn't mean everyone gets to leave town. And this year, travelers should opt not to go anywhere, heeding advice to stay home and stay safe amid the COVID-19 pandemic. Here's how to safely hosting a Friendsgiving celebration with some close pals in honor of Turkey Day.
Often scheduled for the day before or after Thanksgiving, Friendsgiving events feature great food and better company. However, they aren't necessarily cheap. In fact, the average cost of Thanksgiving dinner for 10 — not including alcoholic beverages — will be just under $47 this year, according to the Farm Bureau.
The pandemic requires creativity in order to design a Friendsgiving celebration with safety in mind. According to the CDC, small household gatherings are a key factor in the rise in COVID-19 cases. Gatherings take forethought, but they can be done. Here are ways to celebrate with friends safely and affordably.
Last updated: Nov 20, 2020
Make Your Money Work for You
Have a Virtual Friendsgiving
We're all living online these days due to the pandemic, so why can't you also have a Friendsgiving via Zoom or some other virtual platform? If your friends are far-flung, as well, this would give more people the option to "meet" together online. Plus, by only having to make your own food, you'll save money, prep time and stress.
Host an Outdoor Picnic or Potluck
Depending on the weather where you live, an outdoor gathering might be the right option for your group. It might require some creative heating solutions, ranging from heat lamps to down jackets, but so long as there's not a blizzard or a rainstorm, a backyard or park might be the perfect setting for your gathering. This also could lend itself to a potluck-style meal, driving down the cost of food as each person brings a key dish.
Single-Serve Items
If you are going to gather in person and share food, it's best not to all serve yourselves from one big shareable dish. Instead, ask the dish bringers to package up their tasty items in individual portions. Or, designate a single server — masked and with very well-washed hands — to pass out the food rather than take the risks that a typical buffet presents.
Be Creative With Seating
If you are going to host an indoor gathering — or a partial-indoor, partial-outdoor gathering with a close group of friends you regularly interact with — you might need to get creative with how and where you seat them. People in a high-risk category should sit at a greater distance but still in a spot where they can enjoy the festivities. Members of the same household also should cluster together, with those from outside the household socially distancing. If your home doesn't offer the flexibility for social distancing, maybe you can ask a friend to host this year instead.
Make Your Money Work for You
Take Friendsgiving to Go
Buying all the Turkey Day fixings for a big group can be costly and impractical, especially if you have a reduced-size, in-person event. Consider getting food to go from a favorite local establishment, or even purchase a pre-made meal at your local grocery store or Costco. Then review all the tips provided about eating outdoors or arranging seating for safety.
Arrange a Socially Distant Food Delivery
If you're not feeling an in-person gathering would be safe, consider just stopping by to drop off dessert or a dish at a friend's house. With masks on, you can chat outside at a distance or wave from your car and share the bounty of whatever you've made. Perhaps arrange a dropoff with several friends so that you each share a dish and cut your food costs, too.
Don't Buy a Whole Turkey
Even if you do gather with friends, this might not be the year for cooking the big turkey. Instead, perhaps a turkey breast or two will be sufficient for your guests. You probably won't find yourselves all standing around the bird in the kitchen chatting this year, anyway, and people might not want to share dishes.
Avoid or Limit Travel
If your typical Friendsgiving has involved travel, you can save money and stay safe by not traveling by plane anywhere. You might consider limiting driving to other locations, especially if the COVID-19 numbers there are higher than where you live. The CDC warns that "airports, bus stations, train stations, public transport, gas stations, and rest stops are all places travelers can be exposed to the virus in the air and on surfaces." There's nothing wrong with staying home and using your creativity to plan a celebration, though.
Make Your Money Work for You
Limit Exposure
If you are going to gather in person, the CDC recommends you take all precautions possible to limit exposure. This includes excellent hand-washing and making hand sanitizers available. Don't touch your face. Wear a mask when you aren't eating. And stay 6 or more feet apart.
Volunteer for Others Going Without
There always are people who don't have enough to eat during the holidays, and the organizations that serve them don't stop during a pandemic. Consider putting your time, energy or money this holiday into volunteering for an organization that is feeding, clothing or housing those in need. Whether you volunteer your time (with all sanitation protocols in place) or you donate money, helping others will make you feel warm inside.
More From GOBankingRates
About the Author