3 Ingenious Ways To Save on Halloween This Year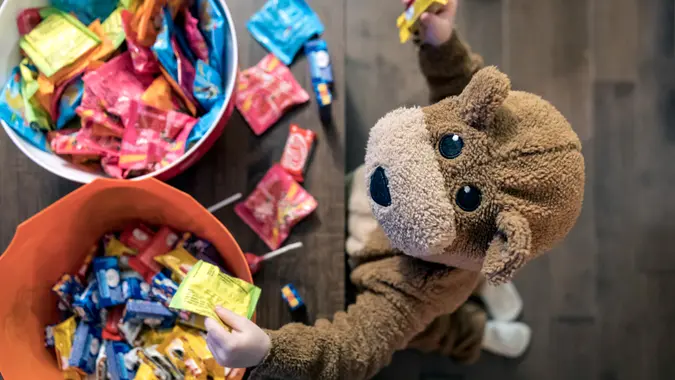 Onfokus / Getty Images
Halloween season is upon us again, and it promises to be livelier than the past few years, when the pandemic muted the fun. The National Retail Federation's annual survey showed that 69% of Americans plan to celebrate the holiday, up from 65% in 2021.
Households expect to spend a combined $10.6 billion this year – a record – on candy, costumes, decorations and greeting cards. And even with inflation and shrinking household budgets, you can find ways to save money on Halloween. These tips for slashing costs for costumes, candy and celebrations can help keep your holiday spending from turning nightmarish.
1. Find Cheap Halloween Costumes
Playing dress-up on Halloween has always been a childhood perk of the season, but kids aren't the only ones who look forward to parading in Halloween costumes. In recent years, adults have crafted the art of costume planning in order to gain bragging rights for the most epic look of the year.
Halloween enthusiasts are expected to spend $3.6 billion on costumes this year, according to the National Retail Federation. There's no need to pay full price for a memorable ensemble.
Shop thrift stores: Many people purchase Halloween costumes for single-use, and then donate them. By visiting your local thrift store, Goodwill or Salvation Army store, you're not left shouldering costume depreciation costs and can walk out the door with a costume for less than $10.
Make Your Money Work for You
Turn to pop culture: If a trip to the thrift store doesn't turn up a cheap Halloween costume that suits your tastes, you can build a costume for a unique look. Have a favorite TV show, movie or pop culture personality? All you need to transform into Sheldon Cooper from the "Big Bang Theory" is a shirt bearing the logo of Superman, the Green Lantern or another superhero and a pair of Khakis. Or, take on the persona of Charlie Brown just by finding a yellow T-shirt and painting a black zig-zag pattern near the bottom.
Find your local Buy Nothing site: The hyperlocal Buy Nothing Project gives members the chance to offer items they won't use to their neighbors, or conversely, for people to post a message asking others for a specific item. You could find an awesome costume just by scrolling through or ask if someone has an Elsa dress for your "Frozen"-obsessed preschooler. Someone in your community probably has one tucked away in the closet. Download the app to see if your area is active with Buy Nothing.
Borrow parts from past costumes: Repurpose costume pieces from previous years. Did you dress as a vampire last year? Ditch the scary teeth but put on the black cape and add a top hat and a wand. Voila! You're a magician this Halloween.
Make your own costume: Some people have boundless creativity and can create a brilliant costume just out of stuff they have around the house. Others of us don't have that gift. If you fall in the latter category, check out Pinterest, Instagram and TikTok for inspiration.
Shop on Nov. 1: It's too late for this year but hit the stores the day after Halloween when costume prices are drastically reduced. Pick up a ready-made costume for Halloween 2023.
Make Your Money Work for You
2. Manage the Candy Costs
An NRF survey showed that 67% of Americans plan to pass out Halloween candy this year, and expected spending totals $3.1 billion. Still, you can save money on Halloween candy while still being the neighborhood's generous ghoul.
Plan for no leftovers: It's tough to accurately estimate just how many trick-or-treaters will ring the doorbell, but take a stab at it. If you estimate you'll have 50 kids show up and want to give two pieces to each, then buy bags that get you as close to 100 pieces as possible. If the bag doesn't state the number of pieces on the front, check the nutritional table on the back to find the number of servings in the bag. If you run out before the end of the night, shut off the outdoor lights to signify you're closed for business. With no leftovers, you won't be tempted, either.
Hand out your least-favorite candy: Are you a Kit Kat fanatic? As much as you'd like to share your favorite treat with the neighborhood kids – don't. If you buy your candy a few weeks ahead, and those fun-size Kit Kat bars are staring at you, you'll inevitably dig in and tell yourself you'll have just one. Before you know it, the bag is gone and you'll need to replace it, increasing your candy costs.
Skip the chocolate: Chocolate, of course, is yummy but it's also costly. And let's face it – kids like just about all candy. Walmart is selling a bag of 300 mini Tootsie Roll pops for $9.98. A 225-count bag filled with Twix, Snickers, Milky Way and 3 Musketeers bars costs $16.98. Per piece, that's 3.3 cents each vs. 7.5 cents each – less than half the price.
Make Your Money Work for You
Limit one: If you let the trick-or-treaters reach into your candy bowl to pick out their favorites, they might grab more than one. Hand it out yourself so the candy will last longer. As the hour grows later, you can pass out multiples if you know you'll have leftovers.
Check your store's digital coupons and circulars: Candy sales are frequent in October, including buy one, get one free deals, so check the weekly flyers of your local stores. Also, review the savings tab on the apps of your grocery and drug store for coupons to download to your account. If you've accumulated any points you can redeem for cash off, consider using it for your candy. It's found money.
3. Save on Spooky Celebrations
Halloween thrills at a discount are all over town if you know where and when to look. Whether you're a social spirit or prefer to stay indoors, taking part in spine-tingling events at a low or reduced cost can help keep your Halloween budget from going to the grave.
Host a Halloween potluck: Throwing a Halloween party doesn't have to break the bank. Offer to host a potluck at your place and provide the main dish. Recommend that your guests bring a Halloween-inspired side like "mummified" pigs in a blanket, a blood orange sangria beverage with floating eyeballs, or even contribute entertainment like a Ouija board or a fun murder mystery game to set the mood. To keep the Halloween spirit alive, you can opt to have a themed party or simply make it mandatory for all guests to be in costume.
Make Your Money Work for You
Find free or low-cost community events: The month of October is filled with fall fun, often at no cost. Check the website or social media sites of your town or neighboring communities for the calendar of events. Is there a local parade or harvest festival? Community trick-or-treating at a church or a mall? Some of these events give the kids another chance to wear their costumes.
Screen a frightfest movie marathon: If all else fails, free entertainment in the form of horror flicks are always at your disposal, thanks to your streaming services. Invite a few friends, and if you're feeling bold, turn out the lights and tune-in to your favorite scary movie classics. All you need to do is pop the popcorn and pour the soda to replicate the theater experience with friends for a fraction of the ticket price.
There are money saving options for all ages and budgets, regardless of what you choose to do for Halloween. After all, the most important rule for this holiday is to keep safe and keep saving.
More From GOBankingRates
Jennifer Calonia contributed to the reporting for this article.