6 Ghoulishly Great Ways to Save Money on Halloween Activities for Kids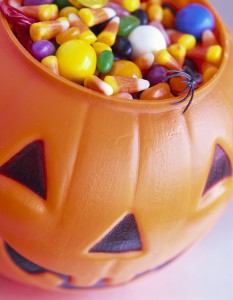 Halloween is rapidly approaching, which means your little ones are probably nagging you to death in hopes of having the most fun possible on this exciting day. But as you count the change in your wallet, you may realize that saving money and having fun on Halloween may not be as easy as you hoped.
According to the National Retail Federation (NRF), in 2011 U.S. consumers spent an average of $21.05 on Halloween candy alone. And when it came to Halloween costumes, the federation found that consumers spent more than $2.5 billion last year.
In total, the NRF estimates that consumers spend an average of $6.8 billion each year on Halloween goodies, bringing a desperate need for cheap Halloween ideas for those trying to stay within a budget.
With a little creativity, you can give your kids a spooky day they'll never forget while still spending Halloween on a budget.
6 Great Ways to Have Halloween on a Budget
Halloween was always one of my favorite times of the year growing up. Who wasn't excited about knocking on neighbors' doors, begging them for candy and actually getting sugary treats? My parents also escorted my brother and I around town to enjoy other fun Halloween events. Either way, a pretty penny was spent to help us enjoy our Halloween festivities.
If you are at a loss on how to avoid draining your savings account on Halloween fun this year, worry no more. Here are six great ways to have Halloween on a budget while making your children happy:
1. Make DIY Halloween Costumes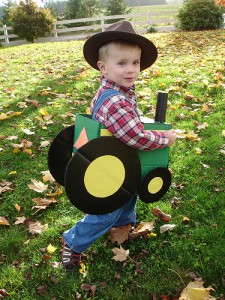 Don't like spending an arm and a leg on kids costumes? A great way to sidestep the cost is to create DIY Halloween costumes. Find an old sheet around the house and have fun cutting it up to create a superhero costume, or turn a paper bag into a hula skirt. You'd be surprised by how far a little creativity can take you when trying to create free or cheap costumes.
Image: eighteen25
2. Create a Spooky Halloween Playland at Home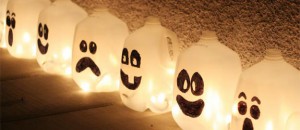 Another option to add onto the list of cheap Halloween ideas is turning your backyard or basement into a spooky play area or maze for the neighborhood children. Try turning trash bags into giant spiders, cardboard boxes into coffins and graves, and old water jugs into a haunted walkway. Also, another option for DIY Halloween decorations is adding some colored water to clear mason jars and throwing in some doll hands, plastic spiders and eyeball-painted ping-pong balls to give your home a haunted look.
Image:  vdrg dansschool
3. Find Free Halloween Events in Town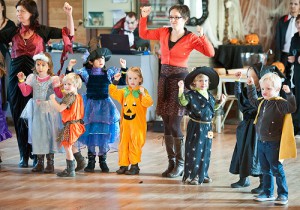 If your kids don't want to stick around the house this year, take time to look for free Halloween events around town. Many organizations host events for children to enjoy, including haunted tours and fairs. Look for events at places like the local zoo or museum. Also, your church or child's school may have free festivals that children will enjoy.
Image: JefferyTurner
4. Candy-Pool with Friends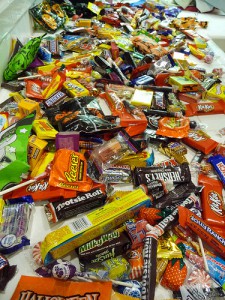 Don't want to spend a ton on candy this year? Consider "candy-pooling" with friends. You and your neighbors and friends can pool money together and buy a heap of candy in bulk at a warehouse store like Costco or Sam's Club. Then, divide up the candy between households and let your kids enjoy handing it out to the neighborhood children (while sneaking a few pieces for their personal stash).
Image: sunstoneonline.com
5. Have a Ghostly Movie Night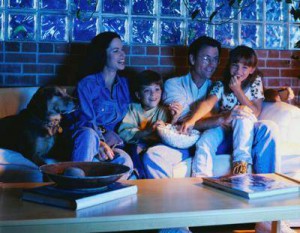 One of the more unique things to do on Halloween that can help you save money is to have a movie night. Buy some discount candy and make a fun meal for the kids, then wait until nightfall, turn out all the lights and watch spooky movies in the basement. If you really want to get creative, move the TV and some chairs in the garage or outside and act as though you're visiting a drive-in theater. There's no doubt your kids will remember this ghostly movie night forever.
Image: Microsoft
6. Enjoy Old-Fashioned Trick-or-Treating
One of the age-old money-saving tips for Halloween is to take your kids trick-or-treating. Of course, it's more important than ever that you only take your children to neighbors' homes you trust. And if you want extra assurance, conduct a little research to see if any medical centers in your area are x-raying candy for free to ensure nothing has been added to their goodies.
Halloween doesn't require you to begin the holiday season by spending all of your money on costumes, decorations and candy. With a little planning and creativity, you can give your kids a fantastic Halloween on a budget.
Header Image: Brett Holt