Holiday Head Start: A Savings Guide for the Early Bird Shopper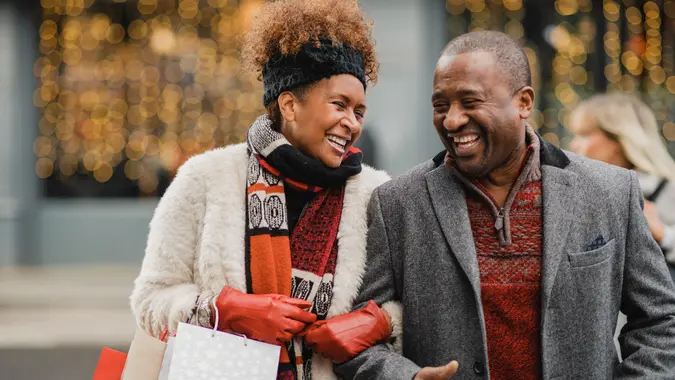 SolStock / Getty Images
The holidays are fast approaching, and many shoppers are getting an early start this year amid economic uncertainty. By beginning your shopping now, tracking sales and using coupons and gift cards strategically, you can maximize savings and avoid the stresses of last-minute scrambling.
Here's how to make the most of being an early bird holiday shopper.
Take Advantage of Early Sales
In the past, Black Friday marked the traditional kickoff of holiday deals. But today, savings start well before Thanksgiving.
Amazon Prime Day in October gave members exclusive access to major discounts. Other retailers are now advertising Black Friday pricing weeks in advance. Don't wait for specific sale days — deals are already underway.
"No matter where you plan to shop, there is a solid chance the retailer will have a Black Friday sale," Tiara Rea-Palmer, director of partnerships at CouponFollow, said. "These sales have started earlier in recent years and are almost always a full month of deals."
Rea-Palmer also shared that stores usually have the best savings on Cyber Monday, but this year retailers are pushing sales as early as possible. Buying now may save shoppers more later.
Shop Both Online and In-Store
Consumers have shifted between digital and brick-and-mortar over the years. But this season, employ a strategy that combines both.
In-store only specials will bring shoppers back to physical stores while online remains convenient. Be open-minded about where the best pricing pops up.
Make Your Money Work for You
Watch for Coupons and Cash Back
Rob Weisberg, general manager of incentives and intelligence at Inmar Intelligence, shared that coupon usage is on the rise. From smartphone apps to old-fashioned flyers, coupons are a staple that are more and more people are turning to.
"Shoppers across all categories are changing purchase decisions based on incentives provided by coupons and implications of inflation," Weisberg said.
Install browser extensions like Honey, RetailMeNot and Cently to automatically apply available coupon codes at checkout. Pro-tip: Always check Groupon for experience gifts. And don't forget to look for coupons around other sales holidays, like Veterans Day.
Buy Discount Gift Cards
Purchasing gift cards at a reduced rate stretches your dollar further. If you're looking for specific stores, Gift Card Granny maintains a list of stores offering discounts on gift cards. If you want a particular experience to gift someone, Groupon offers deals on massages, events and sightseeing tours. These can especially come in clutch if you know that someone you're getting a gift for is going on vacation and you'd like to treat them to something special at their destination.
Though less personal, gift card recipients can select their own item. For maximum savings, purchase discounted gift cards early, before they sell out.
Comparison Shop With Care
The temptation to price match can lead to hasty overspending if you aren't careful. Avoid buying the first item you see on sale without doing more research.
Review sales ads, coupon sites and cash-back browsers to confirm the best price before purchasing. Rushing to snag a deal can result in regret or duplicate gifts.
Set a Budget and Stick To It
Without a budget, it's easy to overspend in the holiday frenzy. Determine an affordable gift budget ahead of time based on your income and expenses — lists can help.
Make Your Money Work for You
"Sticking to a list and making sure you first purchase gifts for those most important will ensure you're not waiting until the last minute to buy those gifts which are most necessary," Rea-Palmer said.
If your budget won't cover everyone, suggest creative, inexpensive options like Secret Santa or potluck dinners. And remember, thoughtful gifts that show how well you know someone don't have to be expensive.
Shop for Must-Have Toys Now
Every season has that hot toy sure to sell out. Avoid the stress of frantically trying to find the latest trendy gift in December.
Popular picks like Squishmallows, L.O.L dolls and interactive toys often appear on kids' wish lists. Buying high-demand items now guarantees you snag them before shelves empty.
Seize Smaller Shopping Holidays
While Black Friday grabs headlines, other, smaller holidays also offer exclusive sales.
Veterans Day on Nov. 11, for example, brings special discounts and deals at many big retailers as they honor those who served. Look online and in weekly ads for Veterans Day promotions.
Provide a Personal Touch
Impersonal gifts like gift cards have benefits, but adding thoughtful touches shows loved ones you care.
Consider these ideas:
Make a homemade gift or photo book chronicling special memories.
Attach a thoughtful note explaining why you chose that gift.
Give tickets to a favorite sports team or band's event.
Donate to a cause important to the recipient.
Offer services like babysitting coupons or lawn mowing.
Make Your Money Work for You
With inflation pressing families' budgets, starting holiday shopping early and strategically takes the stress out of gifting. Follow these tips to check off your list, keep within your budget and avoid the last-minute shopping scramble. By planning ahead, you can sit back later and enjoy a cup of hot cocoa while others battle the mall crowds.
Heather Taylor contributed to the reporting for this article.
More From GOBankingRates