Many Holiday Shoppers Value Quality, Social Status of iPad Mini Over the Savings Offered by Generic Tablets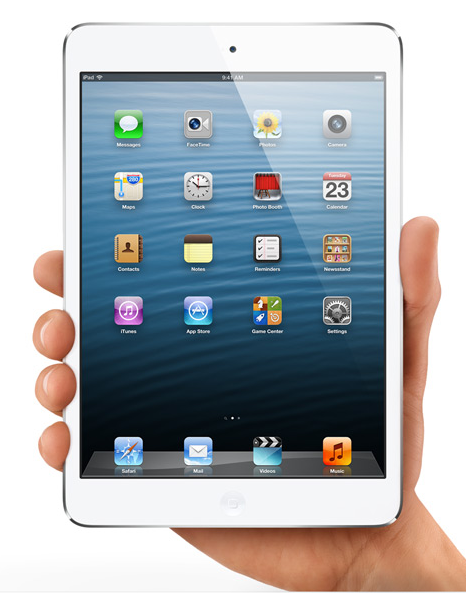 Apple's iPad products continue to pick up sales as newer versions of the widely sought-after tablet are released, including the company's latest pint-sized tablet, the iPad Mini.
According to a survey by the National Retail Federation, electronics like tablet PCs occupied 25.2% of 2012 Cyber Monday purchases alone. And a separate International Data Corporation (IDC) report revealed that in Q3, Apple dominated 50.4% of the tablet market over generic tablets and brands with lower demand such as Samsung, Amazon.com and Asus.
While the obvious popularity of tablet PCs is evident, dropping over $600 on a top-of-the-line iPad Mini can knock the wind out of shoppers hoping to save money on Christmas gifts this year. Even the low-level iPad Mini model tip-toes the "too rich for my blood" line for some consumers at $329, not including tax.
But the other alternative — buying an off-brand tablet — presents the challenge of balancing quality with savings, which is a tightrope stunt not all shoppers are successful at executing.
Is an iPad Mini Really Worth Over $500?
The iPad Mini is the latest and greatest in the tablet marketplace, boasting a more compact 7.9-inch size and lighter weight starting at 0.68 lbs compared to its standard iPad predecessor.
iPad Minis burn a hole in shoppers wallets, but they're technically cheaper than the cost of an iPad by about $100- $200, depending on desired specifications. As previously noted, the starting price of the iPad Mini is $329 for the Wi-Fi only version. Holiday shoppers looking to give the gift of continuous internet access can opt for a Wi-Fi + Cellular model, which is $459 for the 16GB option, plus a monthly service of $14.99 – $50.00, depending on data capacities and the carrier selected.
Despite the expense associated with owning an iPad, millions of consumers still defend their iPad purchase. When Go Banking Rates surveyed Americans in a head-to-head battle between generic tablets and iPads, consumers heavily favored the luxury-branded iPad over its competitors for different reasons, but two specific justifications kept coming up.
iPad Mini as Social Status Symbol
The branding behind this gadget is a common draw among shoppers who were pro-iPad. Tablet buyer Andrew Fritz purchased a Samsung tablet with enough performance power for this two middle school-aged children at a reasonable $180. However, he soon realized that popular brands have everything to do with pre-teens' satisfaction levels.
"I bought a generic tablet two years ago and recently donated it the Salvation Army, as it was a FAIL for my kids," explains Fritz. "Ultimately, I broke down and got them an iPad, but what they really wanted was what their other friends and role models had — not the cutting edge."
This sentiment also extends to the business world, where the best impressions must be made. Larry Stybel of Boston, Mass. claims that devices like tablet PCs have become a "fashion choice" that represents who consumers are.
"My company's brand is that we are on the 'cutting edge' of our industry. I CAN'T walk in with a Blackberry," Stybel exclaims. "I work with CEOs and VPs. Most of them have iPads. I can't take out a Toshiba. It may have more memory, but it conveys an impression that I am not making enough money in my business, so I have to go on the cheap."
But the iPad Mini isn't all about appearances for many tech-savvy tablet owners.
Generic Tablets Lack Quality
LaptopMD+, a Manhattan-based computer and device maintenance shop, says the technical differences between off-brand or generic tablets and high-end tablets like the iPad are considerable.

"Essentially, it's almost never worth it to buy off-brand," shares Zilberman. "Any savings you get are more than offset by the horrible quality."

An example Zilberman provides is the issue of touchscreen technology among generic tablets. He explains that modern screens use devices called "capacitive" screens to ensure users get "high-quality, fine touch control." On the other hand, generic tablets use outdated technology called "resistive" screens that require a stylus to function effectively.

Zilberman continues, "Besides that, the build quality on off-brand tablets is so poor that they are almost guaranteed to break within the first year… Cheap, off-brand tablets use the cheapest power solution they can find, and will suffer from the dreaded battery fatigue MUCH much earlier than an iPad or tablet from a legitimate manufacturer."

Performance concerns regarding generic tablets don't stop with Zilberman. Dan Callahan of St. Louis, MO purchased a low-cost tablet to save money on the price of an iPad, but soon regretted the decision.

"It is a Viewsonic that sold for $250 and has a snappy processor, 16GB storage and a USB port, as well as some other advantages over the iPad. But, the software that came with it was just horrendous, [and] slowed it down tremendously," Callahan shares. "The Android apps are pretty mediocre and I find myself longing the iPad I will likely eventually get. It sure seemed like a good idea at the time…"

Whether or not letting go of more than $500 for an iPad Mini is truly merited is really a matter of preferences. Those who are used to a particularly higher level of performance or have an inclination toward buzzy, brand name products may get a greater sense of satisfaction — and get their money's worth, in a sense — by steering clear of generic tablets.
Saving Money on Tablets
Not all holiday savings accounts have enough leeway for such an extravagant gift, however. Less trendy tablets can still allow shoppers to save money on Christmas gifts, while also securing a quality product.
Samsung tablets are next in line when it comes to market popularity, and many tablet users like Sandy Magura saved hundreds by choosing a lower-level tablet brand.
"My husband and I bought a Samsung Galaxy and love it. It cost us $250 and we bought it at Toys R Us. They had a special and we also got a $50 Toys R Us gift card, too," Magura shares. "It has paid off for us."
HassleFreeSavings blogger, Kendal Perez, states that she is a "happy owner of a Google Nexus 7." Her husband bought it for $200, a price that's light on their finances.
"I have no regrets about paying $400 less for a product that does everything I want it to and more, but in all fairness I'm not an Apple Superfan. I enjoy their products but not their prices!"
The mix of responses to generic tablets means that there are a few select gadgets in stores today that can do what an iPad Mini promises for less. However, it's important to keep quality in mind as Zilberman and Callahan warn.
Safer alternatives to the iPad that bring savings, quality and performance — like the Samsung Galaxy Note, Google Nexus and Amazon's Kindle Fire — will likely be a couple hundred dollars less than the iPad Mini depending on model specifications, but don't expect a savings miracle here as typically only bottom-tier tablets sell at a $100 price point, leaving consumers with the hassle of an ill-performing product.
Image: Apple.com