How To Host Your Family at Holidays Without Spending a Ton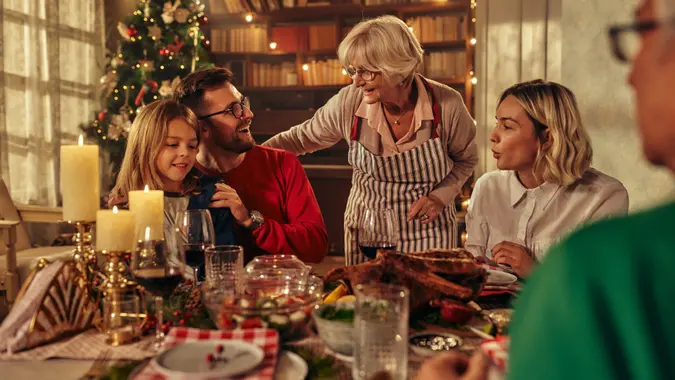 bernardbodo / Getty Images/iStockphoto
The holidays mean different things for different people, but all of us can most likely agree that this time of year is for being with family. What we can also all agree on is that it shouldn't cost you an arm and a leg to spend time with the ones you love. The only thing more annoying that a kooky uncle taking the last cookie is finding out how low your bank account is once the new year rolls around.
Holiday Spending: Get Top Holiday Shopping and Savings Tips
Learn: 3 Easy Tips To Turn Your Credit Woes Into Wows
While most Americans will likely spend a pretty penny on Christmas, Hanukkah, Kwanzaa, and every other holiday during this celebratory season, GOBankingRates has some tips and tricks for hosting your family during the holidays without finding a lump of coal in your bank account.
Make Your Money Work for You
Travel Smarter
Around the holidays, living in the same city as your family can be a blessing or a curse, depending on how you look at it. For those who have to travel to see their families, the holidays can be the nightmare of all nightmares.
So ask yourself: do you need to rack up a large bill on your credit card for airline tickets during a time when air travel is at its worst? If not, consider looking into a cheaper option, such as the megabus, which has low-cost ticket options starting at just $1.
If your destination can be accessed by car in under 24 hours, consider driving with a friend or other family members to pool gas money, take turns driving and you can bring homemade snacks for the ride.
Take Our Poll: Do You Think People Should Invest In Crypto?
DIY Everything
Not including holiday activities or travel, a 2019 study by the National Retail Federation (NRF) found that $1,052 was spent on average by Americans on gift purchases, decorations and food. That's a lot of money spent on festive items that are really supposed to come from the heart!
Make Your Money Work for You
The price tags of some gifts just aren't worth it, especially if you have a large extended family, and everyone is expecting something. In that case, perhaps consider making your own gifts, such as a fun edible plate or seasonal dish that can be enjoyed not just by one person, but an entire household.
Looking for decorations on a budget? Dollar Tree has a plethora of great options to purchase for the holiday season, as well as fun tutorials for do it yourself crafts that are fun for the whole family.
And when in doubt or debt, giving the gift of your time is always valuable to your loved ones.
Party Without Dinner
If you are hosting a holiday get together, think about possibly doing something that doesn't involve a big meal at the centerpiece. After all, there's only so much dried out turkey people can stomach.
Make Your Money Work for You
Consider either a party with finger food or hosting a potluck brunch where everyone brings a dish to share that isn't limited in type. There is some hosting math that goes into this, so The Spruce advises that "the more choices you offer, the smaller your calculation of individual portion size should be."
But if you really want to have a blast on a budget, just host a dessert bar, highlight the part of the meal everyone is really looking forward to eating. One fancier pie, cake or dipping station can anchor the sweet buffet of treats which can be filled out with candies, cookies and fruit.
Plan Free Fun
It's great to have everyone in your family under one roof, especially when you have things to do together. Plan ahead to see what free or low cost events might be going on in your local neighborhood or community, which can often be found listed on sites like Eventbrite. Let your family know ahead of time for when and where to meet so individuals or small groups can anticipate if they'll need to eat ahead of time on their own, alleviating you of the burden to buy tickets and figure out another meal for everyone.
Check the weather, too, in the days leading up to everyone's big arrival. If you have snow on the ground and sleds in the garage, you're set for free family fun all day.
Skip This Year
Ask yourself and then ask your family: is it worth it to you and them to host the holidays this year? Between gift buying, grocery shopping, decorating, traveling, and eating, you might come to the conclusion that a long phone call might be best for everyone's wallets, not to mention stress levels. 
Be open and honest. You never know when you might be giving your loved ones the greatest gift of all-an obligation free holiday season spent however they'd like, just not with you.
More From GOBankingRates
Make Your Money Work for You