Hosting Friendsgiving? What To Consider if You Want To Split the Cost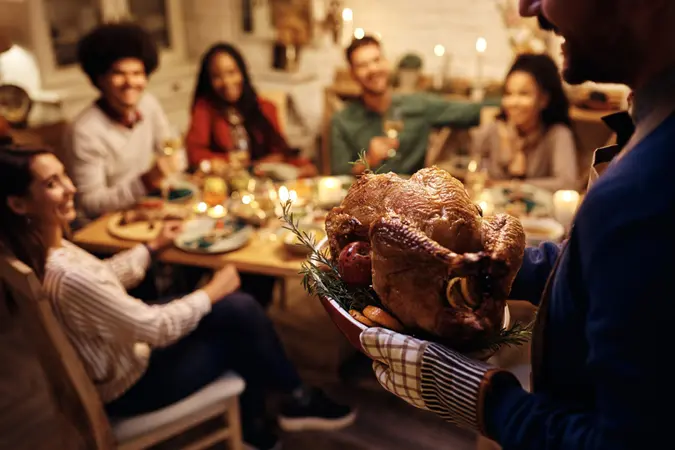 Drazen Zigic / Getty Images/iStockphoto
The biggest eating holiday of the year is upon us, and you've decided to host a Friendsgiving dinner. You're excited to welcome friends into your home, but you're feeling a bit stressed about the cost of the meal.
You're certainly not alone in this concern, as the average cost of a Thanksgiving feast for 10 surged 20% since last year — $53.31 in 2021 to $64.05 in 2022 — according to the American Farm Bureau's annual Thanksgiving dinner survey.
Considering this price increase, you may want to find a tactful way to approach the subject of splitting the cost with your guests, as the last thing you want to do is offend them.
What Kind of Event Is This Exactly?
Before you request monetary contributions to your Friendsgiving, Jodi R.R.  Smith, president of Mannersmith Etiquette Consulting, said you should evaluation the situation.
"In general, when someone offers to host an event, it means that they are going to cover the costs," she said. "Therefore, hosts should carefully consider their budget before extending any invitations."
She said a guest should never need to pay their own way to attend your event. Therefore, you'll need to tailor your menu accordingly.
"A host may have a budget for four dining on filet mignon or 30 people for pizza," she said.
Make Your Money Work for You
How To Handle the Invites
However, if you haven't extended your Friendsgiving invitations yet, she said there are plenty of ways to structure the event to fit your budget. For example, she said a basic dinner invitation requires you to provide the meal, but inviting people to a potluck presumes guests will bring a dish.
If you do plan to ask guests to chip in on the costs, she said this needs to be fully and clearly disclosed from the very beginning.
"We do not surprise guests with a secret bill at the end of a lovely interaction," she said. "If you would like financial assistance, that must be part of the initial invitation."
She said the polite way to ask for money is being very clear about it from the start.
"Explain what you are planning and the cost per person involved," she said. "Then the other person can decide if they would like to attend."
In this case, she said you need to understand that you are changing your relationship with your guests for the event.
"Instead of being a friend or relative, now you are a service provider and they are the customer," she said. "If this is not the dynamic you are hoping for, you should carefully consider your plans."
The Potluck Option
Of course, asking for financial contributions isn't the only way to split the cost of a Friendsgiving dinner. In this case, Smith said a potluck is your best option.
Make Your Money Work for You
"Again, you must be very clear from the very start," she said. "Let potential guests know that this year will be a potluck."
She said to be specific about what you'll be providing and give guests a range of options to contribute.
"Allow guests to choose what to bring, but be sure to do so in advance so that you don't end up with eight different stuffings and no desserts," she said. 
Some guests might ask for recipe suggestions, and if they do, she said it's perfectly fine to provide them. However, you cannot assign dishes and require guests to prepare them your way.
"If there is a guest with dietary restrictions, let others know in advance and double check when the dish is brought," she said. "This is doubly important for anaphylactic allergies."
Ultimately, Friendsgiving should be a fun time to get together with your nearest and dearest to enjoy a hearty meal. The last thing you want is tension or awkwardness because you surprised people with a last-minute bill, or to feel stressed because you're hosting a dinner you can't afford.
Creating a budget and making a guest list in advance is crucial, because it will allow you determine what you can spend. From there, you can structure the invite to your Friendsgiving dinner accordingly, so everyone is on the same page from the start.
More From GOBankingRates