How Black Friday Shopping Will Look Different (Again) This Year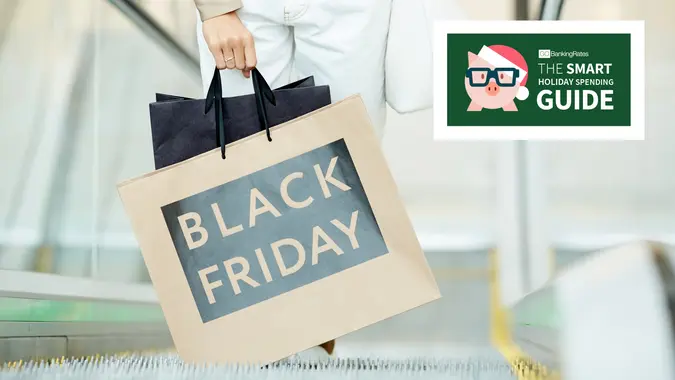 AnnaStills / iStock.com
In a pre-pandemic world, Black Friday has long been the day of blockbuster shopping deals and crowds hurrying to take advantage of them. But the pandemic has changed so many things, including the way we shop, and has had a significant effect on the entire supply chain of goods and services, from delays in shipments to worker shortages and a reduced supply of goods. While some things have started to feel like they did before the pandemic, including an economic rebound, holiday shopping will continue to look different from previous years. Experts weighed in on how Black Friday has changed since the pandemic started.
We've Got You Covered: GOBankingRates' Smart Holiday Spending Guide
Get Shopping: The 14 Best Holiday Deals From Costco's Early Black Friday Coupon Book

Spending Is Up, but Consumer Confidence Is Down
Though the economy took a serious hit during the pandemic, it has bounced back in many ways — particularly for medium- to high-income earners, said Jonathan Silver, founder and CEO of Affinity Solutions, which tracks consumer purchasing habits. What that means is that while spending is actually up, consumer confidence is down.
Make Your Money Work for You
That's because consumer confidence "is likely driven by lower income groups," Silver said. "Higher income groups are less affected. They have money, lots of it." And as a result, "There's pent up demand among people with money."
This lower consumer sentiment paired with higher overall spending "puts a spotlight on the income inequality issues that exist," he said. But it won't reflect in people spending less money on Black Friday overall. It's just that the people spending will be in higher income brackets.
Save More: Holiday Items to Only Buy at Dollar Stores
Tips: From Airfare to Gifts to Your Tree, How To Save on Every Aspect of Holiday Spending

Earlier Start To Shopping
Black Friday is officially the day after Thanksgiving, but in reality, Silver said, "We're definitely seeing an early start to holiday shopping season, especially on electronics, but not limited to that." He cites the National Retail Federation's estimate that 49% of holiday shoppers will start buying gifts before Thanksgiving, which is up from 42% in 2020.
Make Your Money Work for You
Important: The Ultimate Holiday Etiquette Gift Guide
Less Concern About Discounts
In fact, people appear to be less driven by a discount so far, he said. "What's interesting on the inflation front is it hasn't caused a reduction in spend." Consumers are showing more resilience when it comes to spending, and they're not as price-sensitive as people may have expected. "They're often buying now at closer to full price, without having to use a discount or coupon."
Helpful Info: Don't Let Inflation Bust Your Holiday Shopping Budget
Black Friday Won't Just Be a Day
Black Friday is no longer just a single day anymore, said John Atencio, owner of John Atencio, a fine jewelry retailer, and the pandemic has ensured it will probably remain this way. "Last year, when we were in the middle of a pandemic, people were forced to buy most things online or do curbside pick up. With that, people started to discover a new way to shop, one that is much less stressful." Retailers have taken note of that and begun to offer deals for days and even weeks before Black Friday.
Make Your Money Work for You
Additionally, with supply chain crunches, making some items less available, he said that customers are more likely to jump at buying items now, in the hopes of receiving them in time for the holidays.
See: The Best Holiday Shopping Strategies for Your Wallet
Shopping Online Will Remain Steady
In fact, according to Fred Goff, CEO of Jobcase, a social platform that advocates for workers, and which surveyed 2,000 American consumers and retail workers, 78% of consumers surveyed are more likely to shop online this year compared to pre-pandemic. And 59% reported that the pandemic has affected how they will holiday shop. "Of those who are shopping earlier, more are doing so to get it out of the way," he said, rather than over concerns around the delayed supply chain.
The National Retail Federation also predicts that online and other non-store sales will see an increase somewhere between 11% and 15% ( for a total of $218.3 billion to $226.2 billion), specifically driven by online purchases.
Keep Reading: Why Do We Spend So Much Each Year on Holiday Shopping?
But There Will Be More In-Store Shopping, Too
Though online shopping may be here to stay, there are signs that people are ready to return to stores, according to Harriet Chan, co-founder and marketing director of CocoFinder. She said, "Black Friday shopping this year will see the return of in-store shopping after the pandemic hit last year." However, she pointed out, businesses will still rely heavily on online channels to communicate their offers to potential customers.
"As a buyer, you may want to explore online deals first before you can visit a brick-and-mortar store this Black Friday. The dynamic nature of online stores makes them a perfect fit for anyone looking to save money. Many eCommerce sites now use dynamic pricing tools which help to customize the deal for each customer."
Find: When Is the Best Time to Buy Christmas Presents at These Popular Stores?
Some Products Will Be Cheaper Because of Greater Supply
This is the year to buy health and wellness products and work/study from home products, said Vipin Porwal, founder and consumer expert with Smarty. "Current inventories are saturated from the pandemic, so prices on these items can fall up to 50% off."
Don't Wait for Deals
Supply chain issues are a real concern. According to Jay Klauminzer, CEO of Raise, an app for discounted gift cards. "Due to this year's supply chain issues and shipping delays, I recommend that consumers do not wait for sales in late November and December to buy gifts, if they need them to arrive by the holidays." He suggests maximizing savings by buying the items you know you need now — especially gadgets, toys, holiday-themed items, and even groceries for holiday meals. "This year, Black Friday and Cyber Monday will be better options for consumers who are browsing for items for themselves or their families, with more flexibility about when items need to arrive."
More From GOBankingRates
Make Your Money Work for You