How Much Americans Plan To Spend This Easter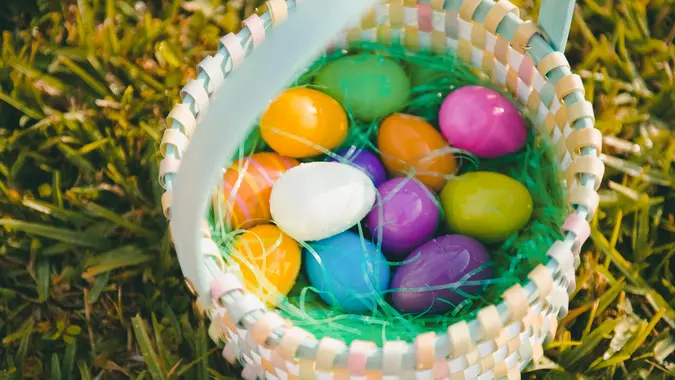 ©Shutterstock.com
Easter 2020 was one to forget. With the nation in the throes of lockdowns and travel restrictions because of the coronavirus pandemic, many families were forced to cancel or drastically alter their holiday celebrations. Layoffs and furloughs also caused families to cut back on meals, gifts and other Easter treats.
2021 Small Business Spotlight: Nominate Your Favorite Small Business and Share With Your Community
But with nationwide COVID-19 vaccinations gaining steam, rising consumer confidence and stimulus checks hitting bank accounts, Americans are hopping back into the Easter swing of things in 2021.
In fact, a recent survey from the National Retail Federation and Prosper Insights & Analytics projects that Americans plan to spend a combined $21.6 billion to mark Easter Sunday on April 4. That number is down a tick from last year's pre-pandemic forecast of $21.7 billion, but up 19.2% from $18.2 billion in 2018.
Individually, that means consumers plan to spend $179.70 on Easter food and gifts. If consumers reach that projection, it will be an all-time spending record for the holiday, according to the NRF. Per-person Easter spending in 2017 was a record $151.91.
Make Your Money Work for You
See: COVID's Financial Impact After 1 Year: All Our Coverage
The Gathering
Americans missed celebrating with family and friends in 2020 — how can you hold a virtual egg hunt, anyway? — and projections show relaxed travel restrictions and an increase in vaccinations are leading to get-togethers in 2021. In all, 79% of Americans plan to celebrate Easter on Sunday.
In the NRF survey, 59% of the respondents said they planned to cook a holiday meal, with 43% visiting with family and friends. And spending on food will make up $52.50 of each consumer's spending.
Still, there remain some who will enjoy their meals with loved ones virtually, with 24% of survey respondents saying they'll visit with family by video chat or phone. For in-person meals, remember to have extra masks on hand for those who might have forgotten them and stay at least 6 feet away from guests who don't live with you. And sitting outside, where weather permits, is the best idea, the Centers for Disease Control and Prevention reminds us.
Find Out: Supply Shortages That May Happen Again
Make Your Money Work for You
The Gifts
Americans will spend an average of about $31 on gifts for Easter, the NRF reported. But just what is going to wind up in those Easter baskets of your favorite kids? It depends on the age of the recipient.
Trendy basket stuffers for younger kids this year include wind-up bunny or chick toys, or chalk eggs to allow the little ones to get creative on the patio while the adults mingle outside. For the older artsy kids, a flower craft set or a paintable outdoor stone in the shape of a bunny could be welcomed gifts. And for the youngsters who love to play outside, there's no substitute for the classics: toy cars, soap bubbles, a sand pail and accompanying toys, a glider or kite.
For teens (and some adults, too!), there are the Bluetooth-enabled devices to help them find the stuff buried in messy rooms and backpacks, décor such as string lights or neon signs and a new favorite: the portable inflatable lounger that can go on a hike or to the beach. Some of these ideas might require a bigger-than-average basket.
More: The Items That You Should Continue To Stock Up On
The Good Stuff
Well, Easter isn't Easter without candy, and this year, consumers plan to spend about $25 on the candy of their choice — chocolate bunnies or eggs, jellybeans, Peeps and all the other sweet treats associated with the holiday. Don't forget the chocolate wrapped in orange foil to look like a carrot (we won't tell what's really inside).
Make Your Money Work for You
Even those consumers who aren't planning a big celebration indicated they won't stay away from the candy aisles. The NRF study said 52% of those who won't mark the holiday still will do some shopping and spend an average of $21 — much of it on candy.
More From GOBankingRates
Last updated: April 1, 2021