Here's How Much Americans Spend on Valentine's Day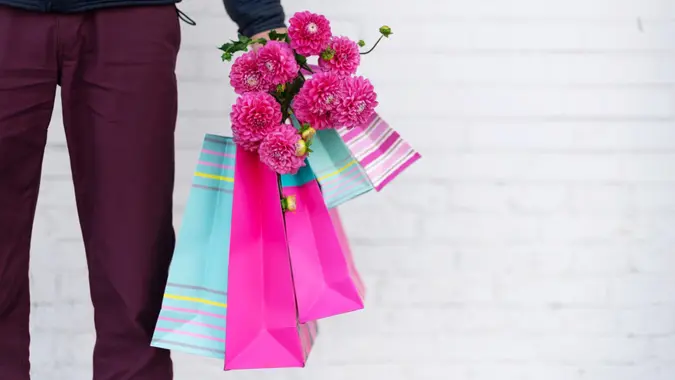 jchizhe / Getty Images/iStockphoto
Despite inflation — or perhaps because of rising prices — Americans will be spending more this Valentine's Day than in 2022. Consumers are expected to spend $25.9 billion this year, up from $23.9 billion in 2022, according to a National Retail Federation survey. In fact, 2023 is expected to be one of the highest Valentine's Day spending years on record.
Find Out: 4 Reasons You Should Cancel Amazon Prime
Tax Lessons: 3 Ways Smart People Save Money When Filing Their Taxes
"Valentine's Day is a special occasion to shop for the people we care most about," Matthew Shay, president and CEO of the National Retail Federation, said in a press release. "This year, as consumers embrace spending on friends and loved ones, retailers are ready to help customers celebrate Valentine's Day with memorable gifts at affordable prices."
Here's a closer look at Americans' spending plans.
How Much the Average Person Spends on Valentine's Day
The National Retail Federation survey found that more than half (52%) of consumers plan to celebrate Valentine's Day this year. The average consumer will spend $192.80, up from $175.41 in 2022.
The average planned spending on family members and significant others remains unchanged from 2022 to 2023, holding steady at around $131. However, the average planned spending on gifts for friends, children's classmates/teachers, co-workers and pets has increased, from $38.36 in 2022 to $52.65 in 2023.
Make Your Money Work for You
Planned spending does vary by age, the survey found, with those ages 35 to 44 planning to spend the most. Americans in this age group plan to spend an average of $335.71 for gifts and other Valentine's Day items — $142.91 more than the average consumer is planning to spend.
Take Our Poll: How Much of a Tax Refund Do You Expect in 2023?
Where Americans Shop for Valentine's Day Gifts
The most popular places to buy Valentine's Day gifts in 2023 are online (35%) and department stores (34%), the survey found. Other popular places to shop include discount stores (31%) and specialty stores (18%).
Most Popular Valentine's Day Gifts
Traditional Valentine's Day gifts remain popular choices in 2023. The survey found that the top gifts this year will be candy (57%), greeting cards (40%), flowers (37%), an evening out (32%), jewelry (21%), gift cards (20%) and clothing (19%). In total, Americans plan to spend more than $5.5 billion on jewelry and nearly $4.4 billion on a night out, the National Retail Federation reported.
Experiences as gifts are also becoming more popular. About one-third (32%) of Americans plan to gift an experience this year, up from 26% in 2022.
Make Your Money Work for You
Those looking to buy traditional Valentine's Day gifts on a tight budget should look for ways to cut costs. For example, to save on candy, buy your sweet treats the day of.
"I would wait until Valentine's Day and then head to your local pharmacy chain or big-box store," Trae Bodge, smart shopping expert at TrueTrae.com, told GOBankingRates. "You may not have the biggest selection, but stores will be looking to sell through anything Valentine's Day-themed, so discounts abound."
To save on greeting cards, head to the dollar store.
"Most cards will be $1 or $1.25, which will be significantly cheaper than anywhere else," Bodge said.
Consumers can also save on flowers by looking for deals at Whole Foods — which will be offering two dozen roses for $24.99 — and Costco, or by taking the DIY approach.
"Consider mixing stems to create your own bouquet," Julie Ramhold, consumer analyst at DealNews.com, told GOBankingRates. "Try to find flowers in your Valentine's favorite colors and avoid roses as much as you can."
Make Your Money Work for You
More From GOBankingRates
Make Your Money Work for You