How Much Do Americans Spend on St. Patrick's Day?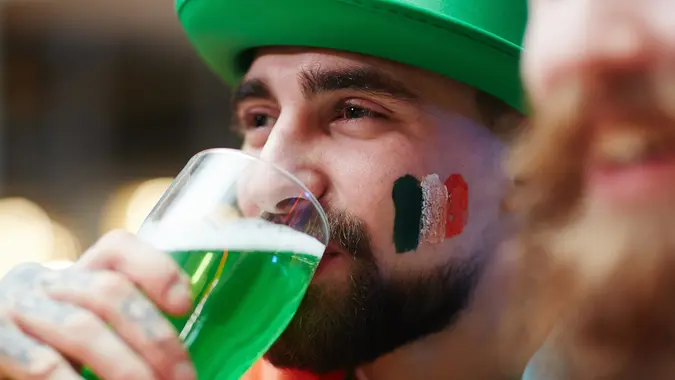 Pressmaster / Shutterstock.com
St. Patrick's Day falls on a Friday this year, which means many Americans will be going out to celebrate and show off their green. The National Retail Federation estimates that 61% of the U.S. will be taking part in celebrations this year, which is more than ever before. But celebrating St. Patrick's Day also costs some serious green — Americans are estimated to spend $6.85 billion on the holiday, according to the NRF.
$2,000 Quarter? Check Your Pockets Before You Use This 2004 Coin
Costco's Best Deals? Employee Reveals 10 Standout Buys for Your Money
If you're planning to go out and imbibe some green drinks, here's a look at how much people spend on average and how to save money this St. Paddy's Day.
Wearing Green
The No. 1 thing people do to celebrate St. Patrick's Day is wear green. The NRF reports that 80% of Americans planning to celebrate St. Paddy's will be wearing the holiday's signature green. Of course, if you don't have green in your wardrobe, or you're looking to get something that is specifically St. Patrick's Day themed, you'll have to spend a little money. 
Make Your Money Work for You
Though you can spring for a shirt, which will cost you around $12 or so at Target, you can also opt to make your green apparel. Stop by Michaels to get a green shirt for $4.99. You'll be safe from a St. Patrick's Day pinch with just that alone, but if you want to add some holiday spirit, you can pick up a pack of pins and temporary tattoos for an additional $4.99. Even if you get both of these, it will cost you less than one shirt at Target.
Take Our Poll: Are You Concerned About the Safety of Your Money in Your Bank Accounts?
Going Out 
The NRF reports each person spends about $43.84 on average for St. Patrick's Day. An estimated 25% of people celebrating will be hitting up bars and restaurants. To save money, look for spots that are offering St. Patrick's Day specials. For example, TGI Fridays is offering an all-day happy hour, which includes $2 beers, $4 cocktails and $5 wine. Applebee's offers $5 Mucho cocktails, and new $5 Saintly Sips. New this year, Applebee's is also offering the Pot O' Gold Colada, a frozen piña colada made with Captain Morgan and mango. These all come in a large "Mucho" glass. Bar Louie offers $4 Jameson Sidecars, $5 Guinness Draughts, $3 Bud Light Green beers and an $8 Irish Old Fashioned.
Make Your Money Work for You
Howard Dvorkin, CPA and chairman of Debt.com, says another option to save some cash is to pregame at home, or make a definitive budget before you hit the bars. "I would advise [people] to do most of their planning and spending before their outing," Dvorkin says. "This way, they can save themselves from splurging on expensive dining items and the trap of planning under the influence."
St. Patrick's Day Dinner
St. Paddy's is usually celebrated with corned beef and cabbage on the menu. According to the NRF, 31% of those taking part in toasting St. Patrick's Day will be making a special meal. Right now, you can pick up a pound of corned beef brisket for $4.49 at Smith's. At the same store, cabbage costs $1.73 a head. That's pretty cheap when you look at the cost of going out. It'll cost you $18.99 a plate to get your corned beef fix at Black Bear Diner. You're much better off cooking at home than trying to eat at a restaurant. 
However, if you don't have to have corned beef, there are some good food specials to take advantage of at certain restaurants. O'Charley's Restaurant and Bar is offering three $10 dine-in only options: hand-battered fish and chips, classic cheeseburger and O'Charley's famous chicken tenders and fries. The restaurant franchise is also offering guests $1 pints of Bud Light and Underground Chucks. These deals are happening on March 16 and March 17. 
Make Your Money Work for You
St. Patrick's Day Treats
Many restaurants hold specials throughout the month of March that consumers spend cash on. Arby's offers a mint chocolate shake for St. Patrick's Day which ranges from $2.29 to $4.59. At Dairy Queen, you can pick up a Mint Oreo Blizzard starting at $4.09 for a mini. And, McDonald's is offering its famous Shamrock Shake for between $3 and $4 depending on the size. 
More From GOBankingRates
Make Your Money Work for You