How Much a No-Gift Christmas Could Save You This Year and Throughout Your Lifetime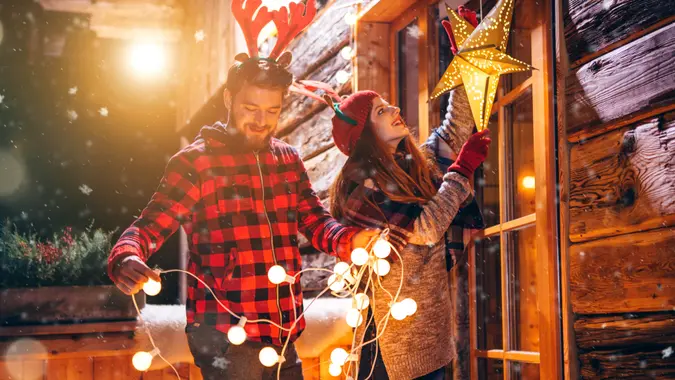 svetikd / Getty Images
With inflation wreaking havoc on the family budget this year and with reduced buying power, will this be the year you decide to say "no" to holiday spending? Will you forget the shopping frenzy in favor of a no-gift holiday, saving the money instead for other needs? If you're like most people, probably not.
The National Retail Federation estimates that Americans will spend an average of $832.84 this year to celebrate the holiday season with spending on gifts, food and decorations — a figure that coincides with annual numbers from the past 10 years, the organization said.
Neil Saunders, a managing director at analytics company GlobalData, told The Washington Post why many aren't ready to give up the holidays. "No one goes into the holiday saying, 'Hey, let's be gloomy,'" Saunders said. "People want to have a good holiday. They want to buy nice gifts. They want to have nice food on the table. So, people are still prepared to spend, and they are prepared to dig quite deep to spend as well."
Still, it's worth taking a look at a bigger financial picture in which you don't exchange gifts and pare down your holiday celebration — as well as ways to tone down your gift giving if you don't want to abandon it altogether.
Make Your Money Work for You
The Financial Implications
Of that $800-plus average spending projected this year, let's use $650 as the amount spent on gifts. If you skipped this one holiday giving season and instead invested it, what would it be worth 10 years from now? John Hagensen, the managing director of Creative Planning and host of the Rethink Your Money podcast, did the calculation.
"At 5% interest, the person would have $1,059," he said. "At 10% interest, which wouldn't be earned in a junk bond at today's rates but is historically relevant to broad stock market returns, the person would have $1,686. If the person is 30, bypasses the gift purchases and waits 37 years until current Social Security full retirement age, roughly 67 years old, that single decision for one holiday season nets them a handsome $22,103.
"This is the power of compound interest. Think about that for a moment. Not spending $650 today as a 30-year-old could add over 20 grand to your balance at retirement."
And what if you didn't spend $650 each year on holiday gifts for 10 years? Scott Stanley, a certified financial planner and the founder of Pharos Wealth Management, figured that out.
"If you socked $650 away into a high-yield savings account each year instead of spending it on gifts, you'd end up with about $7,117 after 10 years," he said. "Of course, that's assuming that the interest rate in a high yield savings account averages about 2% per year over the next 10 years."
Make Your Money Work for You
But, as Stanley cautioned, the American economy isn't built for people to stop spending in the holiday season.
"If everyone, or even a fraction of the Christmas gift buyers in the U.S., decided to save instead of spend, we'd see our economy get hit. Hard," he said.
"When the economy suffers, so does the job market," he continued. "Hiring slows and then the very people that stopped buying and started saving are the people that end up losing their jobs. Ironic."
Gift Alternatives
Cutting back on gifts, or even eliminating them, doesn't have to make the holidays any less festive, especially if you celebrate with adult children, other adult relatives, friends or co-workers — the people who don't expect the latest toy under the tree. How about these ideas instead of buying stuff?
Have a "Buy Nothing" Christmas: You'll find "Buy Nothing" sites for many neighborhoods on Facebook, and you just might have luck fulfilling a Christmas wish that way. Does your sister want an air fryer? Your husband an exercise bike? Someone in your community could be cleaning out the basement and offering those items in like-new condition for free to a neighbor. If you don't see what you're looking for, sites often allow you to post an "in search of" message — and that just could remind people they've got what you're looking for collecting dust. It's a fun scavenger hunt. Never heard of the Buy Nothing Project? It has 6.5 million participants in 7,500 communities, according to the organization's website.
Make Your Money Work for You
Plan a game night: Instead of exchanging gifts with co-workers or your circle of friends, plan a get-together. All you need is someone to offer up a place to meet and someone else to be your shopper. Chip in $25 and bring a potluck dish to share. While you're playing games, you'll likely share some laughs, too. Have your shopper buy fun $25 gifts that suit the group: lotto tickets, gift cards or maybe a nice bottle of champagne to celebrate New Year's Eve. Everyone goes home a winner — even if they didn't win a game.
Share an experience: Have a night out together doing something all of you like — and Dutch treat. Set aside a weekend day in December for a hike and lunch. Put on your Christmas sweaters, have dinner out and go to the local drive-through holiday lights display. Or get all dressed up, have hors d'oeuvres and go see the production of "White Christmas" at the local playhouse. Memories make the best gifts.
Cutting back on your spending still can leave you with an enjoyable holiday. You have plenty of time this season to make a pact with friends and family to come up with creative, low- or no-cost gifts. Spend little, enjoy the pleasure of each other's company and put the savings toward your nest egg.
More From GOBankingRates