How To Avoid Supply Chain Issues Interfering With Your Holiday Shopping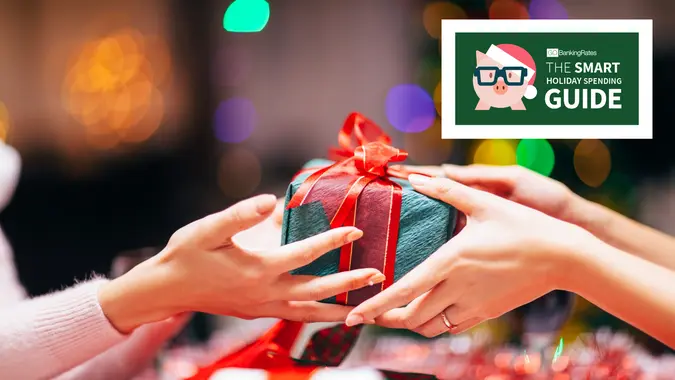 recep-bg / iStock.com
Supply chain issues have been a problem since early in the pandemic, causing significant delays in shipping and, thus, people getting the things they need. Just look to the Ever Given, the ship that became stuck in the Suez Canal and took six days to break free.
We've Got You Covered: The Smart Holiday Spending Guide
Read More: Supply Chain Crisis Builds as Retailers Overorder to Meet Growing Consumer Demand

While that event caused major delays and froze nearly $10 billion in trade, much smaller-scale shipping delays have been commonplace. President Joe Biden announced a plan in October to keep ports running 24/7 to ease supply chain bottlenecks. "The ability to get goods to consumers is the most critical issue and the one the Washington D.C. is responding to most rapidly," said Eric Leve, chief investment officer at Bailard. "This matches up with another COVID problem, the Great Resignation. Many older dockworkers and truck drivers chose to retire in the past year."
Tips: Don't Let Inflation Bust Your Holiday Shopping Budget
Check Out: Expect All-Time High for Holiday Sales Despite Supply Chain Issues and Labor Shortages

Thus, if you plan to do holiday shopping just like you would any other year, you will have to take extra steps to avoid those supply chain issues. Here are some steps you can take to be sure you can get what you need without feeling the pain of supply chain constraints this holiday season.
Start as Early as Possible
Starting your holiday shopping early is a good idea every year, but it's more important this year than ever. Experts were recommending starting your shopping in mid-October to avoid shipping delays. Not only that, but supply chain constraints are also driving up prices. For example, the cost of shipping containers has been much higher than it was before the pandemic, and that cost is being passed on to consumers.
Make Your Money Work for You
Important: Why Do We Spend So Much Each Year on Holiday Shopping?
Kristin McGrath, shopping and deals expert at RetailMeKnot, emphasized the importance of starting early. "An early start is key if there are specific items you need, especially popular toys. Consider Black Friday/Cyber Mon your last chance this year, rather than the kickoff of the holiday shopping season. Retailers are going to start coming on strong with their early sales starting … now. Shoppers need to make their list and snap things if/as they go on sale."
The good news is that retailers are responding with earlier-than-ever sales to help consumers get their holiday shopping done sooner. Amazon released "Black Friday-worthy" deals on Oct. 4, and Target started Black Friday deals on Oct. 31. Numerous other retailers are having these early sales, so check with your favorites to see if they are starting Black Friday early this year.
See: 11 Gifts You Should Buy for Christmas Now — Before They Sell Out

Take Advantage of Holiday Price Matching
Price matching is a common way for retailers to keep you from shopping somewhere else, but holiday price matching allows you to match prices where you bought the item. For example, Target is offering holiday price matching.
If Target drops the price at any point on purchases made from Oct. 10 to Dec. 24, you can request a price match. That means Target will credit you the difference in price. It also says it will continue matching competitors' pricing within 14 days of purchase.
There are many other major retailers that offer holiday price matching, including Walmart and Best Buy. If you notice an item you purchased later drops in price, it can't hurt to ask if the store offers holiday price matching.
Make Your Money Work for You
Tips: From Airfare to Gifts to Your Tree, How To Save on Every Aspect of Holiday Spending

Watch For Free Shipping
Free shipping has become more common after stores like Amazon popularized it with its Prime membership. Of course, Amazon still offers free two-day shipping with Prime. But other major retailers offer free shipping, too, including Walmart and Target.
If you participate in the membership program for any of these retailers, you can take advantage of free shipping with no minimum purchase. Free shipping won't help as much if items have exorbitant prices, but at least it can lower the overall cost of holiday shopping.
Save More: Wrapping Paper, Greeting Cards and More Holiday Items to Only Buy at Dollar Stores

Don't Limit Yourself to Online Shopping
Online shopping is very convenient; you can order items with just a few clicks and you don't even have to go anywhere. But some retailers might reward you for making the extra effort of visiting their brick-and-mortar stores, said Anthony Nuzio, CEO/founder at ICC Logistics. "Other shopping options should include in store sales as many retailers are offering special pricing to entice shoppers to pick up their goods in the store so that they do not have to absorb the high cost of shipping those packages to your home."
Check Out: Your Complete Guide To Getting Ahead and Saving on Holiday Shopping
Give Gift Cards or Secondhand Items
If you are used to buying brand-new items such as clothing or cookware as gifts, it may be a good idea to consider other options this year. The reality is that at the end of the day, you may simply be unable to find the things you would normally buy this year. Fortunately, gift recipients are more open to gift cards and secondhand goods these days.
Make Your Money Work for You
Blackhawk Network conducted a survey that confirmed gift recipients are increasingly open to the idea. "With the ease of delivery and wide availability of gift cards, 83% of consumers report wanting to give a gift card instead of a physical gift this year," said Brett Narlinger, senior vice president of global commerce at Blackhawk Network.
Narlinger also noted that younger gift recipients are happy to receive secondhand gifts. "Additionally, 66% of consumers are comfortable receiving a previously owned, or secondhand, gift this year. This is led by younger generations with Gen Z (75%) and Millennials (74%) being the generations most comfortable with secondhand gifts."
More From GOBankingRates
Last updated: Nov. 1, 2021