How To Check Off Your Entire Holiday Shopping List at Costco — and Save Big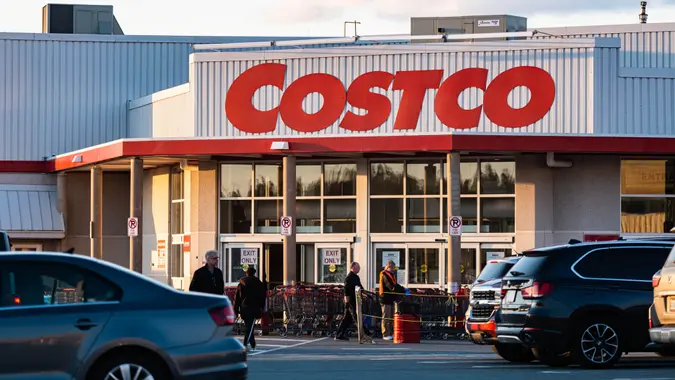 shaunl / Getty Images
If you have a Costco membership, it makes sense to maximize your shopping trip while there, especially when making a seasonal run. After all, this warehouse shopping club contains aisles and aisles of holiday-worthy products — from gift wrap to prime rib. Plus, you'll often find a better price per pound or per unit on items, as compared to prices that traditional retailers or grocery stores offer, which can help you stay within your holiday budget. 
To find the best ways to check off all the items on your holiday shopping list at Costco, GOBankingRates asked Julie Ramhold, consumer analyst with DealNews, for her expert tips. Here's what she shared to help you get ahead on holiday shopping at a discount.
Buy Your Main Dish for Less
"The holiday season is big for things like turkey, but some families may prefer to have something like a prime rib roast for the big holiday dinner," said Julie Ramhold, consumer analyst with DealNews. "Costco is well-known for having great prices on meat, especially when you consider the volume you receive and how many people you can feed. Make no mistake — it might not be cheap to purchase something like a prime rib roast at Costco, but it will likely be far better priced than if you were to shop at a standard grocery store. And if you opt for something else like chicken or fish, you'll save even more as those are more 'standard' options and not necessarily 'luxury' meats."
Make Your Money Work for You
Buy Holiday Desserts
"Costco is known for its huge desserts that are ready-to-eat and weigh multiple pounds, so they're enough to feed a crowd," Ramhold said. "Opt for the apple, pecan, or pumpkin pie, but also look for other desserts, including the cheesecake or pumpkin cheesecake, which has a loyal following. 
"If this feels like too much of a shortcut, and you feel bad for not fresh baking these items yourself, you can dress them up with things like homemade maple whipped cream or caramel sauce. It may seem like paying around $10 for an apple pie isn't going to save you much of anything, but these huge pies serve roughly 16 people, and you'll save on the raw ingredients and time needed to bake these items from scratch."
Purchase Multipacks and Break Them Down
"You'll often find things like 3- and 4-packs of candles at Costco, with each candle measuring 12-oz or so and having a burn time of 36-44 hours," Ramhold said. "You could gift the entire pack to one recipient, but the great thing about these packages is that they can be broken up to serve as multiple gifts, which drops the price per gift and knocks out purchases for three to four people at once. 
Make Your Money Work for You
"It's not just candles, either. Often this time of year, Costco has things like Starbucks gift sets as well, usually at least two to each pack. These will usually include things like mugs, packs of hot cocoa mix, marshmallows, peppermint sticks and maybe a snack, and they'll be wrapped up in cellophane. All you have to do is add a bow or put each one into a gift bag."
Get Outfits for the Whole Family
"Costco routinely runs 'buy more, save more' promotions on clothing items, with very few exceptions (usually things like socks and underwear as well as the Costco Next lines)," Ramhold said. "As long as they qualify for the promotion, you can expect discounts like $25 off when you buy five items, or $60 off when you buy 10 items. And since Costco already tends to have reasonable prices on apparel items, you're just stacking savings by taking advantage of these. You can find holiday outfits for the kids and build a new look for the adults in your family without spending a fortune."
Save on Gift Cards
"If you're planning to buy restaurant gift cards for someone for the holidays, shopping at Costco will ensure your dollar goes further," Ramhold said. "Often you can buy $100 worth of gift cards for a variety of different restaurants and save $20 to $30 off the face value — that means paying $70 to $80 to get $100 worth of gift cards. Some restaurants may have higher amounts as well. For instance, you may be able to find four Texas de Brazil gift cards worth $50 each ($200 total) for only $150.
Make Your Money Work for You
"It's not just restaurants, either. You also can find gift cards for gaming services and save $5 to $10 off the face value of those. There are also gift cards for retail stores, movie tickets, streaming services, lifestyle, spa and travel. You can even find things like a gift card for a one-year Instacart Express membership for less."
Get Host or Hostess Gifts
"This year, many things are returning to normal, and that means you may be inundated with invitations to holiday parties," Ramhold said. "It's always polite to show up with a hostess gift, but that can get expensive depending on how many parties you'll be attending. 
"If you shop online, you can find really lovely gift packages of candies in multipacks, such as 4-packs of French truffles, boxes of Belgian chocolates, tins of European cookies, tins of Kirkland hazelnut chocolates (better than Ferrero in my opinion!), and more. These packages look great on their own, but they're also easy to wrap, and they make great hostess gifts. And of course, one 4-pack equates to four gifts from $10 to $20 each, depending on which item you purchase."
Make Your Money Work for You
Get Holiday Activity Kits
"If you enjoy building things like gingerbread houses, many Costco stores have entire kits for decorating gingerbread houses," Ramhold said. "But what sets them apart is that the houses are already built — all you have to do is decorate. Even better, these kits are reasonably priced and come with everything you need, which means you'll save over having to buy items separately as well as save time over having to bake gingerbread to the perfect consistency for building."
Stock Up on Durable Holiday Decor
"You can find tons of holiday decor at Costco, including shatterproof or shatter resistant ornaments that actually look beautiful rather than cheap," Ramhold said. "It might be a little more costly upfront… but investing in these once will mean decorations that last, and you won't have to buy new ones year after year. You can also find storage solutions for your holiday decor, which means you can store it away with better protection and, again, prevent the need to buy new ones the next year."
Make Your Money Work for You
Get Enough Wrapping Supplies for the Whole Season
"Wrapping paper is one of those items that's not worth skimping on," Ramhold said. "If it rips too easily, you have to start over, which means wasting time and using more paper than necessary. Fortunately, you can usually get six rolls of reversible wrapping paper at Costco for around just $30. Each roll also has 60 square feet per roll, so you'll have plenty for the holiday season and possibly even beyond."
More From GOBankingRates