How To Do a Holiday Place Setting at the Dollar Store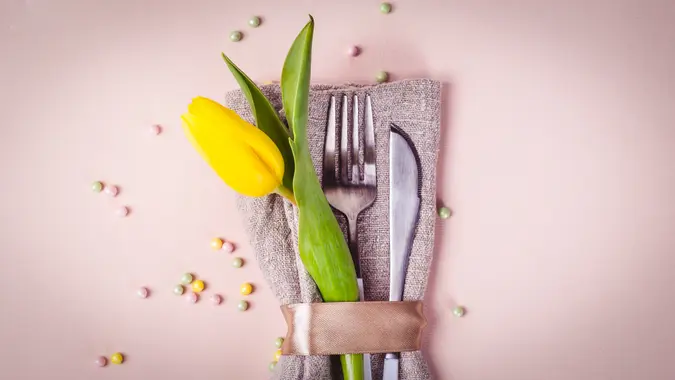 colnihko / Getty Images/iStockphoto
With inflation still on the rise, sticking to a shoestring budget this holiday season could prove challenging — particularly if you're one of the many who will be throwing a holiday dinner party. 
While you may have already figured out ways to save on groceries, gifts and decor — there's one small but significant aspect you might not have accounted for: holiday place settings.
Take a stroll on Pinterest and you'll find no shortage of glitzy and shimmering inspiration for holiday place settings, and it's clear that you can really go all out on these festive arrangements. Much of it looks terribly expensive — and none too practical when considering that it will probably get covered in food and booze. 
We consulted deals, savings and decorating experts to learn their favorite ways for making a holiday place setting when shopping at only one place: the dollar store.  
Choose a Shiny Charger Plate
"These plates sit underneath your other dinner plates and basically serve as a decorative base," said Julie Ramhold, consumer analyst with DealNews.com. "Sure, you can spring for ones that perfectly match your dinnerware but you'll save way more if you opt to buy a few of them from a dollar store. Often they're priced at $1 each and come in festive patterns and shiny metallic finishes that will complement your setting nicely. Look for simple patterns like snowflakes or metallic finishes like silver or rose gold as they'll be more versatile and won't clash with your other holiday-themed dinner items."
Make Your Money Work for You
Ramhold added that you can save anywhere from $2 to far more on each charger by going this route — and that if you opt for simple colors or metallic finishes, they can be used year-round instead of just around the holidays. 
"Either way, they're going to give an elegant accent to your dinner table," Ramhold said. 
Use Faux Flowers and Colorful Construction Paper for Name Tags
"You can do so much with disassembled faux flowers," said Trae Bodge, smart shopping expert at Truetrae.com. "They can lend color to your table and make for festive place settings by tucking a guest's name between the flower petals and placing one on each plate."
Faux flowers are easy to find at dollar stores, as is colorful construction paper that Bodge recommends using for guests' name tags.
"These are all things you can find at craft stores, but they will be priced much higher than $1," Bodge said. 
Opt For Pretty but Simple Glasses
"You can find all kinds of drinkware at the dollar store, from wine glasses to Irish coffee mugs to champagne flutes and everything in between," Ramhold said. "This is an easy and affordable way to ensure you have the right glassware without spending a fortune. Considering you can find these glasses for $1 or even 50 cents each, you can expect to save at least 20 to 50 cents per glass, and likely far more. These glasses will be plain, so you could potentially dress them up with festive ribbons around the stem."
Make Your Money Work for You
Use a Festive Small Candle Holder
"The dollar store will sell a variety of these so you can opt for frosted glass, holiday colors, clear glass, or even decorative holders shaped like snowflakes," Ramhold said. "These are an easy way to add a nice touch to every place setting and make things feel warm and cozy ambiance when paired with an unscented tea light or votive candle. These will run you 50 cents to $1 each, which will save you at least 25 cents over purchasing actual candles with glass containers in a big-box store. Just purchasing the candle holders alone at a big-box store will run you $1.08 to more than $2 per holder." 
Create Your Own Napkin Rings
"Napkin rings are easy accessories to dress up your place settings, but they can run you $1 each — or more — at some places," Ramhold said. "You might be able to find napkin rings at a dollar store, but if you don't, consider making your own. You can usually find a pack of 12 or so shower curtain rings for around $1 a pack, then you just have to buy some festive ribbon, wrap each one, and secure them with fabric glue to keep them in place. Your guests will never know you repurposed new shower curtain rings to dress up your cloth napkins for your holiday dinner."
Decorate DIY Napkin Rings With Dollar Store Brooches
"To make beautiful napkin holders, I first purchase simple napkin holders that are generally one dollar for a whole pack," said Nora Mitchell, editor-in-chief of Household Advice. "I then browse the jewelry and accessories aisle and purchase large brooches. They often are bedazzled with pearls and diamonds. I take these brooches and glue them to the simple napkin holders from the dollar store."
More From GOBankingRates