How To Handle Holiday Invites and Events While on a Budget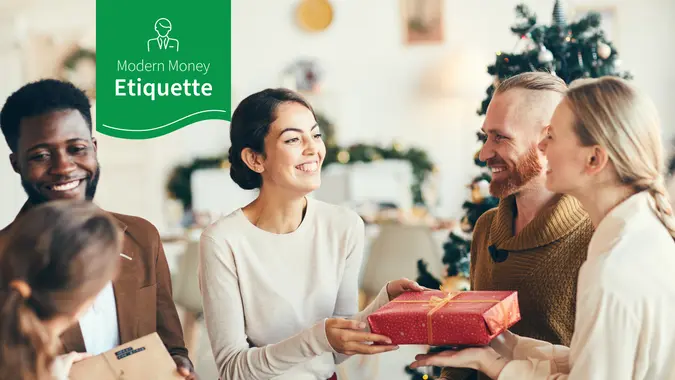 SeventyFour / iStock.com
The holidays tend to be a very social season full of gatherings with family and friends. Although you may be looking forward to all of the festivities and merriment, you may be dreading the dent in your wallet that all of these events can leave. Between buying hostess gifts, preparing foods for potlucks, participating in white elephant exchanges, purchasing new holiday attire and traveling to and from parties, the cost to attend these events can really add up. So if you're on a budget, you may have to politely decline an invite or two.
Read More: From Airfare to Gifts to Your Tree, How To Save on Every Aspect of Holiday SpendingFind Out: 29 Ways To Save On Holiday Gifts
Here's how to tactfully manage holiday invites and events when you're on a tight budget.
Don't Feel Like You Have To Attend Every Event
There's no need to go into debt from attending holiday parties. If you can't afford to attend an event — or simply don't want to — then you shouldn't feel obligated to go.
Check Out: The Ultimate Holiday Etiquette Gift Guide
Be Aware: The Do's and Don'ts of Complaining About Money

"Attending a party should be something you look forward to," said Mona Zegarelli, etiquette expert and director at the National League of Junior Cotillions Greater Grand Oaks Chapter. "Prioritize your calendar to those events you truly feel excited about! Then reflect on any family or work considerations. And last, reflect on how you will honestly feel if you do not attend. It can be difficult when you feel pressed or pressured to attend, but it is OK to just say 'no.' And if they are your friend, they will not be offended."
Make Your Money Work for You
It's Always OK To Decline an Invitation (No Matter What the Reason)
"There is nothing wrong with declining any invitation and there's no need to give any excuse," said Julia Esteve Boyd, The Etiquette Consultant. "One can politely decline simply by saying something along the lines of 'I'm so sorry I cannot attend on that date but l really hope to get together with you sometime soon… perhaps after the festive season.'"
Shop Smarter: 5 Reasons Why You Need a Cash-Back Card in Your Wallet
Find Out: Top Holiday Toys, Gadgets and More To Shop Now — And What They'll Cost You
If the reason you are declining is due to budgetary constraints, you do not need to share this.
See: Rude Money Habits You Need To Break Now
"There's no need to give any explanation," Esteve Boyd said. "Your private life and reasons are private, and there's no need to share if you feel uncomfortable doing so."
But You Should Never Ignore an Invite
If you can't attend a holiday event, you should let the host know.
More Modern Money Etiquette: Answering Thorny Questions About Tipping, Gifts and More
"It's important to acknowledge the invitation, as one should always show this politeness," Esteve Boyd said. "Do so in a timely manner. Don't wait until the last minute to respond or decline — it's quite inconsiderate to the host."
Don't Feel Pressured To Bring Expensive Hostess Gifts
If you're hesitant to accept an invite because you can't afford to splurge on a hostess gift, remember that it's OK to bring something inexpensive — this should not be the reason you miss out on a holiday party.
Make Your Money Work for You
Find Out: Do You Always Have To Pitch In for an Event or Gift at Work?
"A gift for the host/hostess does not have to be expensive by any means," Esteve Boyd said. "It can be something very small, but the key is to put some thought into it. For example, if you know someone likes plants and flowers, then instead of an expensive bouquet, you can opt for a small inexpensive plant. There are many cheaper options than wines, chocolates, scented candles, etc., such as seasonal cocktail napkins or a homemade relish — and they are usually a lot more original!"
More From GOBankingRates