8 Ways To Host Thanksgiving Without Breaking the Bank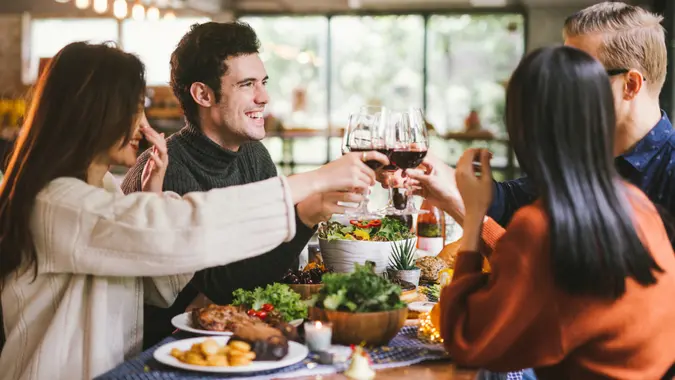 pondsaksit / Getty Images/iStockphoto
You're hosting Thanksgiving this year, so the good news is, you don't have to spend any money on travel. The bad news? You're on the hook for everything else — or at least, that's what it feels like.
This year is going to be especially expensive with the rising cost of goods due to inflation. The meal will cost Americans between $100 and $200 on average, and that's without drinks or any other supplies. If you have a particularly large family, or one full of picky orders, that number gets even higher.
Worried about spending hundreds on one day? Here are some tips to keep costs low and spirits high on Turkey Day.
Get the Turkey for Free
You heard me: free turkey. There are several grocery stores that run promotions where if you spend a certain amount, you can get a free turkey with your purchase. This is a big deal considering turkeys will cost, on average, $1.79 a pound this year. That's up from $0.99 a pound in 2021.
Stores like BJ's, Foodtown, ShopRite and Weis all have specials where you can earn a free bird by spending $150 or more. Check your nearest store to find out more details. 
Make Your Money Work for You
Buy in Bulk
If you have a lot of people coming, wholesale warehouses are going to be your best bet. Buy sides like cranberry in bulk, as well as all the paper products you'll need for entertaining to make cleanup easier. 
Only Make What You Will Eat
This might seem obvious, but Thanksgiving is a holiday that's very wrapped up in tradition. Stuffing, cranberry and green bean casserole might all seem like they have to be on your table to call it Thanksgiving, but do people even really eat it?
With food costing 12% more on average than it did last year, it doesn't make sense to waste money on items no one likes to eat. Talk to your guests and ask them what they are most looking forward to, then only make what you need. If no one mentions cranberry, and you don't like it? Feel free to take it off the table. You'll save even more if you skip traditional dishes and make some sides that aren't associated with the holiday. Plus, this adds a little variety to your feast to make it memorable. 
Make Your Money Work for You
Use What You Already Have
Once you're okay with not being 100% traditional, your options for your menu open up. Go through your pantry and see what you have. Can you whip up something just from the ingredients you have on hand? Look up recipes with your ingredients and see how creative you can get. Plus, you can feel like you cleaned out your kitchen a little bit after the holiday is over.
Cook Everything From Scratch
It's tempting to buy everything premade, especially if you have a lot of people coming over, but try to make as much as you can from scratch. The cost of convenience will add up, whereas making everything yourself gives you the ability to make it your own while cutting costs at the same time. 
Skip Turkey Altogether
When you surveyed guests on what they like to eat, did turkey never or rarely come up? Your get-together might be a candidate for an alternative type of meat then.
Opting for a roast chicken during Thanksgiving season means you'll save quite a bit going for a cheaper, less in-demand cut of meat. Of course, if you have to have turkey at your table, buy only enough for who likes it. If you have a lot of vegetarians, take that into account when you're purchasing the turkey. You only need about 1.25 pounds per person usually, so don't buy more than you have to. If you only have a few meat eaters, ask if they'd be OK going full vegetarian. It'll save you money, and sometimes can be healthier, too.
Make Your Money Work for You
Prioritize Veggies
Vegetables are not only healthy, but they're cost-effective — especially if you go frozen. If you want to buy fresh vegetables, think sweet potatoes, squash, kale, brussels sprouts, beets and carrots. These are on sale and in season during this time of year.
Do It Potluck Style
This is another way to make sure no food goes to waste, since most people tend to bring what they enjoy eating. Set up a spreadsheet ahead of time where everyone can put what they want to bring, then fill in any gaps you feel like you need to. This keeps costs low and makes guests feel like they have an active role in helping put on Thanksgiving dinner. 
More From GOBankingRates