How To Keep Valentine's Day Affordable Without Looking Cheap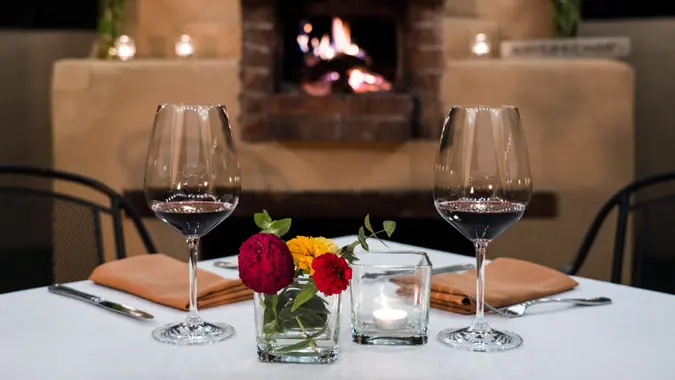 ©Quiessence at The Farm at South Mountain
With Valentine's Day just around the corner, love is in the air and consumers are ready to spend. According to the National Retail Federation, Americans are anticipated to spend $25.9 billion on Valentine's Day this year, up from $23.9 billion in 2022 and one of the highest spending years on record. Individuals participating will dish out $192.80 on the romantic occasion.
See: 10 Best New Items Coming to Dollar Tree in 2023
Learn: 3 Ways Smart People Save Money When Filing Their Taxes
It's a lot of money to spend — especially during economically rocky times with a recession looming. It makes one wonder, "Do you really need to spend that much to make the most of Valentine's Day?" and "How can you keep Valentine's Day affordable without looking cheap?" Because nobody wants to look miserly on a day that's all about celebrating passion and the limitlessness of true love. 
Fortunately, there are things couples can do that show they care about one another that won't break the bank and may actually be more enjoyable and more memorable than doing the same old go-to-an-expensive-dinner-and-drinks bit. 
Cook a Special Meal Together
Date nights can get pricey. The average cost of a date night in the U.S. is upwards of $100 — and that's not factoring in recent rising costs of food or the upped prices restaurateurs may tack on for the special, high-demand occasion that is Valentine's Day. Consider making a more memorable evening by making a meal at home, together.   
Make Your Money Work for You
Take Our Poll: What Are Your Financial Priorities in 2023?
"Rather than splurging on a night out which often involves higher prices because of increased demand, plan a meal with an appetizer, entree and dessert and pick a special drink to have with it," said Julie Ramhold, consumer analyst with DealNews.com. "Then go shopping together and cook the meal together; it'll be a great bonding experience and can be more relaxing than having one person having to handle everything alone.
"It doesn't have to be expensive, either. You can plan a menu that includes childhood favorites, for example, and go with a non-alcoholic drink that you both love. Planning something special like this will mean a lot and doesn't require you to spend a fortune, plus doing it all together will make the whole process from start to finish more fun in general."
Explore Your City  
You may know your city like the back of your hand, but how many of its sights have you taken for granted day in and day out? Take some time to enjoy the scenery with your partner. You can grab hot chocolate and possibly stumble upon some hidden gems neither of you knew about. 
Make Your Money Work for You
"If you live in the same city as your partner, then consider having an exploration day where you look for fun things to try that you haven't done before," Ramhold said. "This is the perfect time to try local bakeries or breweries, for example, or find hole-in-the-wall restaurants that are off the beaten path.
"It's also a good time to check out things like museums and botanical gardens that are in your area that might not have been on your radar before. If you want an extra challenge, try to make it a no-spend day and look for free activities to do around town, then pack a picnic lunch to take with you."
Plan a Gift-Shopping Date
You might be feeling the pressure to pick the perfect present for your beloved ahead of the special day, but why not opt for something more spontaneous — and, ideally, more affordable?  
"Rather than choosing gifts ahead of time, consider shopping for them together," Ramhold said. "For example, if you both like to read, head to a secondhand bookstore and part ways long enough to pick something you think the other will like. This also works for music, foods, games — pretty much anything you might be interested in.
Make Your Money Work for You
"As long as it's a pretty affordable category, you should be able to treat each other without spending too much money and it'll be a more interesting gifting experience than if you go for the standard flowers or chocolates Valentine's Day is known for."
Try Something New Together
What is something that neither of you has done but has always wanted to, or what is something you've never done together? 
"You could go to a candy store and both choose a treat you haven't had in order to try them together," Ramhold said. "You could also do this with things like hot sauces, weird soda flavors or anything else you might be curious about.
"Keep it affordable by choosing one or two things or buying smaller containers — especially if you're worried about being stuck with something you might not like. Then plan to sit down and try the items together, rank them and share your thoughts. It'll also be a good way to learn more about each other, so it can be especially good for new relationships. But even couples who have been together for years can find it fun, too."
Put Some Thought Into It 
The saying, "It's the thought that counts" holds weight here. 
"Whatever you decide to go with, as long as you consider what kinds of things your Valentine likes, your gift will mean way more even if it costs very little compared to buying an expensive gift just because it's expensive," Ramhold said. "A heart-shaped pendant that costs a few hundred dollars isn't going to be nearly as meaningful as something like cooking a special dinner."
More From GOBankingRates
Make Your Money Work for You