How To Not Overspend on Your Kids This Holiday Season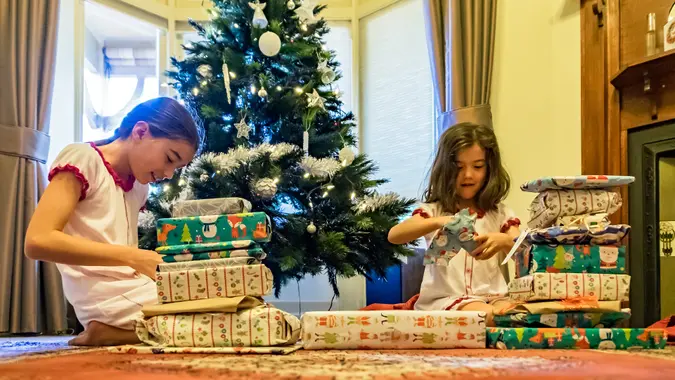 BeyondImages / Getty Images
It's easy to get carried away when buying gifts for your kids. After all, you want to give them a memorable and joyful holiday. However, you don't need to buy every gift on their wishlist to be a good parent — and you especially shouldn't do this if it will cause you to take on any debt. Here's how to avoid overspending on your kids during the holidays.
Create a Budget
"It may seem like a straightforward step, but a surprising amount of people don't make a holiday shopping budget," said Anne Marie Ferdinando, member outreach manager at Navy Federal Credit Union. "When you make and write out a budget, you're much less likely to get distracted by holiday sales and overspend. Once you decide how much you can spend overall, break down your budget by how much you intend to spend per child, as well as any other people you plan to purchase gifts for. Getting even more specific with your intentions can help you stay on track."
Set Expectations Early
Once you've figured out how much you can afford to spend on gifts for your kids, have them go through their lists to highlight what they really want.
"For very young children, they'll likely be happy with just the idea of opening presents," said Alissa Van Volkom, chief marketing officer at Vanguard. "For older children, it's helpful to plan in advance and understand what they really want so you can set expectations for those big-ticket items, like an Xbox, for example."
You can even use the holidays as an opportunity to teach your kids about the value of money and budgeting, said Trina Patel, senior financial advice manager at Albert.
Make Your Money Work for You
"When your kids give you a wish list, talk to them about your budget and how much will be spent on their gifts," she said. "This gives them an opportunity to find out how much each item costs, assess what they really want and prioritize what they want. This also allows you to control how much you'll be spending on their gifts and can help you avoid feeling guilty for not getting everything on their wish list."
Create a Holiday Spending Account
"A good way to control how much you spend on holiday shopping is opening a checking or savings account dedicated to your kids' holiday expenses," Ferdinando said. "This way, you'll not only have a dedicated amount for shopping, but when the account is empty, you have a clear cut-off on your spending."
Practice Careful Credit Card Usage
"If you don't use the dedicated account approach, be aware of your credit card usage, especially if you typically find yourself charging more to your card during the holiday season," Ferdinando said. "Be cognizant of your balance and make payments more frequently than usual to avoid any unwanted surprises at the end of the month."
Start Your Holiday Shopping Early
"Some retailers are starting holiday sales early, so it's a good idea to start making your list so you can compare pricing among retailers," Patel said.
Get Creative With Gift-Giving
"Instead of only gifting material objects, talk to your kids about receiving gifts as experiences too," Patel said. "This could be a great way to combine how much you'll be spending on the holidays anyways since spending on holiday attractions and activities can add up. Another creative gift-giving option is to invest the money instead. You can use this as an opportunity to teach them about investing, and you can have them pick out the company themselves."
Make Your Money Work for You
More From GOBankingRates