How To Pay Less for Grocery Essentials This Holiday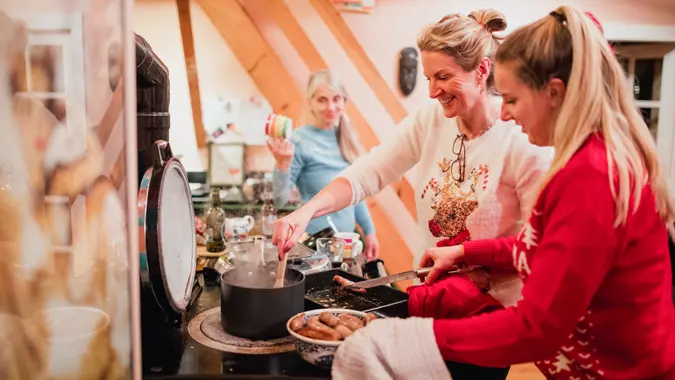 SolStock / Getty Images
Over the next few weeks, households across the United States will be heading to grocery stores for holiday food staples. Even those picking up just the essentials — milk, butter and spices — are likely to experience sticker shock at checkout.
Turkey: Look for Deals, Shop Smaller Birds, Consider Alternatives
Turkey is typically the star of Thanksgiving dinner, but you could pay more than what was in your budget if you aren't careful.
Pay less for the turkey you need by checking to see which local grocery stores and supermarkets are offering promotions. Some of these offers include getting a discount after spending a certain amount of money, receiving free turkeys with a minimum purchase or even seeing "rewinds" back to pre-inflation Thanksgiving dinner pricing, as is this year's trend at Walmart and Aldi.
Other strategic ways to save on the turkey include purchasing smaller turkey breasts if you're only feeding a few people and looking into meat alternatives. Think slices of smoked ham in the exact amount you need or slow-cooked beef stew meat.
Make Your Money Work for You
Spices: Head to the Dollar Store, Shop Generic Brands
Spices and seasoning blends have increased by $2 to $4 in regular supermarkets this year, according to Brian Theis, author of "The Infinite Feast: How to Host the Ones You Love." Rather than spend extra, visit your local dollar store to stock up on turkey seasoning and cinnamon. 
If you don't have a nearby dollar store and absolutely need to purchase spices, opt for store brands over name brands. This will help put a few extra dollars back in your wallet. Take care of any leftover spices you may have by storing them appropriately for later use.
Canned Vegetables and Soups: Buy In Bulk
This is a tried-and-true shopping tip cited by Consumer Reports. If you're making a casserole for the holidays and need canned vegetables or soups to complete the recipe, take advantage of the grocer's sales. A deal where soup or canned vegetables are four for $5 or 10 for $10 means purchasing the full amount. 
Keep the extra cans stocked in the pantry — family or friends may be able to use these spares.
Produce: Mix Up Fresh and Frozen 
Consumer Reports recommends serving a mix of fresh and frozen vegetables in your holiday dinner. 
Much of this will depend on where you shop, as some supermarkets may offer better deals on fresh produce or on frozen vegetables. If you need certain types of fruits to complete a dessert, consider picking up a bag of frozen berries instead of fresh berries if the price is right.
Milk, Butter and Eggs: Buy in Bulk, Freeze Each Item
Milk, butter and eggs continue to experience soaring prices due to inflation. In an interview with TODAY, Monti Carlo, senior food editor at Budget Bytes, said you can save money on dairy products by buying them in bulk. Households worried about reaching expiration dates on milk, butter and eggs are recommended to freeze these products and defrost afterward.
Make Your Money Work for You
Can you really freeze eggs? Yes! Carlo recommends cracking the eggs you're not going to use and scramble them. Then, freeze them in ice cube trays to be used later on. 
It is also possible to purchase less expensive alternatives, such as powdered milk and eggs, if you're in a pinch.
Bread: Buy in Bulk
If you're planning on serving rolls with your holiday dinners, consider stocking up on bulk buys like King's Hawaiian Sweet Rolls at Costco. Julie Ramhold, consumer analyst at DealNews.com, said Costco sells a two-pack of 16 rolls. Total cost for 32 rolls is around $7.20, depending on your area.
This bread is shelf-stable, Ramhold said, which means you can make the purchase early and not worry about the bread getting stale. Any leftovers can be frozen to use later. 
More From GOBankingRates