How I Threw a Spooktacular Halloween Party for Cheap
You don't have to spend a lot to have a great Halloween party.
The ancient Celts recognized Oct. 31 as Samhain, the day before their celebrated new year. It later became known as All Hallows Eve, and today, we observe this day as Halloween. In fact, we still commemorate the foreshadowing of winter with many of the same Celtic traditions. Thankfully, animal sacrifices and witchcraft are no longer the norm, but costumes, parades and bonfires sure are — as are parties.
My husband and I have hosted a few ghoulish get-togethers over the years, ranging from pricey, sit down murder-mystery dinner parties to downright budget-friendly-bashes. Last year was the latter. It was last minute and budgets were tight, so I had to channel my inner Martha Stewart and get creative. Here's how I did it — and you can too.
Read More: How I Save Money on Halloween Candy
To begin, I designated the party a potluck, which instantly took the cooking burden off of my shoulders. But, that still left decor. Although I was dressed as a fairy, my wand wasn't capable of instantly decorating my home, and no amount magic potion was going to accomplish this party feat. Instead, I had to conjure up ideas from the mere mortals of Pinterest, a luxury resource the Celts didn't possess.
No. 1: Wicked Wine Bottles
Using a little printer alchemy and some free sticker templates, my wine bottles were easily transformed. You can save cash by purchasing "Two-Buck Chuck," or more appropriately, Charles Shaw, wine for this purpose for less than three dollars a bottle.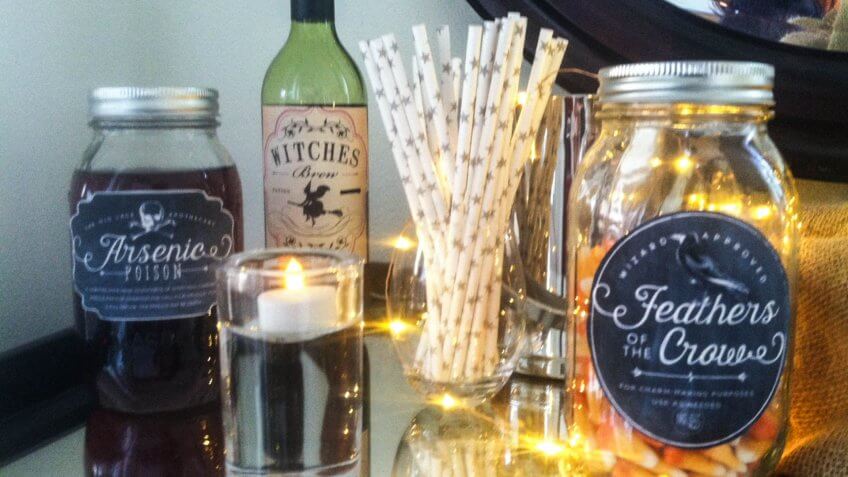 No. 2: A Pumpkin Ice Bucket
Chances are you've already purchased a pumpkin (if not, you can find one for under five dollars pretty easily at your local grocery store). Just cut off the top and carve out the entire center, place a clear bowl inside and add ice. You now have a decorative ice bucket. Also, it's a win-win since you can roast the pumpkin seeds for a salty snack and use the pumpkin itself for a variety of dishes, including pies and soup.
Related: Thrifty Ways to Make Your Halloween Pumpkin Last Longer
No. 3: Glowing Luminaries
I'm not a mom, and I have brown paper sandwich bags on hand, so chances are, you do, too. Just grab enough to line your entryway. Add sand to keep the bags from blowing, then place a tea light in each bag. Alternatively, you can splurge on the battery operated tea lights for better safety measures. Look for online templates to cut out features like the moon, witches or pumpkins on the front of the bags for a more creative glow. These may appear bland during the day, but at dusk, they turn into luminescent wonders.
More on Getting Spooky: Free Halloween Movies You Could Stream This October
No. 4: A Creepy Candelabra
The candelabras were the only decoration I spent money on, but I didn't buy them. Rather, they were rented from a nearby party store for about $20 each. I had both black and white tapers on-hand from previous parties (Amazon has affordable options) which are a creep factor must. Candelabras add instant class and a warm ambiance for your guests to enjoy.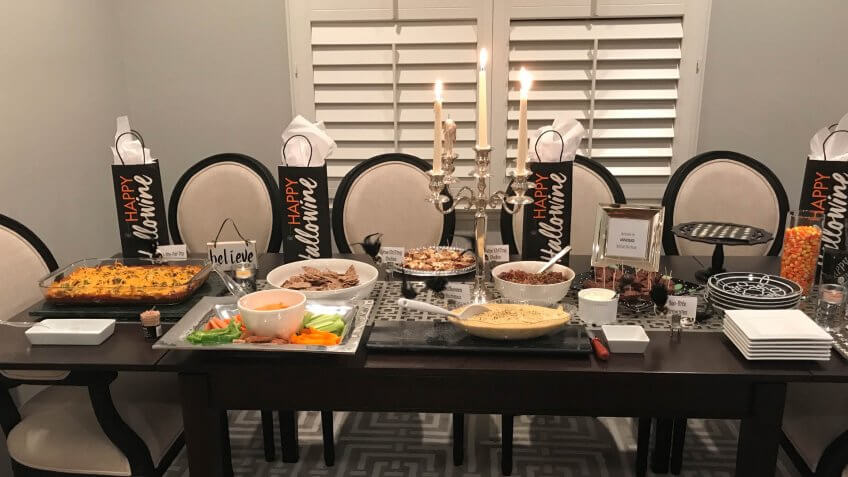 No. 5: A Haunting-Hand Ice Sculpture
This idea is so easy and effective. Just grab some latex gloves (your hairstylist will even give you some if you ask nicely), fill them with water and place in the freezer. Once frozen, you can add these to a punch bowl (great for kid's parties) or place in your ice buckets for a spine-tingling surprise. I recommend adding food coloring using hues like red, orange and purple to create contrast.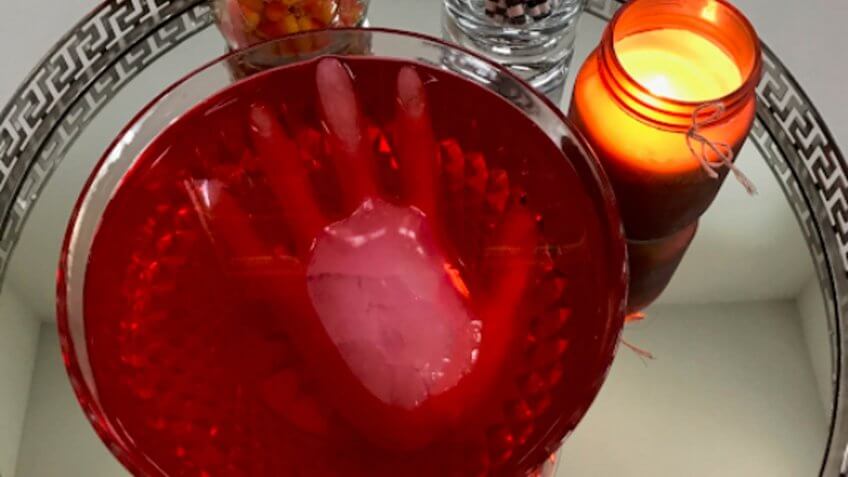 As you can see, I was able to transform my wholesome home into a frightening funhouse without buying a thing. Now it's your turn to get spooky.
Read More: DIY Halloween Kids Costumes for Under $10
More From Our Smart Money Squad
We make money easy. Get weekly email updates, including expert advice to help you Live Richer™.