Is McDonald's Open on Thanksgiving?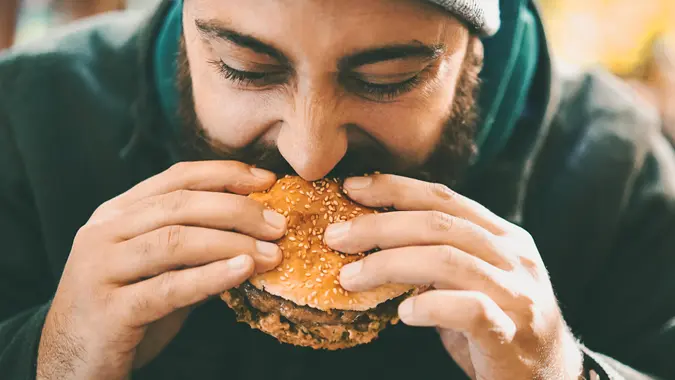 gilaxia / Getty Images/iStockphoto
The turkey is roasting, the pies are cooling, the potatoes are mashing and the stuffing is, well, stuffing. You have thought of every detail, sprinkled every sprig of rosemary and chopped every eye-watering onion. Basically, you have prepared the ultimate Thanksgiving feast. Now as you set your table with autumnally colored leaves and candles, you realize you may have forgotten one simple thing. What are you and your family going to eat before you eat?
Read: If Your Credit Score is Under 740, Make These 4 Moves Now
Dinner is hours away and yet you have a houseful of hungry mouths to feed. The kitchen is occupied and overflowing with what will be a Thanksgiving bounty, so cooking something on the fly is out of the question. You need something simple, something quick and something affordable. You need McDonald's. 
Nothing is the beacon for an emergency meal more than the golden arches of McDonald's. Whether you opt to walk in or drive through, you can have a meal for everyone in your crew in minutes. Sure, McDonald's is convenient, but is it open on Thanksgiving?
Make Your Money Work for You
McDonald's Is Open on Thanksgiving 2022
If you are traveling to your Thanksgiving destination, nothing quite says a holiday road trip like swinging through the McDonald's drive-thru and getting your tried and true favorites. McDonald's is open on Thanksgiving so you can keep this tradition alive. 
There are many restaurants open on Thanksgiving, but few will be as easy and downright comforting as McDonald's. It is there if you need a quick coffee or something more substantial to hold you over before you devour your dinner. McDonald's holiday hours of operation may vary from location to location so make sure you check with your local restaurant by calling or by referring to the store locator information on the McDonald's website. 
What To Eat at McDonald's on Thanksgiving
On Thanksgiving you might be up early enough to get a breakfast sandwich in McMuffin or McGriddle form, then add some hash browns. You could even be a hero and pick some up for everyone. If it's closer to lunch, a Big Mac and fries combo never goes out of style, maybe even some chicken nuggets, and no one has to know you got an apple pie. You can have pie at any meal you like on Thanksgiving. It's the eater's holiday. 
Make Your Money Work for You
Whether you do not want to deal with making breakfast, or Thanksgiving is just another Thursday to you and you want a Happy Meal, having McDonald's be open on Thanksgiving takes some of the guesswork out of what your easy next meal will be. 
Thanksgiving Hours FAQ
Does McDonald's open on Thanksgiving?

Yes, McDonald's restaurants will be open on Thanksgiving 2022. Holiday hours may vary by location so be sure to check with your local McDonald's first for their hours of operation.

Is McDonald's open on Christmas Day in the U.S.?

Only a few McDonald's will be open on Christmas Day. You can see if the McDonald's near you will be open on Christmas by using the store locator on the fast food chain's website.

Is McDonald's open on New Year's Eve?

McDonald's will be open on New New Year's Eve during its normal hours of operation of 6 a.m. to 10 p.m. or 11 p.m. depending on the location. It will also be open on New Year's Day during its normal hours of operation.

Is Walmart open on Thanksgiving?

Walmart stores will be closed on Thanksgiving 2022. Though in the past Walmart has been open on Thanksgiving, they have closed their doors every Thanksgiving since 2020.

Is Starbucks open on Thanksgiving?
What grocery stores are open on Thanksgiving?

Acme
Albertsons
C-Town
Carrs
Cub Foods
Cumberland Farms
Fairway Market
Food Lion
Fred Meyer
The Fresh Market
Fry's Food Stores
Giant Food
Hannaford
Harris Teeter
H-E-B
Hy-Vee
King Soopers
Kroger
Martin's
Piggly Wiggly
Ralphs
Safeway
Save A Lot
Sedano's
Sprouts
Stop & Shop
Smith's Food and Drug
Vons
Wawa
Wegmans
Whole Foods

What restaurants are open on Thanksgiving 2022?

Applebees
Bob Evans
Boston Market
Buffalo Wild Wings
Burger King
Chart House
Cracker Barrel
Del Frisco's Grille
Denny's
Domino's
Dunkin' Donuts
Einstein Bros. Bagels
Fleming's Prime Steak House
Golden Corral
Hardee's
IHOP
Legal Sea Foods
Maggiano's Little Italy
McCormick & Schmick's
McDonald's
Morton's Steak House
Popeyes
Romano's Macaroni Grill
Ruth's Chris Steak House
Seasons 52
Shoney's
Sizzler
Sonic
Starbucks
Subway
TGI Fridays
Waffle House
Wendy's
Whataburger
White Castle
Information is accurate as of Nov. 24, 2022.
Editorial Note: This content is not provided by any entity covered in this article. Any opinions, analyses, reviews, ratings or recommendations expressed in this article are those of the author alone and have not been reviewed, approved or otherwise endorsed by any entity named in this article.
Make Your Money Work for You