Is Starbucks Open on Thanksgiving?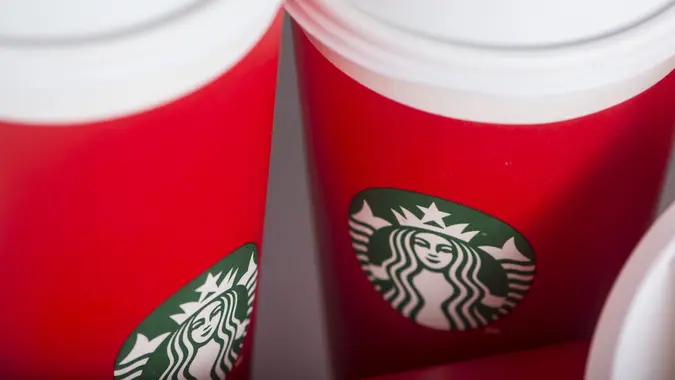 anilbolukbas / iStock.com
Your alarm goes off at 4:30 a.m. and no, it is not for work. It is Thanksgiving morning, and you do not have the luxury of hitting snooze — you have to get that turkey in the oven. The bigger the turkey, the more time it takes to cook, which means you have to get up earlier, which ultimately results in you needing copious amounts of coffee.
Learn: If Your Credit Score is Under 740, Make These 4 Moves Now
You budget your coffee into your daily life, but this coffee is going to need to be a large one, or preferably a trenta. Whether it is a tall, grande, venti or trenta, some caffeine is going to have to get into your system as you chop, peel, baste and broil. It is time to run to your nearest Starbucks and get your well-deserved caffeine fix.
But since it's Thanksgiving morning, this raises the question of whether or not Starbucks is open on Thanksgiving. 
Starbucks Is Open on Thanksgiving
Fortunately for you in your sleep-deprived state, the holiday schedule for Starbucks indicates it will be open on Thanksgiving. Note that holiday hours may vary depending on location, so your local store might be closed or have reduced hours.
Make Your Money Work for You
It is easy enough to check by calling your local Starbucks or looking it up using their Starbucks store locator before heading in to scoop up your favorite coffee or tea concoction. 'Tis the season for pumpkin spice, after all.
Fall and Holiday Drinks at Starbucks
Starbucks also has an array of fall and holiday drinks sure to get you into the autumn spirit — whether you are preparing the meal or just grabbing something on the way to someone else's house, there is a little flavoring of fall for one and all.
Pumpkin Spice Latte: Espresso, steamed milk, pumpkin, cinnamon, nutmeg, whipped cream
Pumpkin Cream Cold Brew: Cold brew, pumpkin cream cold foam, vanilla, pumpkin spice
Apple Crisp Oatmilk Macchiato: Blonde espresso, baking spices, brown sugar, oat milk
Iced Apple Crisp Oatmilk Macchiato: Blonde espresso, baking spices, brown sugar, oat milk, served over ice
Chai Tea Latte: Black tea infused with warming spices, swirled milk of choice
Iced Chai Tea Latte: Black tea infused with warming spices, swirled milk of choice, served over ice
Final Take
With Starbucks being open on Thanksgiving, you can plan on sipping your favorite morning pick-me-up while prepping all the bits and pieces that go into making your Thanksgiving meal. You will be grateful for the caffeine boost, and your friends and family will be grateful for you being awake enough to make not only the turkey but also all of the sides.
Make Your Money Work for You
FAQ
Though you might try to avoid it, sometimes you have to make a
quick shopping trip on Thanksgiving
. Here are the answers to some common questions about holiday shopping hours.
Will Starbucks be closed on Thanksgiving?

Many Starbucks stores are open on Thanksgiving. Holiday hours may vary by location, so be sure to check with your local Starbucks to see what their hours of operation will be.

Is Walmart closed for Thanksgiving 2022?

Yes, Walmart stores will be closed on Thanksgiving 2022. Though in the past Walmart has been open on Thanksgiving, it has closed its doors every Thanksgiving since 2020.

Is McDonald's closed on Thanksgiving 2022?

McDonald's is open on Thanksgiving for breakfast, lunch and dinner. Some McDonald's locations may have reduced holiday hours, so check-in before you drive through.

Is Starbucks usually open on Christmas Day?

Some Starbucks locations are open 365 days a year, but many Starbucks locations will close on Christmas Day. You can call your local Starbucks or use the Starbucks store locator on its website to find out if the Starbucks nearest you will be open on Christmas.

What grocery stores are open on Thanksgiving?

–

Acme

–

Albertsons

–

C-Town

–

Carrs

–

Cub Foods

–

Cumberland Farms

–

Fairway Market

–

Food Lion

–

Fred Meyer

–

The Fresh Market

–

Fry's Food Stores

–

Giant Food

–

Hannaford

–

Harris Teeter

–

H-E-B

–

Hy-Vee

–

King Soopers

–

Kroger

–

Martin's

–

Piggly Wiggly

–

Ralphs

–

Safeway

–

Save A Lot

–

Sedano's

–

Sprouts

–

Stop & Shop

–

Smith's Food and Drug

–

Vons

–

Wawa

–

Wegmans

–

Whole Foods

What restaurants are open on Thanksgiving 2022?

–

Applebees

–

Bob Evans

–

Boston Market

–

Buffalo Wild Wings

–

Burger King

–

Chart House

–

Cracker Barrel

–

Del Frisco's Grille

–

Denny's

–

Domino's

–

Dunkin' Donuts

–

Einstein Bros. Bagels

–

Fleming's Prime Steak House

–

Golden Corral

–

Hardee's

–

IHOP

–

Legal Sea Foods

–

Maggiano's Little Italy

–

McCormick & Schmick's

–

McDonald's

–

Morton's Steak House

–

Popeyes

–

Romano's Macaroni Grill

–

Ruth's Chris Steak House

–

Seasons 52

–

Shoney's

–

Sizzler

–

Sonic

–

Starbucks

–

Subway

–

TGI Fridays

–

Waffle House

–

Wendy's

–

Whataburger

–

White Castle
Editorial Note: This content is not provided by any entity covered in this article. Any opinions, analyses, reviews, ratings or recommendations expressed in this article are those of the author alone and have not been reviewed, approved or otherwise endorsed by any entity named in this article.
Make Your Money Work for You