Dollar Tree: 5 Last-Minute Valentine's Day Gifts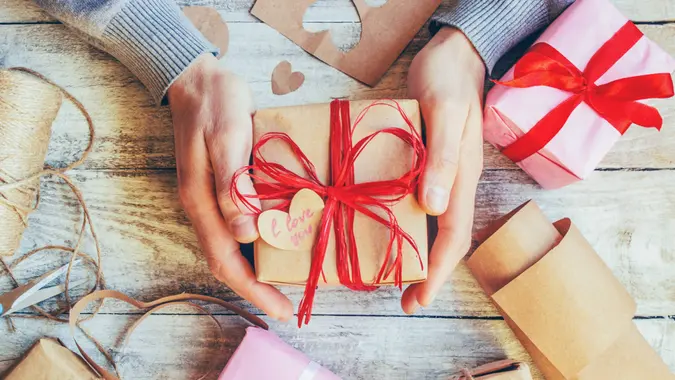 Yana Tatevosian / Getty Images/iStockphoto
Whether you're looking for Valentine's Day gifts for your kids, friends or that special someone in your life, it's not too late to find great options — at great prices — at Dollar Tree.
Costco's Best Deals? Employee Reveals 10 Standout Buys for Your Money
See: 3 Ways Smart People Save Money When Filing Their Taxes
Here's a look at some of the Valentine's Day gifts you can find on a budget.
Rose Head Boxes
Real flowers die but artificial ones last forever. Gift your Valentine one of these boxes filled with red, pink or white artificial roses to show them your love is as long-lasting as the bouquet.
Beauty and Spa Gifts
Dollar Tree sells a variety of Valentine's Day-themed beauty and spa gifts that are sure to please. Availability will vary by store but can include eye masks, makeup sponges, sheet masks and more.
Make Your Money Work for You
Live Richer Podcast: You Might Be Losing Your Credit Card Reward Points: Here's What You Should Do
Candy
You can find a wide variety of Valentine's Day chocolates and candy at Dollar Tree — and at lower prices than you'd find at your local drugstore in many cases. Choose from chocolate heart boxes, chocolate-covered cherries, heart-shaped marshmallows and more.
Plush Sloths and Bears
You can always find cute stuffed animals at Dollar Tree, but it's an especially savvy destination for last-minute Valentine's Day gifts. The store has a wide variety of plush toys available, including Fuzzy Friends Colorful Hanging Sloth Plushies and Fuzzy Friends Valentine's Chocolate-Scented Bears.
Valentine's Day Socks
Valentine's Day-themed socks make a great addition to any holiday gift basket.
More From GOBankingRates
Make Your Money Work for You