4 Lavish Date Ideas for Valentine's Day — And How Much They Cost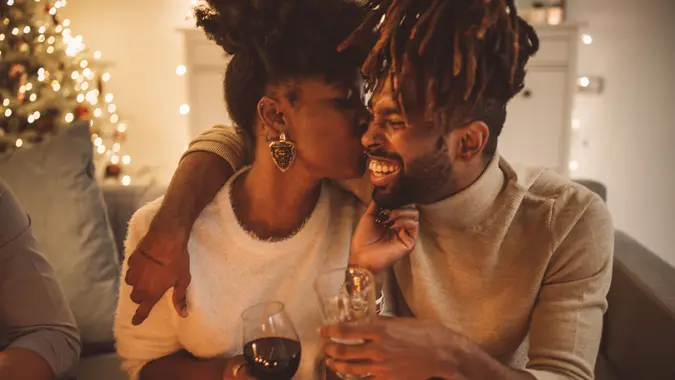 svetikd / Getty Images
Whether married or in a relationship, those in love may choose to celebrate Valentine's Day by making it an unforgettable experience. The perfect date can be inexpensive or impressive, and many couples pull out all the stops for a special romantic surprise. 
Costco's Best Deals? Employee Reveals 10 Standout Buys for Your Money
Find Out: 3 Ways Smart People Save Money When Filing Their Taxes
Do you plan to go all out for Valentine's Day? Here are some of the most lavish Valentine's Day date ideas and how much each costs.
Book a Wine-Tasting Tour
Professional dating expert and matchmaker Lana Otoya recommends wine-tasting tours as a popular way to raise a glass to your relationship without breaking the bank. This is the perfect setting to tour a local vineyard, taste some wines in the area and even enjoy a gourmet meal together.
The cost varies depending on location and vineyard, Otoya said, but a couple can expect to pay $100 to $500 for a tour that includes a gourmet meal. The cost also might include transportation, but be sure to check with your tour provider.
Make Your Money Work for You
Take Our Poll: What Are Your Financial Priorities in 2023?
Go for a Private Hot Air Balloon Ride
Let your love soar to new heights together with a private hot air balloon ride. This adventurous date will allow you both to experience breathtaking views and a moment of serenity together. 
A private hot air balloon ride costs $300 to $800 per person, depending on the location and the length of the ride, Otoya said. That includes transportation to and from the launch site.
"There may also be additional costs for food and drinks," he said, "as well as any gear or equipment rental if required."
Be a Tourist In Your Own City
Most individuals live in or close to cities that can act as swoon-worthy staycations. Catherine Brock, budgeting expert at The Budget Fashionista, recommends celebrating Valentine's Day by acting as a tourist in your own city. 
Those who pretend to be tourists can take in all of the great cultural benefits and attractions their city has to offer. Start the evening enjoying dinner and drinks together. Then, catch a play or concert and use rideshares to get around. Top off the evening by staying at a hotel.
Make Your Money Work for You
Brock said the total cost could be around $850: $300 for a fancy dinner, $200 for a show, $50 for transportation, $300 for a night at a nice hotel.
Visit France and Stay at The Ritz Paris
Those who truly wish to sweep their loved ones off their feet can surprise them with a weekend getaway to the City Of Love: Paris. 
Licensed therapist Lauren Cook-McKay recommends staying at The Ritz Paris. Suite prices range from $4,000 to $6,000. 
The Ritz Paris celebrates Valentine's Day with memorable moments made for every couple in love. Raise a glass at the Ritz Bar in one of the "thousand shades of pink" jewel cocktail options and savor the delectable madeleines at the Ritz Paris Le Comptoir.
Your weekend getaway in Paris might include private tours for various activities, and The Ritz Paris also offers many couple-themed activities. Relax at the Ritz Club & Spa or dine at Bar Vendôme with the Valentine's Day menu. 
Don't Forget To Tip
Whether you're going on a wine-tasting tour, flying on a private hot air balloon, dining out or staying at a luxury hotel, remember to factor in the cost of tips. That adds anywhere from 10% to 20% to costs of dining, transportation and some activities.
Make Your Money Work for You
Those enjoying Valentine's Day celebrations may leave larger tips as thank-yous for making the date special.
More From GOBankingRates
Make Your Money Work for You