Macy's After-Christmas Sale: Fashion, Beauty, Home and More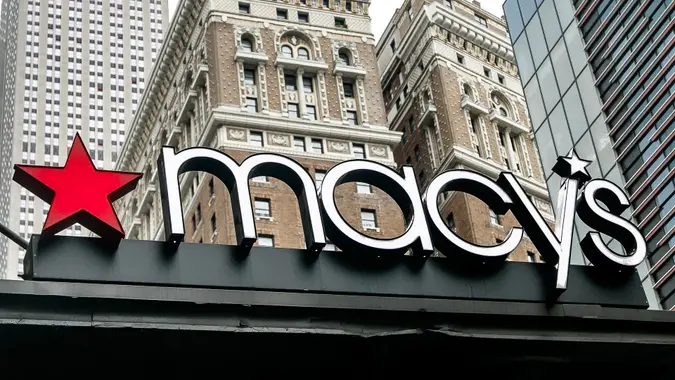 Roman Tiraspolsky / Shutterstock.com
Macy's is one of the premier U.S. department stores. Christmas sales and after-Christmas deals at Macy's are typically very popular, with Black Friday-worthy prices on apparel, home goods, beauty and much more. Check with your local store for all the holiday deals, store hours and special doorbuster deals.
Read: 3 Easy Tips to Turn Your Credit Woes into Wows
Often the items that go on clearance during the Christmas season will also be the items reduced in price further for the Macy's after-Christmas sale. Christmas sales and clearance go hand-in-hand with what items will be drastically discounted as of Dec. 26. The deals are great heading into Christmas but get even better the day after Christmas.
Macy's Christmas Clearance
As it comes down to Christmas crunch time, holiday-themed gifts, clothing, home goods and more are drastically marked down in price. This descent into cheaper pricing only compounds after Christmas with sales going up to 90% off on certain clearance items as of Dec. 26. Here are a couple popular clearance items you can expect to drop in price even more during Macy's after-Christmas sale.
J Queen New York Noelle Duvet Cover Set: This luxury bedding comes in crimson or evergreen and includes gold piping, pillow shams and a duvet. It is currently marked down over 50% and the price will likely come down again after the holiday.
National Tree Company 7.5′ Dunhill Fir Hinged Tree: If you are looking for a new Christmas tree now is the time to shop. It is marked down from $1,308.00 to $209.99. This considerable discount could even get better as of Dec. 26 for Macy's after-Christmas sale.
Idea Nuova Happy Holidays Poinsettia Bath Set: This festive set includes a shower curtain, a rug, decorative hooks, lotion pump, tumbler and a toothbrush holder and is part of Macy's Christmas clearance sale at nearly 50% off.
Charter Club Holiday Pine Tree Bath Towels: These adorable bath towels are holiday-themed but have a clean enough design to be used year-round. The matching hand towels are also on sale. Both are marked down by nearly 50%.
Holiday Lane Paw Sherpa Fleece 48″ Tree Skirt: This pet-inspired design tree skirt is something the whole family will love and is marked down from $96.00 to only $27.99. This price could still go down after Christmas, but either way, it's a great deal.
TruMiracle Diamond Stud Earrings: These diamond earrings can be set in gold, white gold or rose gold. They are currently a steal as they are marked down from $700.00 to only $299.00.
Make Your Money Work for You
Macy's After-Christmas Sale
Pay close attention to items being discounted around Christmas as chances are they will plummet in price during Macy's after-Christmas sale. Though there is always a sale, the inventory will fluctuate as it largely focuses on excess holiday stock. Other items will surely be marked down, but the deepest discounts will be on Christmas-themed items like decor or home goods. Macy's has a huge holiday collection and you will be able to get deals on most of it, including sales up to 90% off. The best items to stock up on during the Macy's after-Christmas sale are:
Gift wrap
Ribbons and bows
Holiday dishware
Bathroom decor
Christmas trees
Ornaments
Seasonal home decor
Welcome mats
Tablecloths
Planning ahead with these steals and deals will save you a ton of money in the long run. When you are getting up to 90% off things you'll need next year, your future self will thank you. Think of it as a gift you will be giving yourself. 
Final Take
It may seem odd to shop for Christmas items the day after Christmas. Still, it is a terrific time to save a lot of money on holiday items. Though Macy's has holiday sales on several occasions, the after-Christmas sale tends to specialize in Christmas-themed apparel, decor and home goods. You can even sign up for the Macy's newsletter to get 25% off your next purchase. Whether you plan to be at your local Macy's store the day after Christmas, or prefer to shop online, you will enjoy deep discounts and great end-of-year pricing with Macy's Christmas clearance items and after-Christmas sales.
Make Your Money Work for You
FAQ
Does Macy's have an after-Christmas sale?

Yes, Macy's has an after-Christmas sale and many holiday items such as gift wrap, ornaments, holiday dishware, Christmas trees and more will be significantly discounted. Though the sale items do vary every year, typically the items that start going on clearance right before Christmas will be reduced in price the day after Christmas for the Macy's after-Christmas sale.

Are there good sales after Christmas?

Yes, Macy's offers reduced pricing on several Christmas clearance items. These prices get marked down even further after Christmas. The sales inventory will fluctuate, but the deepest discounts seem to be on items such as:

Gift wrap
Ribbons and bows
Holiday dishware
Bathroom decor
Christmas trees
Jewelry
Ornaments
Seasonal home decor
Welcome mats
Tablecloths

How often does Macy's have a one-day sale?

Macy's one-day sales are frequently offered and typically take place on the third Saturday of each month with a preview sale on the preceding Friday. In certain locations, it can be every other month so be sure to check the Macy's website for details.

What day do Macy's sales start?

Macy's is known for its holiday sales having deals on such holidays as Memorial Day, Independence Day and Thanksgiving. These sales usually start a few days before the actual holiday that is being celebrated, however with sales such as the after-Christmas sale, the sale starts the day after Christmas on Dec. 26.
Valerie Smith contributed to the reporting for this article.
Data is accurate as of Dec. 13, 2022, and is subject to change.
Editorial Note: This content is not provided by any entity covered in this article. Any opinions, analyses, reviews, ratings or recommendations expressed in this article are those of the author alone and have not been reviewed, approved or otherwise endorsed by any entity named in this article.
Make Your Money Work for You
Make Your Money Work for You