How To Do a Holiday Gift Exchange on a Budget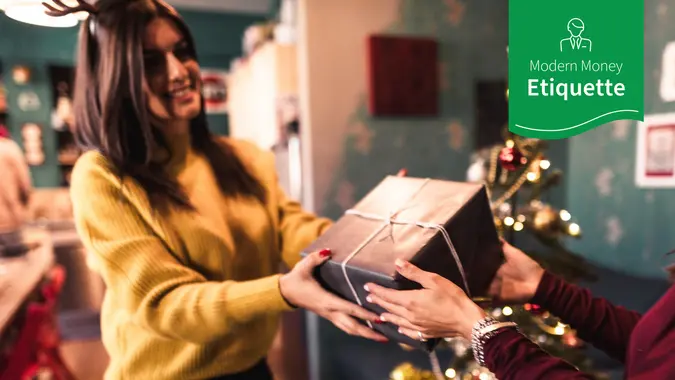 franckreporter / iStock.com
You're a big fan of the holiday season, but not the exorbitant expenses associated with it — namely buying gifts for your enormous group of family and friends. If you had the funds, you'd happily purchase something amazing for everyone, but you need to stick to a budget this year.
We've Got You Covered: GOBankingRates' Smart Holiday Spending Guide
Be Aware: Rude Money Questions You Shouldn't Ask at the Holidays
Therefore, you're hoping to keep expenses manageable this season by getting your loved ones to do a holiday gift exchange.
"Holiday gift exchanges are a great way to make the most of your budget during a very pricey time of year," said Jodi RR Smith, president of Mannersmith Etiquette Consulting, based in Marblehead, Massachusetts. "And now is the perfect time to start planning."
Check Out: The Ultimate Holiday Etiquette Gift Guide
When starting the planning process for the holiday gift exchange, she said you'll want to set clear guidelines for who qualifies for the group. For example, everyone ages 25 and up is included, while younger kids still get individual gifts.
Make Your Money Work for You
"Do not wait until the holiday is upon you to declare the new gift giving manifesto," she said. "Instead find a quiet time enough in advance that the other(s) have not even begun shopping."
Find Out: Is It Ever OK To Ask For Cash as a Gift?
When it comes to setting a budget for the gift exchange, Joyce Marter, a licensed psychotherapist and author of "The Financial Mindset Fix: A Mental Fitness Program for an Abundant Life," recommended sending the group an anonymous poll via text or email.
"With an anonymous survey, people can respond privately and you can make a judgment call to select either the most common response, the mean or median response, or the lowest response depending on the unique circumstances of your group," she said.
She also said you might consider asking the person with the greatest budget constraints what range would work best for them — but only if appropriate.
"For example, this option would be compassionate if the person is a close friend and they know you know their financial situation and know your heart is in the right place," she said. "However, it might come across as condescending or be embarrassing if the person is a new coworker who has a lower paying position than the rest of the group."
Make Your Money Work for You
Read More: Do You Always Have To Pitch In for an Event or Gift at Work?
Another savvy idea, Tiffany Welka, financial advisor and accredited wealth management advisor at VFG Associates in Livonia, Michigan, suggested setting minimum and maximum spend limits. She also advised choosing a theme for the gift exchange — i.e., a specific era, food, items made in a certain country — to add an extra level of fun.
"When it comes to making gift purchases, consider shopping local," she said. "Not only can you find great deals in brick-and-mortar stores, but you'll also be helping the local economy."
Of course, local stores might not have exactly what you need. In this case, she recommended shopping online and using rebate services like Rakuten to get cash back on your purchase.
More Modern Money Etiquette: What's the Right Way To Ask If Someone Has Received a Gift?
Alternately, you might opt for a nontraditional gift.
"Consider gifting shares of stock of a beloved company within the friend or family group," she said. "This will ensure you don't go above the set limit."
Make Your Money Work for You
It's possible your family and friends won't be too eager to shift from giving everyone individual gifts to a group exchange. In this case, Smith recommended offering a few alternative ideas for discussion.
For example, she said you might opt for only homemade gifts, do a cheeky card exchange or donate to charity in lieu of gifts.
"Once you have new gift-giving guidelines for going forward, be sure to email everyone with a gentle reminder as to what was decided," she said.
See: How Much Should You Spend on Gifts for Acquaintances?
Hopefully, whatever gift-giving format you decide on goes smoothly, but Smith said to remember you're not obligated to continue this arrangement forever. If something didn't work, she advised finding a polite and diplomatic way to make the necessary changes.
It's also possible you'll find the group isn't even that excited about exchanging gifts at all.
"Avoid giving gifts if it is just a rote act that causes people stress and to spend money on unnecessary items," Marter said. "Ask the group if they would rather share an experience — like going to an event or doing a fun activity together — or having a bonding experience by being of service to others — working in a soup kitchen or doing a toy drive for children in need or for clothes for the homeless."
Whatever route you take, work together as a group to come to a decision that works for everyone. The holidays should be a time of togetherness — not divisiveness over gifts.
More From GOBankingRates
Last updated: Nov. 3, 2021
Make Your Money Work for You