How To Get People To Respect If You Don't Want Money Spent on Gifts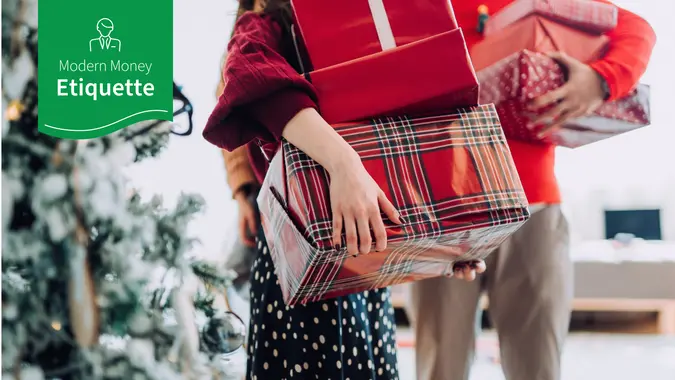 AsiaVision / iStock.com
The holiday season is just around the corner and you want something different this year — absolutely nothing. At least nothing that requires a loved one to go to a store and spend money on you.
See: Rude Money Habits You Need To Break Now
Check Out: The Ultimate Holiday Etiquette Gift Guide
Since gift-giving is one of the top activities of the season, it can be hard to get people to honor this request. This can be frustrating, because when you're given a gift, you feel obligated to give something in return, which can add up fast. Rebecca Brooks, owner and financial coach at R&D Financial Coaching, based in the Chattanooga, Tennessee, area, said the pressure on gift-giving is one of the most challenging things about this time of year.
"When you're working on your financial well-being and know that a gift exchange would cause financial stress, it's important to tactfully communicate your boundaries, and let those you care about in on your reasoning," she said.
Brooks said sharing your goals with loved ones can help.
Be Aware: The Do's and Don'ts of Complaining About Money
Make Your Money Work for You
"This might seem daunting, because as a society we don't talk about money enough, and it feels incredibly vulnerable telling others we're working on our financial well-being," she said. "But that is why it's even more important to bring the topic up. You might even find that the other person feels similarly."
She advised expressing excitement to achieve your goals, and letting the other person know that while gift-gifting isn't a priority for you this holiday season, you still want to spend time with them.
"Suggest local holiday events or concerts, a holiday movie marathon, gingerbread house challenge or helping decorate your homes together," she said. "There are so many ways to enjoy the holiday without spending a lot of money — all it takes is a thoughtful plan."
Of course, having the no gift-giving conversation might be easier said than done.
More Modern Money Etiquette: Answering Thorny Questions About Tipping, Gifts and More
Be Aware: Who Pays For Food When Houseguests Visit?
Mona Zegarelli, director of the Greater Grand Oaks Chapter of the National League of Junior Cotillions in Spring, Texas, recommended bringing the topic up before it becomes an issue.
Make Your Money Work for You
"Have a conversation where you can say, 'I know this may seem unusual, but for this year, I am asking everyone for no gifts,'" said Zegarelli, who is also an investment associate with Manske Wealth Management in Houston.
She said to let your loved ones know this is a personal decision you've thought through. For example, she advised saying something like "I really am hesitant to discuss this with you, but I know we respect each other and that you would hear what I am asking you."
Next, Zegarelli said to share with them how you will feel if your request is disregarded. For example, she said you might say "There have been times when I have let people know that I do not appreciate being given a gift and they proceeded to ignore my request. I really felt frustrated — [or] disrespected, sad, etc."
Make Your Money Work for You
More Advice: Should You Pay a Friend Who Does You a Professional Favor?
Next, she recommended bringing the conversation to a positive place by saying something like "What really makes me happier than a gift is — taking presents to the homeless, making a memory with the person, a nice glass of wine, etc."
She said you'll then want to ask what they think of your request. For example, she said you could ask  "Does that make sense to you?" or "How do you like to celebrate a birthday/holiday?"
Finally, Zegarelli said you should confirm your request and their acceptance.
"If you still receive a present, etiquette would fall into common courtesy," she said. Give the giver the opportunity to tell you [why] they gave you the gift."
While you might be upset, she said to try not to react and listen to their reason instead.
"Be open to the idea that they genuinely wanted to share something with you," she said. "And thank the giver properly. Always treat the other with the kindness you would like to receive."
Find Out: Is It Ever OK To Ask For Cash as a Gift?
You might be tempted to remind the person you didn't want gifts, but Zegarelli advised against doing so.
"The gift is here now," she said. "Take it as you wish they would have taken your request."
Hopefully, you won't find yourself in this situation, and instead will have your wish for no gifts granted this holiday season.
More From GOBankingRates
Make Your Money Work for You