Here's How Much You Should Budget for Seasonal Tipping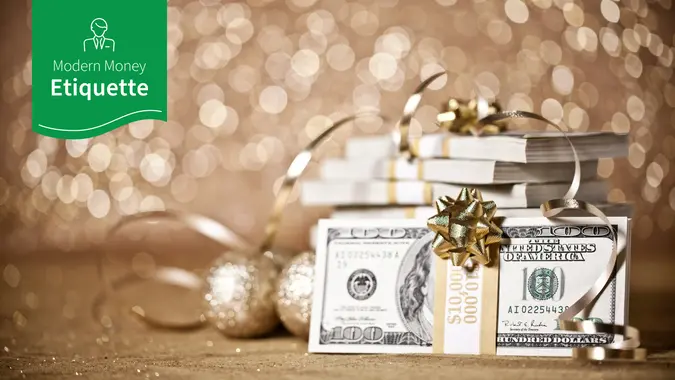 Liliboas / iStock.com
This is the time of year to show appreciation to the people who regularly help you out and provide important services — such as your babysitter, housekeeper, dog walker and hairdresser — usually with a cash tip or gift. And your generosity may be particularly valuable if their business suffered over the past year because of COVID-19 shutdowns. But holiday tipping can be stressful if you don't know how much to give, what to give, who to include and what people expect — especially if you're experiencing tough financial times yourself.
See:
Here's how to show appreciation to the people who are important to you while staying within your budget and the rules.
"You have to be thoughtful. Think about how you feel best saying thank you at the end of the year to the people who are service providers in your life and make a difference for you," said Lizzie Post, co-president of the Emily Post Institute and co-host of the Awesome Etiquette podcast. "It is really important not to get overwhelmed by this and look at this as an opportunity and not an obligation – use it to spread more cheer."
Make a Tipping List Now
The best way to stay within your budget is to make a list of who you want to recognize and then determine how much you want to give each person. Start by looking up suggested amounts. EmilyPost.com has an excellent holiday tipping guide with suggested gift or tip amounts for many different types of service providers. For example, up to one evening's pay and a small gift from your children to a regular babysitter, up to one week's pay and/or a small gift for the person who cleans your house, up to one week's pay or gift for your dog walker, up to one week's pay and a gift from your children for an au pair or live-in nanny, and up to the cost of one session or a gift for your personal trainer.
Make Your Money Work for You
This is a good time to think of everyone you work with regularly who makes your life easier. "Holiday tipping is usually for someone that you work with consistently throughout the year," Post said.

More:
Prioritize the List and Adjust to What You Can Afford
Then go through the list and figure out what you can afford. The suggested amounts are not requirements, and you can adjust based on your budget. It's easy to overspend during the holidays and overlook the cost of tipping and gifts of appreciation when creating your holiday budget. TD Bank recently conducted its Merry Money survey, which found that 69% of Americans say they have previously overspent during the holidays and 41% say they experienced a negative financial situation because of holiday spending. "Unexpected costs outside of typical gift buying can add to the financial burden, so it's important to account for costs like tipping when creating a holiday budget so that you can give with confidence," said Matt Boss, head of consumer products at TD Bank.
Good To Know:
Prioritize the people who are most important in your daily life and who you want to recognize the most — such as a housecleaner who you count on every week or a nanny who spends long hours with your child. "Think about what works within your budget, and who you feel strongly about is a good way to prioritize your list," Post said.
You may want to give some people the full suggested amount but may need to reduce the amount for some others. Another option is to give them a gift that may not cost you as much but still shows your personal appreciation, such as baking cookies. "I grew up making cookies for the bus driver, and the garbage man and recycling guy," Post said. When she was a little kid, her family would make the cookies and she would hand-deliver them every year. "That was always our tradition," she said.
Make Your Money Work for You
Even if you've struggled financially this past year, as so many people have, you can still show your heartfelt appreciation. "It's been a hard year for a lot of people," Post said. "If you look at the list and you're overwhelmed, take a deep breath and look at your budget. You can always use your words as a thank you."
Don't worry if you can't afford to give what you usually do during this difficult time. "If this year is tough for you and you don't have the budget you had last year, it's OK to dial it back, and it's also OK to acknowledge that in the thank you note to this person," she said. "If you need to, you can say I'm sorry that this isn't what it was in the past, but I'm so grateful for your service and I appreciate everything that you do for me."
On the other hand, if you're doing well financially this may be a good time to increase your tips and gifts to help service providers whose businesses may have struggled over the past year.
Find Out:
When To Give Cash vs. Gifts
Determining when to give cash versus gifts can be tricky. Some professions aren't allowed to receive cash or it may be considered inappropriate. "You don't tip your doctor or dentist or eye doctor or lawyer or contractor. These are professions we don't typically tip in," Post said. "Teachers and often nursing staff can't receive cash tips, and neither can postal workers."
Make Your Money Work for You
However, you can still show your appreciation without giving money. U.S. Postal Service workers aren't allowed to receive cash tips, for example, but they can receive small perishable items or gifts worth less than $20. Nurses and other healthcare professionals may receive food platters or cookies that can be shared with the staff. You may also be able to give a personal gift to an individual with a handwritten note, depending on the company's rules. Post said that it can also be helpful to write a note or testimonial to their boss or department head letting them know how much you appreciate their hard work, which could become valuable for future raises or promotions.
More Advice:
Teachers often receive gift cards to bookstores, art supply stores, coffee shops, books or other thoughtful items. "Always have the child write a note wishing the teacher well for the holidays and thanking them, including one thing they appreciate about their teacher," Post said. "No matter what you do for the teacher, make sure you include a note from the child." This can also be a great opportunity to start to teach your children about thoughtful gift-giving and showing their appreciation.
Whatever you decide to give to the important people in your life — whether cash or gifts — always include a note, Post said. It doesn't cost anything and it shows your heartfelt gratitude.
Make Your Money Work for You
When To Give the Tip
You can give holiday tips and gifts anytime in December or even into January. You don't need to meet a deadline before Christmas Day, for example, but consider that the earlier someone receives a cash tip, the sooner they'll be able to use it to help with their family's holiday expenses.
"This is a holiday season, and there are a lot of things celebrated this season," Post said. "You can give this gift or tip anytime during the season and into January. It's never too early and never too late."
More From GOBankingRates