Amazon Is on Top for Holiday Shopping — Here's How To Save More Online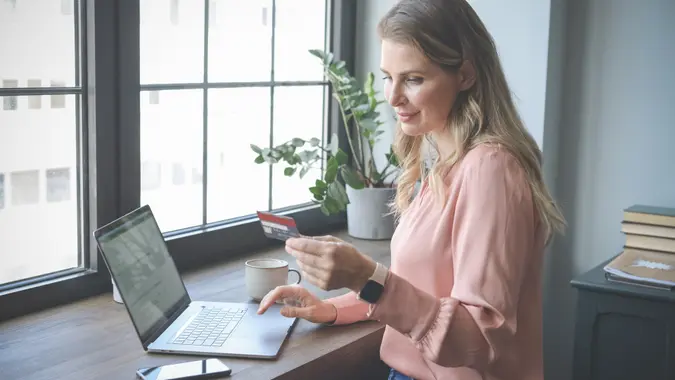 elenaleonova / Getty Images/iStockphoto
With Thanksgiving coming up and the winter holidays right around the corner, the season of gift-giving and holiday parties is approaching fast. While some Americans prefer to stroll the aisles and leisurely peruse gift options with a Starbucks in hand, others opt for the convenience and speed of online shopping. After the COVID-19 pandemic and the rise in online shopping, you might be wondering where the majority of Americans are planning to shop this year and whether the popularity of preferring online marketplaces still persists this holiday season.
Holiday Spending: Get Top Holiday Shopping and Savings Tips
See: If Your Credit Score Is Under 740, Make These 4 Moves Now
Keep reading to discover the latest GOBankingRates survey results about the popularity of Amazon for holiday shopping — plus, expert money-saving tips for shopping at this retailer.
48% of Americans' Favorite Place To Shop for the Holidays Is Amazon
Amazon stands alone this year as the most popular go-to location for shoppers this season. According to the survey, the online retail site is most popular among shoppers ages 35 to 44 as 51% of respondents in this group said that Amazon was their favorite shopping holiday shopping destination. According to the survey, the online site also has a high percentage of males who favor this retailer as 50% of those who favor the site are male and 46% are female.
Make Your Money Work for You
While the e-retailer is evidently incredibly popular among nearly half of holiday shoppers, other Americans prefer to shop elsewhere. According to the survey, 25% of Americans' favorite holiday shopping destination is Walmart, 9% prefer Target and 4% are shopping at department stores, such as Nordstrom and Macy's. Other shoppers lean away from the big-box stores as the holidays roll around as 4% of shoppers prefer to shop at small businesses. Finally, 2% of respondents choose to do their holiday shopping at Costco.
Why Is Amazon Such a Go-To for Shoppers?
The evident popularity of this retail site might leave you questioning what exactly about this marketplace contributes to its immense rise in sales during the holidays.
"Amazon is an online retailer that has potentially anything you could think of, which means it opens up accessibility to some items much more for consumers all over the world," said Julie Ramhold, consumer analyst at DealNews.com. "For Prime members, the two-day shipping is a huge convenience factor, especially for items they don't need right away, or can't find easily when it comes to local stores."
Take Our Poll: How Has Inflation Impacted Your Holiday Shopping Plans?
Make Your Money Work for You
How Much Do Shoppers Save by Shopping on Amazon?
Amazon is a popular shopping site for a reason. The website offers some fantastic deals on select items and with exclusive Amazon Deal Days, shoppers often have a tough time finding better deals than this e-commerce site offers.
"For many items, Amazon will have lower prices, simply because it also has a marketplace with third-party sellers that can offer rock-bottom prices on different products," Ramhold said. "In general, you can probably expect to save 15% to 30% on items, depending on what you're shopping for, but around big sales — like Black Friday — those savings could climb higher to 50% or more."
While Amazon does feature some stellar deals, it's always best to shop around for the best deals — especially when it comes to groceries — before assuming this retailer will offer the best products for the best price.
"You can likely save more by shopping for grocery-type items — at least some of them — at local grocery stores and big-box stores," Ramhold said. "It's definitely always worth checking Amazon before purchasing elsewhere, but it's also good practice to not assume it's the best deal."
Make Your Money Work for You
Here's How You Can Get the Best Deals When Shopping on Amazon Around the Holidays
Before paying the premium price for gifts and party supplies this holiday season, it's important to be aware of the best ways to save when shopping at this site.
Browse Upcoming Deals
Amazon regularly features different sales that shoppers can preview before they go live. By planning ahead and tracking sales, you can save majorly on holiday spending and stay on top of your shopping.
"Amazon always has Lightning Deals, but the volume really ramps up around shopping holidays like Black Friday, Christmas and Prime Day," Ramhold said. "Because of that, it can be overwhelming trying to navigate them all; get ahead of the game by taking the time to browse upcoming offers and mark them as 'watching.' Then, right before they go live, you'll receive a notification and can jump on them quickly to lessen the risk of them selling out before you can get them."
Create Amazon Wish Lists and Check Them Often
Building wish lists on Amazon will make it much easier for you to check on the items you want to purchase and whether they are featuring any sales. This can also help you save time when you're shopping, as you won't have to visit the product page to see whether any sales are happening.
"Creating wishlists now and using them as shopping lists will ensure you don't forget to buy anything that you need — or want — when it's crunch time and deals are going live every five minutes," Ramhold said.
More From GOBankingRates
Methodology: GOBankingRates surveyed 1,025 Americans ages 18 and older from across the country between Oct. 17 and Oct. 21, 2022, asking 18 different questions: (1) Do you plan on spending more or less on holiday shopping this year?; (2) With the current state of inflation, how much more do you expect to spend on holiday shopping this year?; (3) What is your favorite place to shop for the holidays?; (4) Do you have to change any of the following holiday traditions this year due to rising costs?; (5) Where do you do the majority of your holiday shopping?; (6) How much do sales factor into your holiday shopping?; (7) How much time do you take off from work during the holidays?; (8) How much would you typically spend on a gift for a family member?; (9) How much would you typically spend on a gift for a friend?; (10) Where have you noticed rising prices for holiday shopping/expenses this year? (Select all that apply); (11) When did you start or plan to start your holiday shopping this year?; (12) As the holiday season approaches, which of the following applies to you?; (13) How much do you plan to spend exclusively on gifts this holiday season?; (14) How much do you plan to spend on travel during the holidays?; (15) Who do you tip for the holiday season?; (16) Do you tip extra to service workers (food delivery, Uber, hairdresser, etc.) during the holidays?; (17) What is the primary way you plan on paying for your holiday spending?; and (18) What holiday purchases do you make at the dollar store? (Select all that apply). GOBankingRates used PureSpectrum's survey platform to conduct the poll.
Make Your Money Work for You