Today Is IHOP Free Pancake Day — Here's How to Celebrate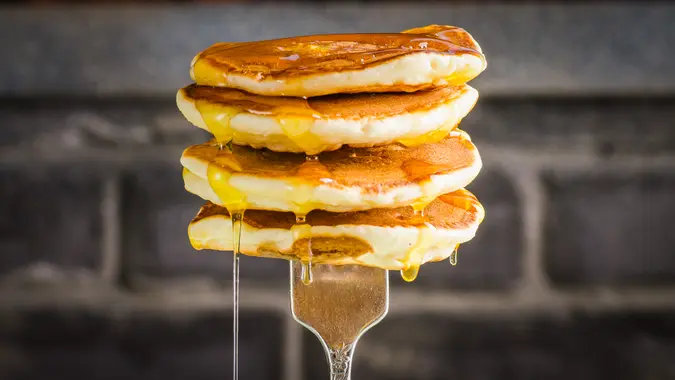 TatianaButovchenko / Getty Images/iStockphoto
For IHOP, March 12 isn't just any old Tuesday: It's IHOP Free Pancake Day. IHOP has been celebrating the annual event — which was previously known as National Pancake Day — since 2006, and buttermilk-loving breakfast aficionados have been celebrating right along with the chain.
Free pancakes are guaranteed at IHOP, but why stop there? You can score pancake-related discounts elsewhere, too.
Don't Miss: 75 Things You Can Get for Free
IHOP Free Pancake Day 2019: Look for Food Deals at IHOP and More
March 12 is Free Pancake Day at IHOP, but there are plenty of other ways to get in on the short-stack action. Grab your utensils and get ready for all the ways to save on Tuesday.
Bisquick: Use this coupon to take $0.50 off any 10.6-ounce or larger package of Bisquick. The coupon is good through the end of March.
IHOP: It's impossible to talk about Pancake Day without mentioning IHOP. This year, like every year since 2006, IHOP is all about pancakes with a purpose. Visit any participating location between 7 a.m. and 7 p.m. and you'll get a free short stack of original buttermilk pancakes. In exchange, IHOP requests that you make a donation to one of several charities that benefit sick children.
Metro Diner: Kids under the age of 12 get to munch on some free pancakes today. Adults, you're out of luck.
Make Your Money Work for You
On March 12, be sure to enjoy the most important meal of the day — and maybe do a little good — with a short stack on IHOP Free Pancake Day.
More on Food

We make money easy. Get weekly email updates, including expert advice to help you Live Richer™.
Make Your Money Work for You