5 Places To Find Pre-Cooked Thanksgiving Turkeys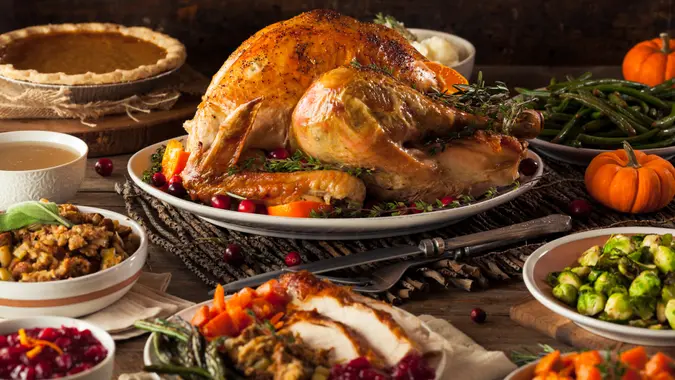 bhofack2 / Getty Images/iStockphoto
The old television sitcoms we see on classic television channels make Thanksgiving food preparation look so easy. There's Mom, looking like a million bucks in her hostess dress and white apron, mixing and mashing — all while effortlessly tending to the guests.
We all know that isn't reality. Instead, the scene more likely includes the frenzied hosts struggling to get the side dishes made while getting dressed, shoving kids' toys in the closet and frantically searching for the gravy boat used only once a year. Wouldn't it be nice if you could sit back, relax and enjoy the company of your guests instead?
You can, thanks to restaurants, grocery stores and online options for pre-cooked Thanksgiving dinner with all the fixings. You can pick up your meal-to-go a few days before and reheat, or grab it hot on Thanksgiving Day in some cases.
Know up front, however, that the convenience will cost you. While you can make your own Thanksgiving dinner for less than $100, prepare to pay over that total for an already prepared meal, in most cases.
If guests are bringing the side dishes and you need to provide only the turkey, options are available for that, too. Whatever you choose, remember to preorder as soon as possible. Here are a few of the many choices you have this year.
Make Your Money Work for You
Popeyes
A fried chicken chain, Popeyes has offered a Cajun-style turkey since 2001. It comes pre-cooked but frozen, so you'll need to thaw it and heat it on Thanksgiving. You can add side dishes such as mashed potatoes, macaroni and cheese, or biscuits. The cost is $69.99 for a bird in the approximately 14-pound range.
Diestel Family Ranch
Diestel is known for its strict accordance to animal welfare and environment standards. The Northern California ranch offers a variety of turkey options, starting with the oven-roasted whole turkey for $80.95, in the 6- to 9-pound range. Shipping is free within California, Nevada and the Pacific Northwest, or express shipping costs $20. You might need to remember this option for next year. A check of the ranch's website shows most options already have sold out.
Publix
People who live near one of the more than 1,300 Publix locations in the Southeast can order a fully cooked Thanksgiving meal from the supermarket. Currently priced at $64.99, the meal serves seven to 10 people and includes a Butterball turkey, dressing, mashed potatoes and gravy, cranberry orange relish and marshmallow delight. At that price, you can add dinner rolls and a couple of pies and still spend less than $100. If you're having a more intimate gathering, Publix also has smaller Boar's Head turkey and ham meals starting at $39.99.
Make Your Money Work for You
Harry & David
The online food purveyor offers its 10-pound oven-roasted turkey for $109.99 or the Gourmet Turkey Feast for $249.99. That includes the turkey and gravy, spiced cranberry chutney, apple sausage stuffing, black truffle and almond green beans, brown sugar sweet potatoes and, to top it off, a New York-style pumpkin-layered cheesecake. If you want to go really big this year, add extra meats, sweets and treats with the Wow Holiday Meal ($399.99) or the Deluxe Wow Holiday Meal ($599.99). Harry & David also has non-turkey options for the main course, including chicken pot pie and prime rib.
Omaha Steaks
The online seller has more than just steak. It offers a variety of Thanksgiving meal options, starting with Custom Thanksgiving Feast for four. That includes your choice of a stuffed turkey breast or ham, plus potatoes, two sides, rolls and a dessert. Also available: a 10-pound turkey ($99.99) and a variety of turkey or ham meals such as the Thanksgiving Turkey Feast ($199.99), which includes a whole turkey, green bean casserole, stuffed baked potatoes, individual baguettes with garlic butter and caramel apple tartlets for eight.
Make Your Money Work for You
More From GOBankingRates