7-Eleven, Sbarro and 6 More Places With Pi Day Discounts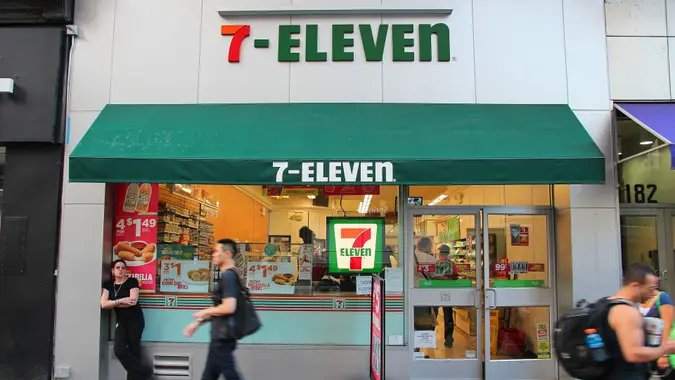 Tupungato / Shutterstock.com
Are you a math nerd or just love a good deal? Well, you're in luck because Pi Day is here, and that means plenty of discounts to celebrate! From pizza to pie, there are plenty of ways to save on your favorite treats this Pi Day. 
Check Out: 10 Aldi Brand Products Worth Buying
More: 3 Signs You're Serious About Raising Your Credit Score
Pi Day is celebrated annually on March 14 (3/14) in honor of the mathematical constant pi (π), which is the ratio of a circle's circumference to its diameter. But for many of us, it's just another excuse to indulge in some delicious food and score some sweet deals. "It's a fun play on words and a great excuse to rack up sales," shares finance and budgeting expert Peter Hoopis.
So, whether you're in the mood for a slice of pizza or a tasty pie, we've got you covered with the best Pi Day discounts and promotions that you won't want to miss.
7-Eleven
For another great deal on pizza this Pi Day, look no further than 7-Eleven. On March 14, all participating 7-Eleven locations will be offering a large pizza for only $3.14 if you download the 7-Eleven app.
Make Your Money Work for You
Take Our Poll: What Do You Plan To Use Your Tax Refund For?
Magnolia Bakery
Are you a fan of Magnolia Bakery's delicious treats? Well, get ready to celebrate Pi Day in style with their new Chocolate Hazelnut Hand Pies. Made with a buttery pie crust, a filling of chocolate hazelnut spread and sweet raspberry jam and topped with a luscious Nutella frosting, these hand pies are sure to satisfy. And the best part? MagnoliaBakery.com is offering a $3.14 discount on all purchases that include this delectable treat.
Sbarro
On Pi Day, when you buy a drink you can get a free NY XL slice of pizza. All you have to do is sign up for their Slice Society rewards program and you'll be able to take advantage of this amazing offer. 
BJ's Restaurant & Brewhouse 
If you purchase a pizza through their website or app, you'll get half off. So whether you prefer their classic tavern-style pizza or something more adventurous like a deep dish, now is the perfect time to try a new pizza or enjoy an old favorite.
Make Your Money Work for You
Round Table Pizza
Pizza and freebies? Yes, please! If you're a pizza lover, don't miss this Pi Day deal from Round Table Pizza. Simply download their Royal Rewards App and you'll get six free twists with your pizza purchase! With a variety of delicious twists to choose from, including garlic parmesan, cinnamon and lemon pepper, you'll definitely want to take advantage of this offer.
Pieology
To celebrate Pi Day, Pieology is offering 3.14X rewards points to all Pie Life Rewards Members across the country. This exclusive offer is only available to Pieology's loyalty club members and is a perfect chance to indulge in a custom-made pizza. Pieology takes pride in serving up fresh, high-quality pies that cater to everyone's dietary needs, including vegan, vegetarian and low-carb options.
Blaze Pizza
Blaze Pizza is getting into the Pi Day spirit by offering a delicious deal for pizza lovers. Simply sign up for Blaze Rewards, download the Blaze Pizza app and set your favorite Blaze location — then you'll be able to grab an 11-inch pizza for only $3.14.
Boston Market
Here's something a little different: On Pi Day, Boston Market is giving away a free chicken pot pie with the purchase of any pot pie and drink order for those who download the restaurant's app. If you're pizza'd or pie'd out, this is a worthy choice! 
Make Your Money Work for You
More From GOBankingRates
Make Your Money Work for You