Rachel Cruze's Best Tips for Holiday Party Planning on a Budget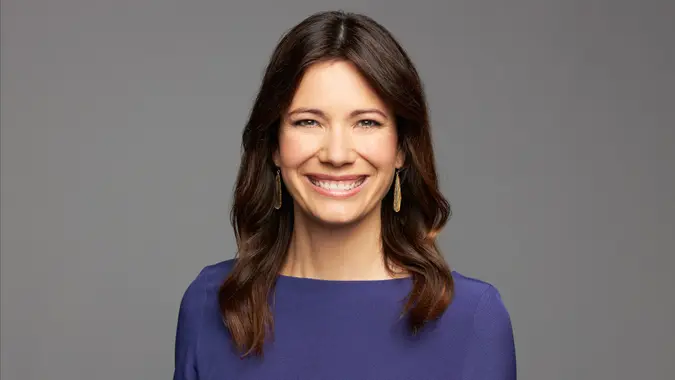 Rachel Cruze / Rachel Cruze
In today's economic climate, it may seem impossible to throw a holiday gathering without going into debt.
Holiday Spending: Get Top Holiday Shopping and Savings Tips
Live Richer Podcast: Tips To Stay on Budget This Christmas
Last year, the average millennial American spent $950 on the perfect holiday party, according to Lending Tree. With food prices up 13.5% and overall inflation up 8.5%, the price tag is even higher this year. And, with 64% of Americans already living paycheck to paycheck, it can be difficult to not take on debt over the holidays.
However, throwing a holiday party shouldn't blow your entire budget for the season.
To help make sure you stay on track financially, I interviewed savings expert Rachel Cruze on the "Live Richer" podcast to get her tips for hosting a holiday party amid high inflation.
Plan Ahead
When hosting a holiday party, it's always a good idea to plan your menu and decorations ahead of time. The sooner you can get your budget set and decide what you want to buy for the party, the easier it will be to shop around to find items on your list at the best prices.
Make Your Money Work for You
"Waiting until the last minute to buy everything can lead to disaster because it's like, 'Well, I have to get it, regardless of the price,'" Cruze said. "Last-minute shopping is never a good idea."
Shop at the Right Retailers
Although the cost of food is high, some grocery stores will have better prices than others.
"Food is just so expensive right now, but where you shop grocery-wise can definitely save some money," Cruze said. "Trader Joe's and Aldi have some great prices — specifically for cheeses. If you're doing charcuterie boards, go to these inexpensive places versus Whole Foods [or other] really nice grocery stores. And there's so much fun stuff there food-wise that can cost you half versus going to a gourmet, really nice place."
Be Creative
Gift exchanges are often a part of holiday parties, and these can get pricey. Just remember that it's not the dollar value that makes a gift great — it's the thought and creativity that goes into it that makes it memorable.
"I recently saw something that I thought was so cute: It was a homemade cocktail kit," Cruze said. "It was simple syrup, a little bottle of tequila and a twig of rosemary. She put it in this little bag, which she gave out to her hostess and some of her friends. It didn't cost that much because a lot of it was homemade. So there are ways to spend less and have a touch of creativity to it, which people appreciate even more."
Make Your Money Work for You
Take a Look Back: 2022 Year in Review
Keep the Decorations Simple
You don't have to spend a fortune decorating your house for the holidays. Sometimes the simplest decorations make the biggest impressions.
"If you're hosting, keep the decorations simple and be creative," Cruze said. "Look for things you already have. I went to a Christmas dinner with some friends last year. [The hostess] had this long table, and she had candlesticks all along in different sizes. It was beautiful, and it was just candles."
Show Hospitality
Hospitality is free, and it's what guests ultimately remember.
"To love people well during this season is important," Cruze said. "It's been a hard year. When someone leaves your gathering, they should feel better about themselves — that's the key to hospitality for me. It's not about me putting on a show for you in hopes that you're impressed. As my guest, it's my job to love you and have good conversations so you feel better about yourself when you leave. It shouldn't be about me and how you feel about my decorations."
Make Your Money Work for You
Ask for Help
The cost of hosting a holiday gathering has gone through the roof, making it a substantial burden for the host. With the rising cost of food and goods, asking your friends or family members to pitch in is a great way to save money and lighten the financial burden of hosting a party.
"Whether it's appetizers or asking someone to bring a bottle of wine, having everyone bring something is a great idea," Cruze said. "Honestly, people are doing it more and more. People are willing and want to pitch in."
Make an Effort To Avoid Debt
It's hard not to give in to all the pressure and spend more than you have during the holidays, but starting the year off in debt is never fun or worth it.
"Please don't go into debt for it," Cruze said. "Going into credit card debt to be generous or just [because you] feel like you have to have this many gifts or have to be doing this, that means you're living your life for other people versus yourself.
"My doctor friend has a saying that I love. He says, 'I would rather choose guilt over resentment.' Don't spend money you don't have and [end up] resenting the people and the situation you're in because you're in a bad position financially and emotionally."
More From GOBankingRates
Make Your Money Work for You