Stressed About Inflation During the Holiday Season? How To Plan Ahead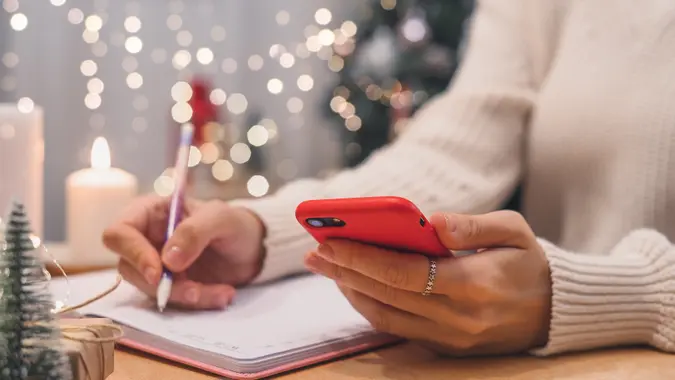 Anna Ostanina / iStock.com
Now that the holidays are once again around the corner, it's time to start planning (and budgeting for) your festivities. While that often involves travel, it almost always involves shopping. And, for some, that means all the stress that comes with it: long lines, crowded stores and limited inventory to choose from.
Plus, this year there is added financial stress that comes from inflated prices. A recent survey conducted by 4over found that 59% of Americans are stressed about buying holiday gifts this year, and just over 1 in 4 (27%) are planning to start holiday shopping soon in case inflation gets worse.
Shopping early can not only help you beat out potentially inflated prices, it also can help you stay on track with your budget. As financial experts reveal, with a little planning, you can get a head start on holiday shopping and dodge a lot of excess spending — and excess stress. Here's a look at what they had to say.
Rack Up Cash Rewards
Shopping's usually inevitable during the holiday season, and one way to be prepared is by looking for special deals where you can get cash back for what you're spending, which can be used toward more gifts. Or, perhaps, even spent on yourself.
"Every time you shop, make sure you're clicking through a cash-back site like CouponCabin to earn money back for your holiday purchases — or any purchase for that matter," said money-saving expert Andrea Woroch. "Even if you prefer to buy in person, ordering online and choosing in-store pick-up ensures you get those items the same day while also benefiting from earning cash back only available for online shoppers. Save this cash back to apply toward other holiday gifts and seasonal purchases."
Make Your Money Work for You
Woroch also recommended shoppers "check the cash-back reward amount for each retailer that's selling the item you want to buy, and purchase from the site that offers the most back to maximize rewards." This may take a little more time, but it can lead to big savings.
Spread Out Purchases
Another way to avoid that December crunch time is to start your shopping as soon as possible. That way you won't be in over your head come Christmastime.
"Instead of trying to save money each week, spread out purchases and buy a gift a week," Woroch said. "This allows you to manage your cash flow better so you aren't stressed trying to buy everything at once come December. Plus, I find people aren't as diligent with putting money away into a separate account each week, so this is a more doable alternative."
Similarly, you can look for Afterpay or other types of layaway plans — ideally with little or no interest — which also helps ease that holly, jolly spending burden.
Get a New Credit Card
This may seem counterintuitive given that most financial advice will have you avoiding this exact thing, but Woroch pointed out there are benefits to opening new cards for holiday shopping.
"Opening a new credit card will often allow you to make interest-free purchases — some as long as 21 months — so it buys you more time to pay off your holiday gifts without racking up interest," Woroch said. "Plus, some cards will give you a cash bonus when you spend a certain amount of money within the first three months, and that can come in really handy to pay off some of your holiday purchases."
Make Your Money Work for You
Think Outside the (Gift) Box
Less conventional gifts are never a bad idea, and spending time with someone can be every bit as rewarding as buying a gift for them.
"Experiences are always an unexpected, thoughtful gift idea," said Genevieve Bellaire, founder and CEO of Realworld. "Also consider intangible products like Spotify, Audible, Masterclass or TV network subscriptions, most of which are paid in monthly installments."
For example, buying someone a Spotify Premium subscription costs $10 a month, which is a manageable expense. As Bellaire said, "It's a gift that keeps on giving, and it allows you to manage your budget."
Presence Over Presents
Time spent together can be one of the most rewarding gifts of all.
"I wouldn't be surprised if we see more dollars going towards traveling to be with loved ones and spending less on actual gifts," Bellaire said. "Being together is a gift in and of itself! In regards to financial planning, I suggest taking a look at your budget now and pulling back on any nonessential spending that could be reserved for holiday shopping or travel."
Stick To Your Budget
Regardless of what your plans are, odds are you'll be spending money — so it's important to not only set a budget but stick to it before letting things get out of control.
"When you're in the holiday spirit, it can be easy to get carried away by store sales and the gifts you want to buy; however, it's important to stick to your budget when purchasing holiday gifts," said Tony Wahl, director of operations at Credit Sesame. "When doing your holiday shopping, aim to stick to the 30% rule — keeping your total credit card balance under 30% of your credit limit. Since credit utilization is one of the biggest factors that impact your credit score, you may see your credit score drop if you accrue a higher balance."
Gabrielle Olya contributed to the reporting for this article.
More From GOBankingRates