Should You Cancel Thanksgiving Dinner to Save Money for Christmas?
Checking for loose change between couch cushions to beef up your Christmas budget? You could easily find an extra few hundred dollars in your savings account by boycotting Thanksgiving dinner this year instead.
By opting out of hosting an elaborate Thanksgiving meal for extended family, you can save money on food and instead use the savings toward holiday gifts in December — or even better, an emergency savings fund to start the new year off strong.
>>> See Jeff Yeager's Must-Haves for a Frugal November
The Average Cost for a Thanksgiving Meal
The American Farm Bureau Federation (AFBF) revealed that the cost of a traditional Thanksgiving dinner decreased slightly since 2012. While the survey uncovered a $0.44 cent drop in cost, food prices for this American tradition have increased considerably throughout the survey's 28-year history.
According to the informal survey results gathered by the AFBF, the average cost of Thanksgiving dinner, including the turkey, stuffing and cranberries among other ingredients is $49.04 for a family of 10. However, many dinner hosts go above and beyond this average by spending upwards of hundreds to serve a Thanksgiving feast with all the fixings.
Larger families are especially susceptible to higher food costs and might need to consider skipping an extravagant dinner this holiday as a result.
A completely homemade Thanksgiving menu with an expected guest count of 30 people can easily run up grocery expenses.
You can't have Thanksgiving without the star of the show — turkey. However, as the backbone of a Thanksgiving meal, it can only be expected to be the most expensive item on the shopping list for dinner.
The general rule of thumb when purchasing a turkey is to allot each dinner guest three-quarters of a pound. So, for a 30-person guest list, the necessary weight needed for dinner would be a 22.5-pound turkey. The survey found that the average 16-pound turkey costs $21.76, so to feed a group of 30 (and have leftovers for the weekend) Thanksgiving hosts would need to buy three turkeys at a total cost of about $31, plus tax.
Add on trimmings like mashed potatoes, gravy, stuffing, cranberry sauce, fresh produce and other costly ingredients that make up an all-American Thanksgiving meal, and it's plain to see how racking up $500 or more in meal and decor costs can put a damper Christmas spending.
>>> Why Do Americans Throw Away $165B in Groceries Every Year?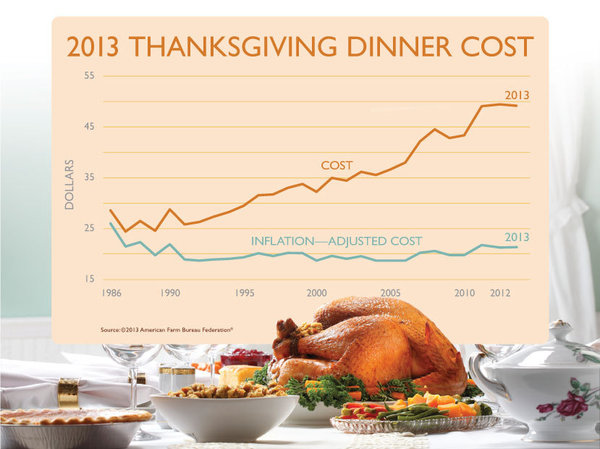 How to Spend Less Money on Dinner
If you're a tenured chef, and simply cannot stand the thought of scaling back on elaborate Thanksgiving dishes, it might be in your best interest to simply forgo hosting dinner at your place this year. But just because your home isn't the watering hole this holiday, doesn't mean you can't enjoy this time off from work and spend the holiday with loved ones.
Cyndi Finkle, owner of Coffee + Food cafe in Los Angeles, is setting aside her hosting duties this year after many expensive Thanksgiving dinners.
"When I host, I spend hundreds of dollars so that every detail is perfect. The wine, the food, the flowers," Finkle said. "This year, I will not host Thanksgiving — and I plan to go to a movie, and eat a pizza with a great bottle of wine. My family is on board with this plan; we would rather spend time together than spend the day cooking, eating and cleaning."
Finkle describes her dinners (pictured) as lavish, stating that when she hosted a Thanksgiving dinner for 40 adults and 15 children, the meal consisted of three turkeys, two types of stuffing, 10 Thanksgiving side dishes, a variety of pies, as well as specially selected wine pairings for each course served. The grand total for her Thanksgiving extravaganza: over $900.
Even a smaller gathering resulted in Finkle losing an exorbitant amount of money out of pocket when coordinating Thanksgiving dinner.
"More recently, we have hosted a smaller, more intimate group of 15 to 20 people. We usually spend about $600 or more on these smaller dinners," she reveals, and says her family intends on saving the money.
Keep reading: 5 Money-Saving Secrets to Double the Shelf Life of Groceries
Thanksgiving Money-Saving Tips for Families
You might have already committed to an all-out Thanksgiving meal this year, but for those who are considering a last-minute get-together or are planning to avoid Thanksgiving cooking next year, there are many simple — and affordable — alternatives to spend the holiday weekend with family and friends.
Movie Night: Finkle has the right idea when it comes to alternative Thanksgiving Day plans. With most Americans scrambling in the kitchen on Thanksgiving Day, the families can enjoy a practically private viewing of the season's latest blockbuster.
Visit Friends and Family: Instead of shouldering the responsibility of hosting your own dinner event, RSVP to a friend or relative's dinner and bring something thoughtful to contribute, like a bottle of wine. Not only will your contribution be appreciated, you'll save hundreds of dollars in the process.
Get Outside: Gather up any orphaned friends for a refreshing hike on Thanksgiving morning and have a picnic with your family or go biking. While others are growing out their muffin tops and risking a food coma this holiday, you can embrace the four-day weekend, keep active and save money.
Skip out on the décor: A major expense can be all the place settings, holiday china and decorative centerpieces. If family is the center of your meal, the flare of the holidays won't matter. Don't buy into "deals" on seasonal dishware and fall decorations to save up to $100 or more on your Thanksgiving event.
Photo credit: chrisphoto, Ian Westcott