Why This Deep-in-Debt Family Refused to Give Up Halloween
This family refused to give up their favorite tradition.
No dining out, no entertainment budget, a strict $300 grocery budget and living rent-free in my in-laws' unfinished basement — you could say that we were taking our debt payoff seriously. Though we'd always been frugal-minded, our family ended up with six figures of student loan debt after my husband's law degree, and we set an audacious goal to pay off that debt in three years. We were going to extreme measures to curtail our expenses.
That is, with one exception: Halloween costumes. But not just any Halloween costumes — oh no.
Read More: The Best Halloween Experience I Ever Bought for Under $20
Halloween was barely a thing for my husband before I came along, but that first October, just a few months after our wedding, I convinced him that we should do intricate, homemade, themed Halloween costumes. Even when it was just the two of us, going all out on costumes was the only way to go. Between planning a theme, scouring thrift stores and garage sales for supplies and the final last-minute, late-night sewing/crafting/decorating before the first Halloween party of each year, we turned Halloween into a big family tradition.
And, we weren't going to let a little debt (or a whole of it) get in the way of that during or after law school.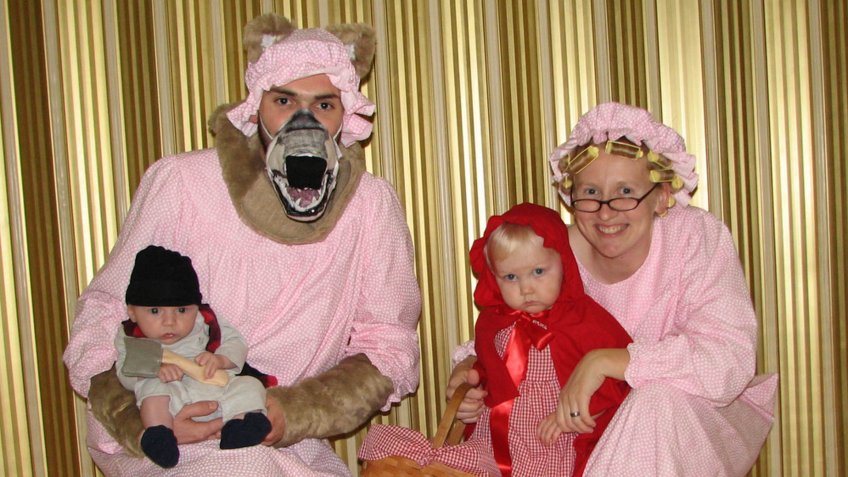 Some years, we managed to make almost everything from fabric and supplies we already had on hand.  Usually, we had to buy at least a few things. With our laser focus on pushing every extra penny into our debt payoff, spending $10 or (gasp!) $30 on fabric or supplies for Halloween costumes felt like an enormous splurge.
And it was so worth it.
More on Getting Spooky: 20 Awesome DIY Halloween Costume Ideas for $20 or Less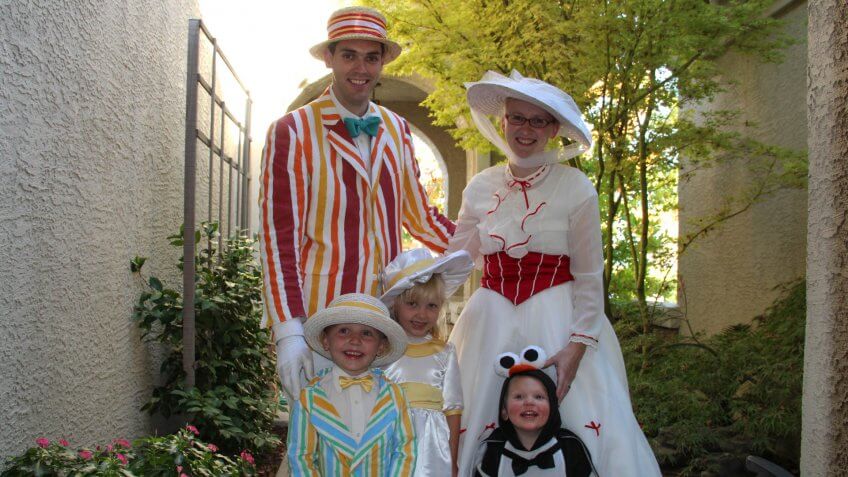 With so many ready-made costumes available so cheaply, sewing from scratch is not always the less expensive choice. But, it's almost always the most fun choice. Doing something a little extravagant each year gave us a chance to break out of our shoestring budget, have some fun and celebrate.
We still tried to keep things inexpensive. Buying fabric and notions new could be an easy budget-breaker, so I've got a bunch of hacks for getting fabric free or cheap. Sometimes we've cheated a little. As our family has grown from two to seven, some years we revisit our favorite themes, reusing great costumes from prior years and just adding new characters as needed. Other years, we start from scratch with a new theme.
Celebrate: 31 Ways to Rock Halloween Without Spending a Fortune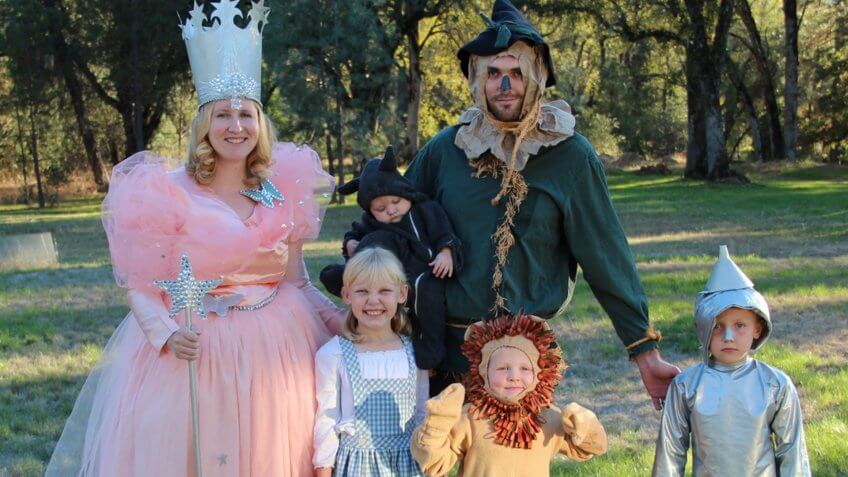 Thankfully, our splurging on Halloween costumes didn't derail our debt repayment. In fact, we finished paying back $144,000 of student loan debt a couple of months ahead of our goal.
As long as it's carefully planned, a  Halloween splurge might be just what you need when you're tackling an overwhelming financial goal.
Read More: Throw a Killer Halloween Party for Under $50
More From Our Smart Money Squad
We make money easy. Get weekly email updates, including expert advice to help you Live Richer™.