St. Patrick's Day By the Numbers
More than $4 billion total will be spent — $250 million of that on beer.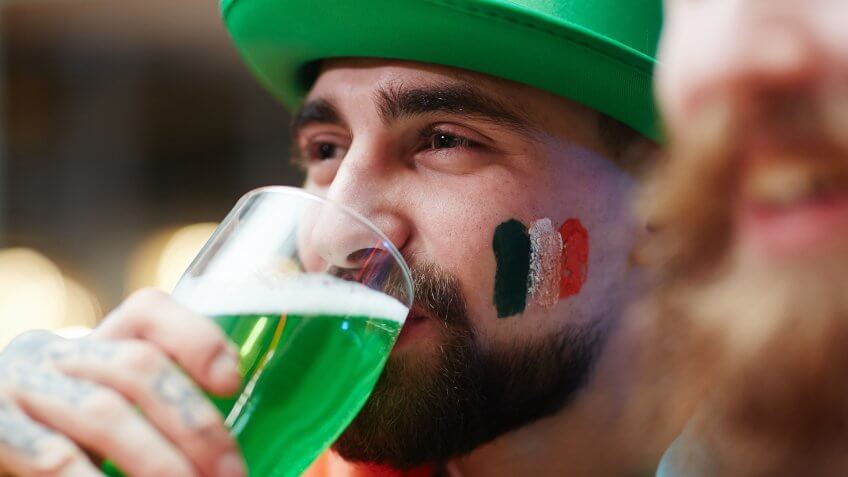 Pressmaster / Shutterstock.com
With origins as a religious observance celebrating St. Patrick, who brought Christianity to Ireland, St. Patrick's Day is now a raucous celebration of everything Irish. Although the holiday is forever associated with the Emerald Island, the first St. Patrick's Day Parade was actually held in America — although it wasn't technically America yet.
On March 17, 1762, Irish soldiers serving in the British Army led the festivities of the inaugural St. Patrick's Day Parade in New York City. In the United States, March has been known as Irish-American Heritage Month since Congress officially recognized it as such in 1991.
Today, Americans spend billions getting decked out in green and partying in honor of the Irish for one joyous day in March. Find out how revelers make the most of St. Patrick's Day festivities.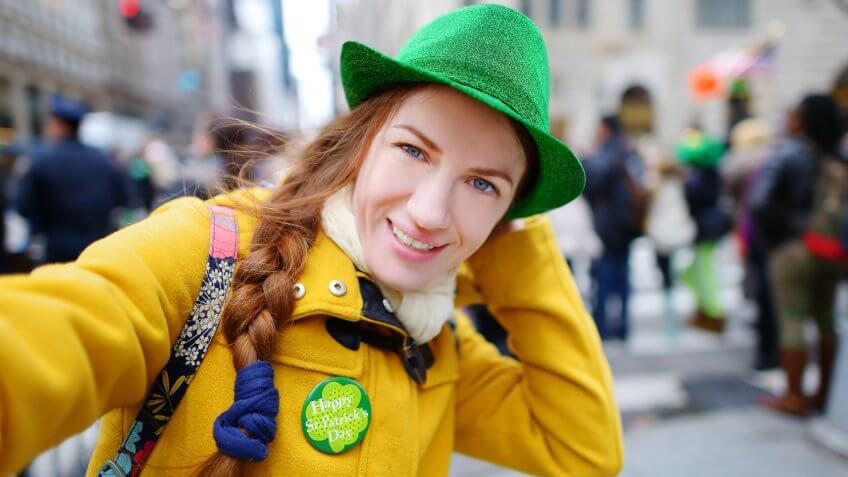 MNStudio / Shutterstock.com
Meet Irish America
On the U.S. Census, 33.1 million Americans claim Irish ancestry. That's 10 percent of everyone in the country, and more than seven times the entire population of Ireland.
That number more than doubles to 21.5 percent in Massachusetts where, along with neighboring New Hampshire, more than one in five residents claim the shamrock. California, however, is home to 2.5 million Americans of Irish ancestry — more than any other state.
When it comes to spending on St. Patrick's Day, the Irish seem to have a leg up. Households headed by an Irish-American earn a median income of $62,141, nearly $10,000 more than the median annual income for all households.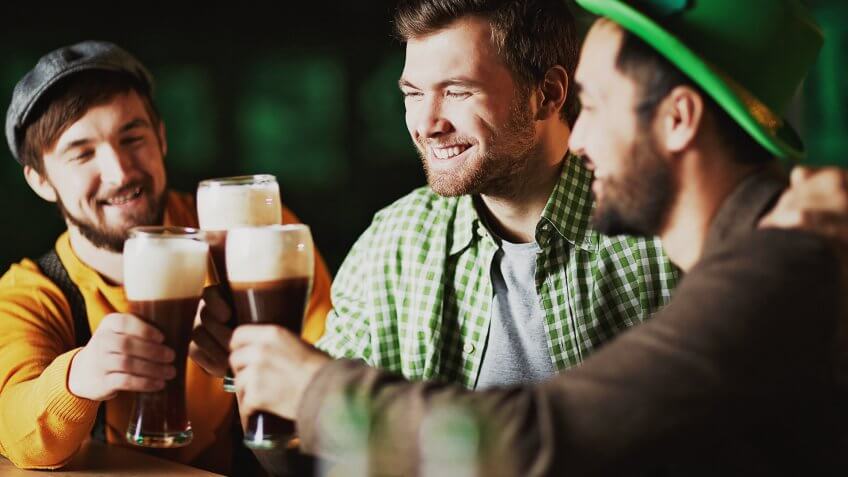 Pressmaster / Shutterstock.com
Going Green: St. Patrick's Day Spending
In America, green is definitely the right color for St. Patrick's Day. More than 139 million Americans plan to celebrate the Irish holiday, and are expected to spend an average of $37.92 per person, up from last year's $35.37 average and a new record that tops $36.52 — the record set in 2015.
With 51 percent of adults — about one out of two — celebrating, that's a total of $5.3 billion spent on St. Patrick's Day in the United States, a dramatic increase from last year's $4.4 billion which also tops the previous record of $4.8 billion set in 2014. In fact, America hasn't spent less than $4 billion going green on March 17 since 2010.
The 25 to 34 age group will spend more than any other demographic, digging into their bank accounts and dropping a total of $42.60 each on the festivities. Although they don't spend quite as much, 18- to 24-year-olds send a far bigger chunk of their age group to celebrate than any other — a full 73 percent.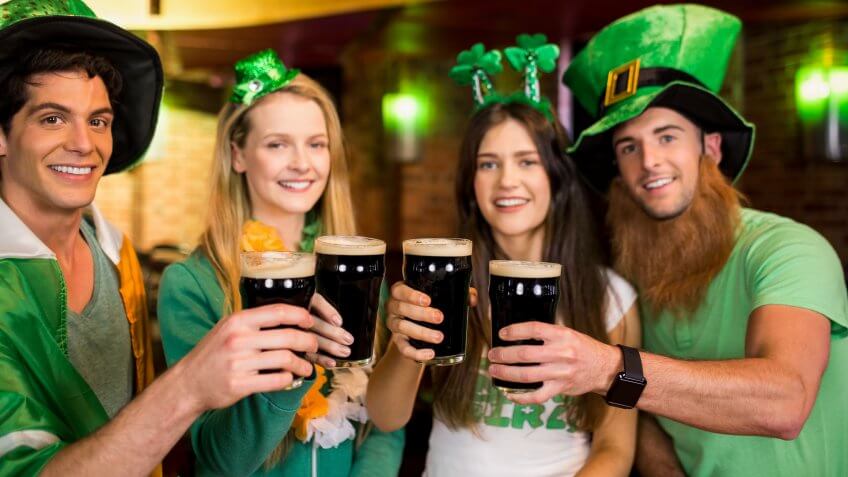 wavebreakmedia / Shutterstock.com
What's St. Pat's Without a Pint?
Many Americans, all of whom are Irish on St. Pat's, will drink a good portion of their $35.37 expenditure. In fact, on St. Patrick's Day, the country spends a collective $250 million on beer alone.
About 20 percent of adults plan on having a drink on St. Patrick's Day. Not surprisingly, it's a popular activity for that day. This is especially true when it comes to the trademark stout of Ireland.
Every day, the world consumes 5.5 million pints of Guinness. On St. Patrick's Day, however, that number more than doubles to 13 million pints consumed across the world. That's enough dark ale to fill up 60 percent of the Empire State Building, according to Statista.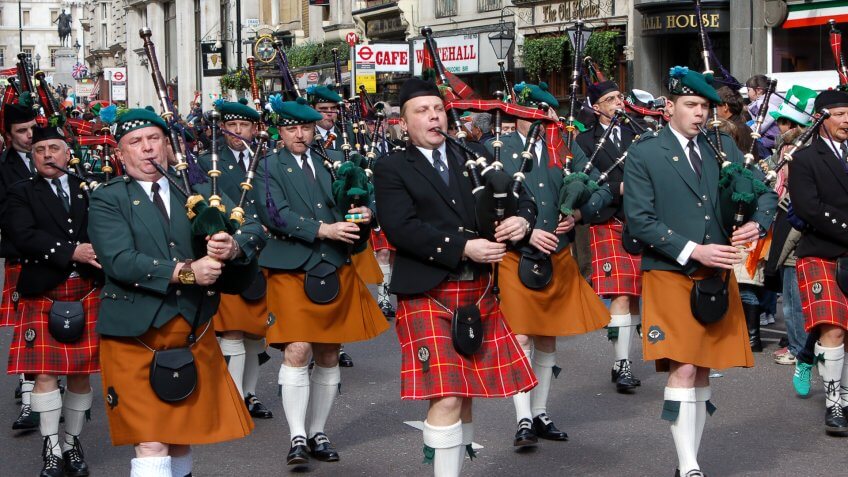 Pres Panayotov / Shutterstock.com
Parades: Popular and Pricey
Around half of all adults celebrate St. Pat's in America, and roughly 15 percent of them will attend a St. Patrick's Day parade — that number jumps to 21 percent for those living in the Northeast. But the floats, costumes, marching bands and revelry costs a pretty penny to the host city.
New Jersey's capital city of Trenton has canceled its St. Patrick's Day parade for the first time in 30 years thanks to the festival's ever-rising costs. Last year, the parade cost $21,000, two-thirds of which went to things like police, portable toilets, machinery and insurance, leaving just $7,000 for marching units, bands and all the things that make parades fun.
St. Pat's parade organizers aren't the only ones feeling the pinch, however. The cost to pull off New York City's famed Macy's Thanksgiving Day Parade now runs between $10.4 million and $12.3 million. In Boise, Idaho, 2016 was likely the last year for the city's traditional Fourth of July parade thanks to unsustainable costs.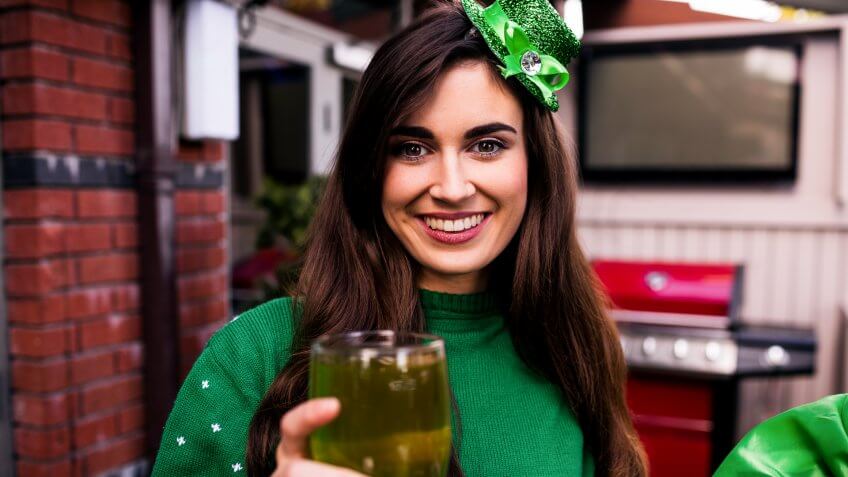 wavebreakmedia / Shutterstock.com
Going All Out for the Green
On St. Patrick's Day, 56.5 percent of revelers will buy food and beverages, with 27 percent heading to a bar or restaurant. Nearly half of that number, or one in three Americans who celebrate, will buy clothing. This boon for retailers is thanks to one reason and one reason only — tradition.
Getting decked out in green just goes with the holiday. In fact, an estimated 83 percent of party goers don the green on the 17th. Another 23 percent decorate their homes or offices in an Irish theme. In the spirit of celebration, 17.2 percent of revelers will buy candy, 23.3 percent will buy decorations, 28 percent will buy apparel and accessories, 31 percent will cook a festive dinner and 15 percent will attend a private party. Hopefully, they've budgeted for their holiday expenses.
Also See: Festive St. Patrick's Day Cocktails You Can Make for Under $5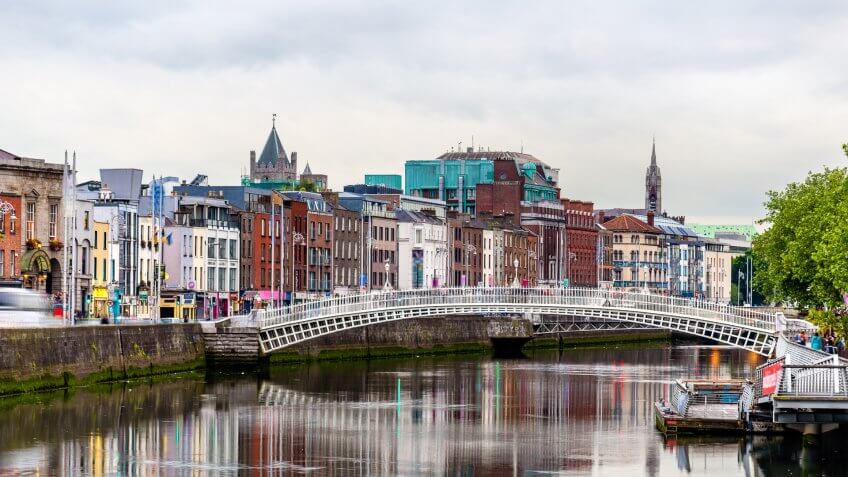 Leonid Andronov / Shutterstock.com
Traveling to the Old Country
If you're considering a pilgrimage to Ireland for St. Patrick's Day, you can expect roughly the following range of prices for round-trip airfare to Dublin, according to TripAdvisor as of March 7, 2017.
Presuming you give yourself a day on either side of the 17th to hang out, flights departing on March 15 and returning on March 19 from JFK in New York will cost you:
Orbitz: $731.98
JustFly: $724.98
Expedia: $560
Hotwire: $732.06
If you're leaving on March 15 and returning on March 19 from LAX in Los Angeles, the prices increase right along with the flight time:
Orbitz: $1,461.51
JustFly: $647.65
Expedia: $1,392.06
Hotwire: $1,392.06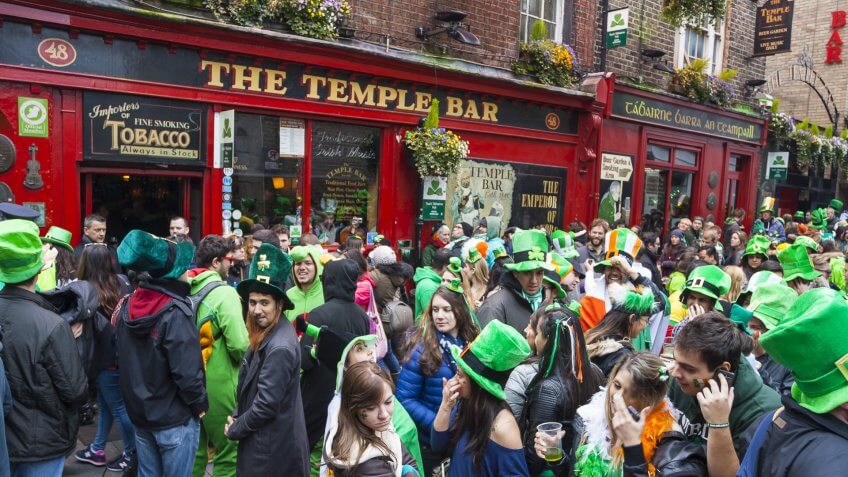 Aitormmfoto / Shutterstock.com
Celebrating on the Emerald Isle
The Irish take the annual celebration of their patron saint seriously, and there are events throughout the day and week all over Ireland.
One of the biggest and most popular is the St. Patrick's Festival in Dublin City, which takes place over the course of four days between March 16 and 19. The festival, whose website claims that St. Patrick's Day is celebrated worldwide more than any other holiday, is a national grassroots event that celebrates and showcases art, music, culture and everything Irish.
Since the festival hosts dozens of individual events, how much you spend there is completely up to you.
Some events charge an entry fee, like "Young Blood: The Beats and Voices of Our Generation," which costs 18 to 35 euros. Others, like the Spirit of Dublin Craft and Food Fair, are completely free. The website hosts a calendar of events with descriptions and pricing for each activity, as well as a citywide calendar of events, also with pricing for each activity.
A huge portion of the United States population proudly claims Irish ancestry, and on March 17, everyone gets to share it with them. St. Patrick's Day is one of the most beloved celebrations of the year, and this year, like every other, spending green will be a big part of going green.