Your St. Patrick's Day Party on a Budget
St. Patrick's Day food and decor don't have to cost a bundle. Learn more!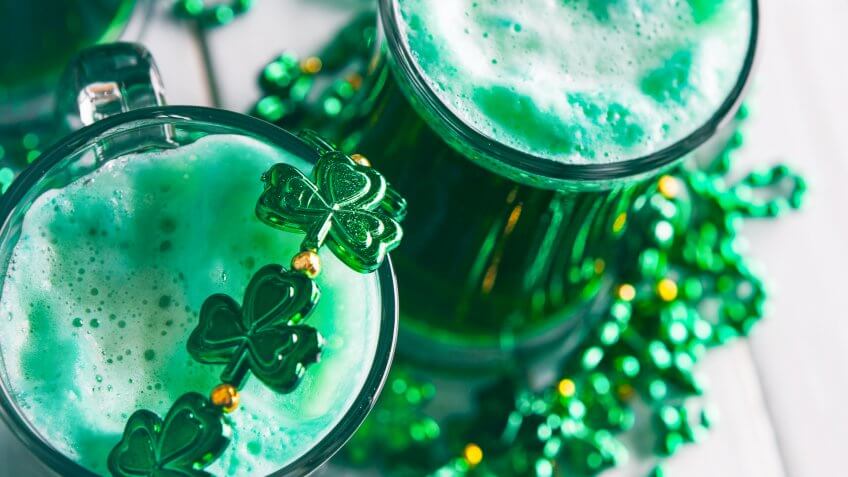 Sean Locke Photography / Shutterstock.com
Hosting your own St. Patrick's Day party is a fun way to celebrate this Irish-themed holiday without leaving home — or spending a fortune. Whether your soiree is for 50 of your friends or just immediate family, you don't have to break the bank to make it an epic event.
Instead of venturing out in the cold to drink in a crowded bar, stay warm and save money by making some of the food and decor yourself or purchasing these items on the cheap. Here are some tricks for cutting down your party costs.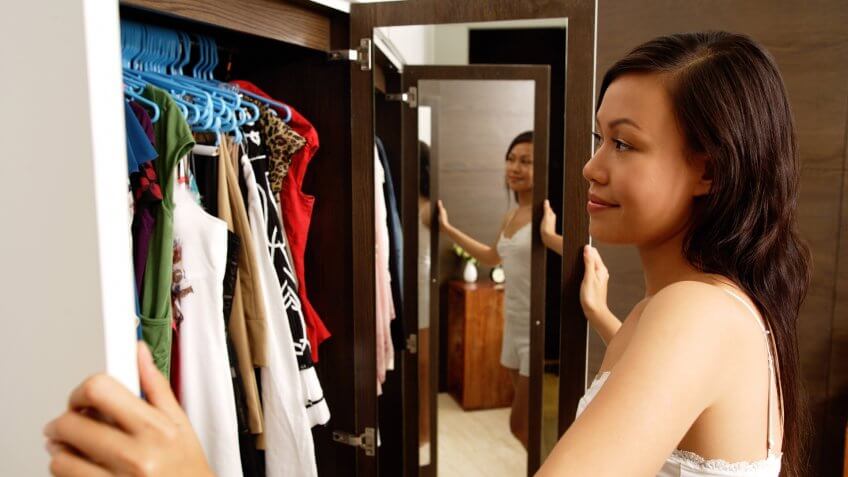 Asia Images Group / Shutterstock.com
1. Raid Your Closet
Part of the fun of this festive holiday is dressing up in green garb. Instead of running to the store, save money on clothes this year by raiding the back of your closet for green shirts, pants, leggings and shoes.
Both solid green and patterned items with green accents can be part of your holiday wardrobe. Set items aside as you locate them and then compile an outfit from your favorite finds.
There's no need to dress in head-to-toe green, either. Accent your outfit with a green scarf, socks or necktie for a subtle way to celebrate while maintaining your signature style. If you really need to purchase an accessory or two, Party City offers an assortment of themed socks from 99 cents and ties for as little as $2.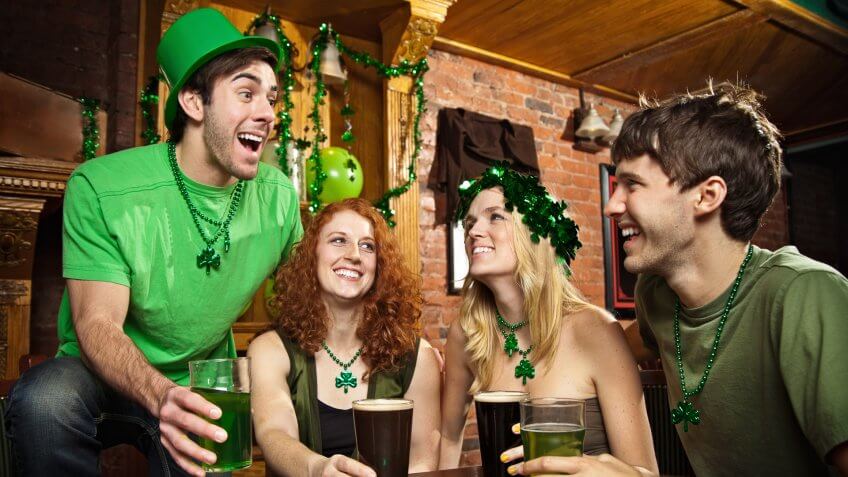 nunosilvaphotography / Shutterstock.com
2. Make Your Own St. Patrick's Day Outfit
If wearing green isn't enough to make you feel party ready, make your own shamrock T-shirt to celebrate this special day. Start with a plain white shirt — you can buy one at Michaels for around $3 or find one in your closet for free. You can also purchase a five-pack from Walmart or another department store for around $10.
To make your shamrock shirt, cut out a paper shamrock, tape it to the front of the shirt and slide a piece of wax paper or cardboard inside the shirt to prevent paint from bleeding through. Use a new pencil eraser to dab different shades of green acrylic craft paint over the shirt, making a confetti-style design around the shamrock. A 2-ounce bottle of paint can be purchased for less than $1 at Michaels and other craft stores.
When you finish painting, remove the paper, tape and cardboard from the shirt and give it an hour to dry.
Don't Miss: 50 Ways to Save $500 This March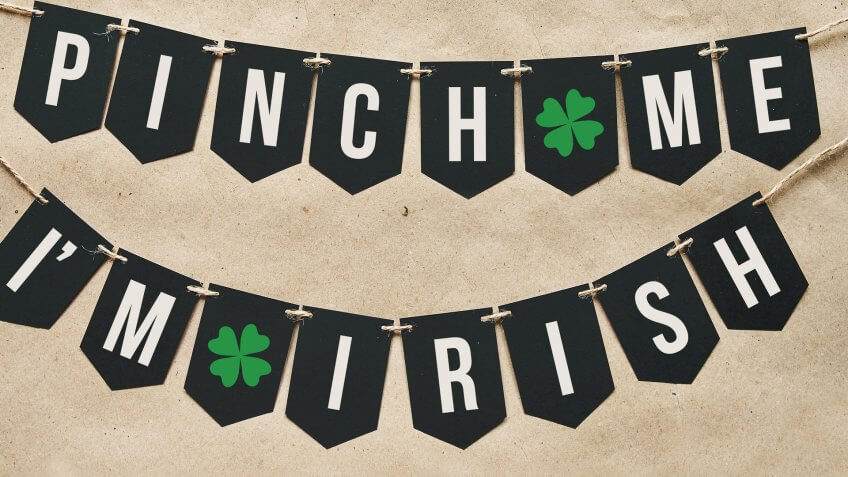 xmo / Shutterstock.com
3. Find St. Patrick's Day Printables
If you don't have an artistic bone in your body, fear not. You don't have to design your own St. Patrick's Day decorations. Free printables, sized specifically for picture frames, make the decorating process both speedy and simple. You can find free, downloadable text art specifically for St. Patrick's Day on sites such as Eighteen25 and HGTV.
Place the printed designs in standard picture frames. You can temporarily repurpose pictures frames already on your walls or visit the dollar store for cheap finds. Display the framed images in prominent places in the party room.
Additionally, you can create a mantel centerpiece with a few green or white vases, jars or small potted plants. Turn inexpensive clear vases or jars green by swirling some of the green craft paint from the T-shirt project inside each one. Allow them to dry completely before touching.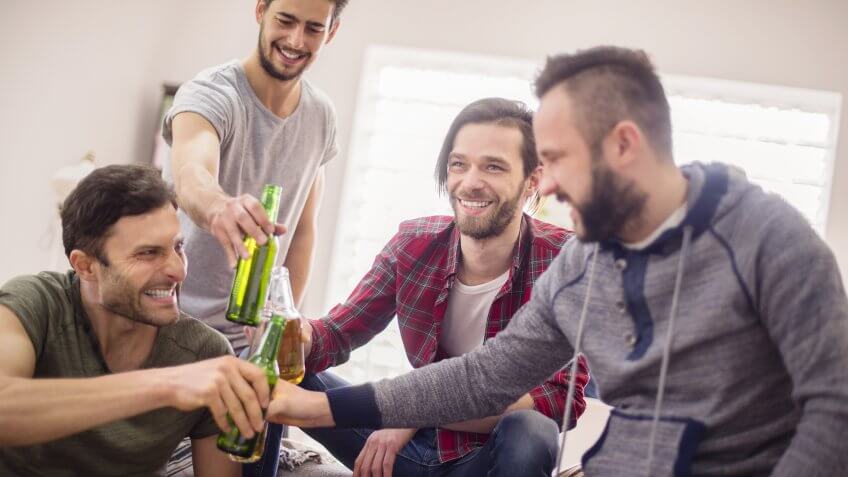 gpointstudio / Shutterstock.com
4. Have Guests Bring the Goodies
Hosting a large party complete with St. Patrick's Day food, desserts and beverages can be costly. Save money by hosting a BYOB (bring your own beverage) party or making the event a potluck, where each guest brings a favorite St. Patrick's Day-inspired dish.
Make sure to give your guests plenty of notice if you expect them to cook, and try to coordinate items ahead of time so you don't wind up with 10 trays of corned beef. If the party doesn't include a full meal, ask guests to bring Irish-themed snacks or St. Patrick's Day desserts.
Don't forget to supply plenty of plates, cutlery, napkins and cups for the party. If you're hosting a small gathering, utilize your existing kitchenware. For a large party, recyclables might be the better option. Shop at a dollar store in the party supply section to find green plates, napkins, cups and cutlery. Clear, recyclable cups will suffice if green ones aren't available.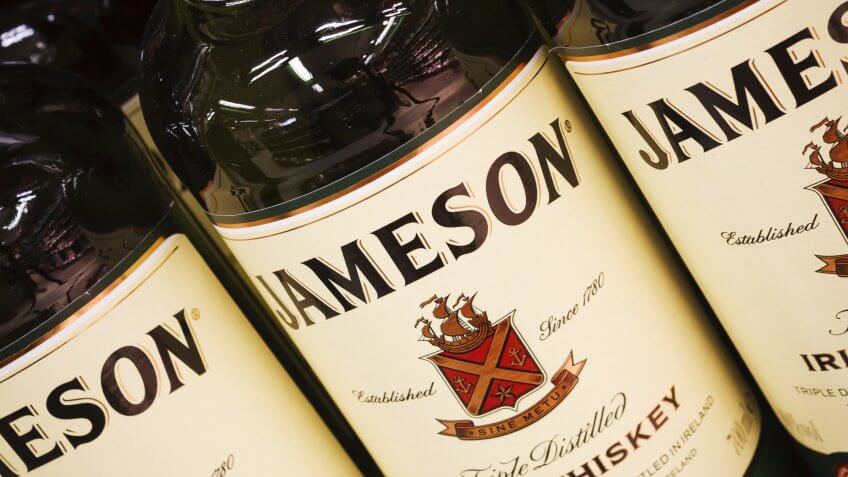 Lasse Ansaharju / Shutterstock.com
5. Take Advantage of Alcohol Rebates
If you want to score deals on alcoholic beverages, plan ahead — there's a good chance you can find rebates on at least some of the items you seek.
Start by visiting your local liquor store or even the grocery store and scanning the aisles. Sometimes rebates and coupons are attached directly to the bottles. If you can't find any, ask a clerk if there are any rebate coupons available. Items such as Irish cream or Irish whiskey might even be on sale in March. Compare similar brands and purchase the least expensive one if the quality is comparable.
You can also cut costs by downloading the app bevRAGE, which offers cash back on alcohol purchases. As of mid-Feburary, bevRAGE is providing $3 off Celtic Honey Irish liqueur. Check each offer you find on the site to ensure it is valid in your state.
To get the listed deal, take a picture of the receipt with your app. bevRAGE will deposit the funds you're owed into your PayPal account within a few days.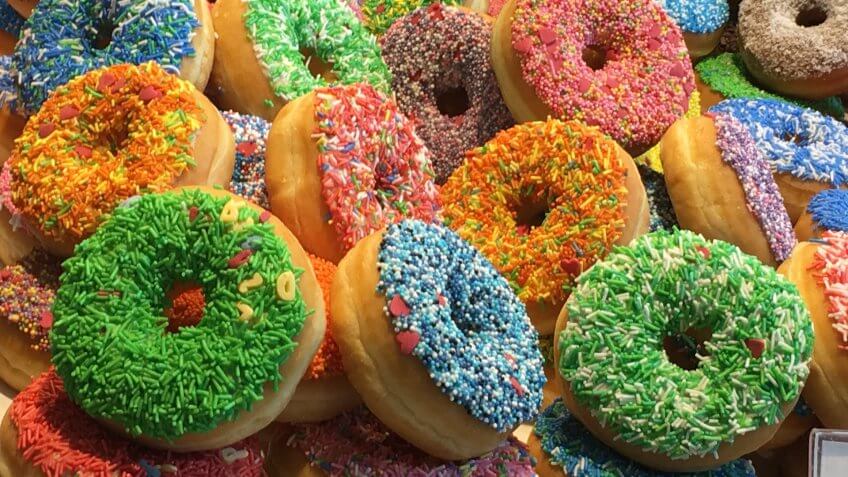 Sayrung Bunnarangsri / Shutterstock.com
6. Make Your Own Treats
You don't have to be a pastry chef to make some mouthwatering treats for your guests. For example, you can use a box of plain donuts to create some cute rainbow treats for your St. Patrick's Day party.
Start by cutting the donuts in half to make rainbow arcs and then apply vanilla icing to the top of each half. Apply sprinkles, one rainbow color at a time, following the curvature of the donut arcs. Some stores sell jars containing a rainbow array of sprinkles, with separate compartments for each color, for less than $5.
Make puffy clouds at the ends of each rainbow using white icing or white icing with coconut sprinkled on top. A 16-ounce container of basic vanilla frosting costs between $1 and $2, and $2 buys you a 7-ounce bag of organic shredded coconut at Walmart.
For another sweet treat, make white chocolate bark and add green sprinkles or candies for added decoration. To make the bark, heat white candy melts in a glass container in the microwave, following the package directions. Pour the melted candy on a wax paper-covered cookie sheet until the chocolate is at least 1/4-inch thick. Add sprinkles or candy as the melted treat cools. Refrigerate the cookie sheet for at least an hour and then break the bark into large chunks.
White candy melts cost $3.49 for 12 ounces at Party City.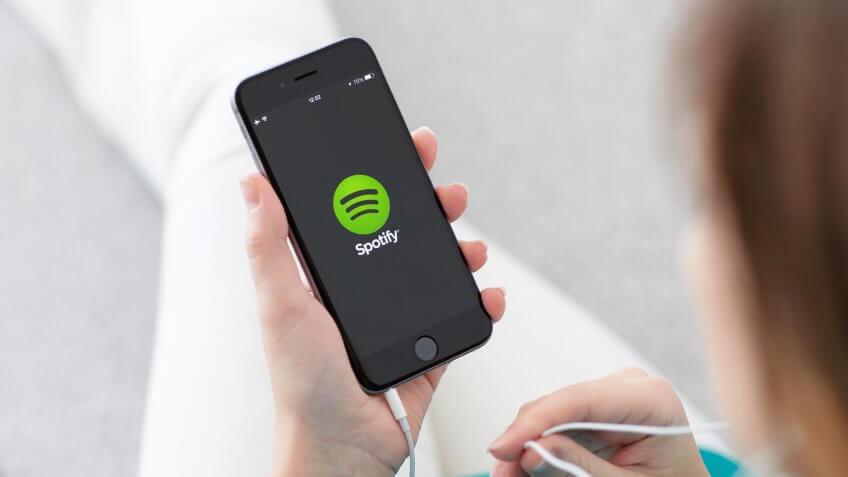 Denys Prykhodov / Shutterstock.com
7. Let There Be Music
Music makes every party more enjoyable, and a St. Patrick's Day shindig is no exception. Cue up your favorite Irish tunes or select one of the premade St. Patrick's Day/Irish music playlists available on YouTube. Spotify and Pandora also offer an array of St. Patrick's Day party playlists containing everything from traditional tunes to Irish pub music.
You can also play songs from your favorite Irish bands and musicians. U2 provides a rocking soundtrack, while Van Morrison and Thin Lizzy serve up a classic rock vibe. Enya, The Cranberries, Sinead O'Connor and Snow Patrol are just a few more famous names to choose from when making your own Irish-artist playlist.
Choose your tunes with care, and your guests might just put on their Irish jig shoes to dance.