Teacher Appreciation Week: 32 Places To Get Deals and Freebies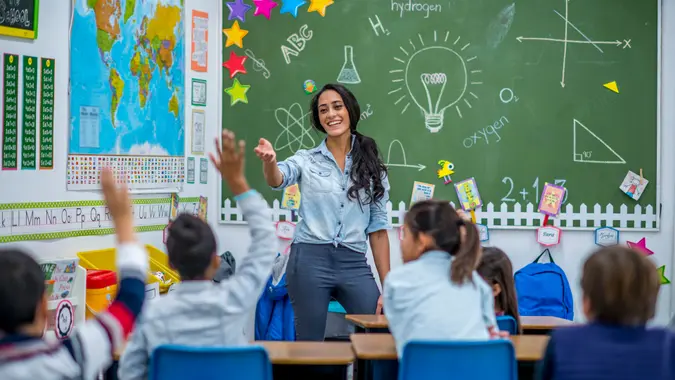 FatCamera / Getty Images
No one works harder than teachers, and that was more apparent than ever earlier in the pandemic when many teachers had to teach remotely. This week, companies are thanking teachers for all they do.
May 2-6 is Teacher Appreciation Week, and many companies are offering special deals for hardworking education professionals. If you're a teacher, you can get some great freebies and deals at restaurants and take advantage of discounts at a variety of retailers. And if you know a teacher, be sure to let them know about these offers.
Food and Dining
Buffalo Wild Wings
Teachers and school staff can score 20% off at Buffalo Wild Wings all week through Friday, May 6. This discount is available on dine-in orders and on takeout orders made by calling ahead, with a valid school I.D.
Laffy Taffy
Laffy Taffy is introducing Laff Bites Tropical and celebrating teachers at the same time. Beginning at 6 p.m. ET each day of Teacher Appreciation Week, through Friday, May 6, Laffy Taffy will give a prize to the first 100 teachers who register and share a joke at LaffyTaffyTeacher.com.
Make Your Money Work for You
The prize is a Laff Bites Tropical Care Package including the new product and a Laffy Taffy joke book. And each teacher who wins will also be entered to win the grand prize — $5,000 to spend on a vacation to a tropical destination. Not a teacher? Nominate your favorite teacher and they could win, too.
Sonic Drive-In
On Tuesday, May 3, teachers who are enrolled in the Sonic Teachers' Circle rewards program can get a free cheeseburger with a purchase at Sonic Drive-In. The Sonic Teachers' Circle is a free program available only to educators through the Sonic app.
In addition, Sonic will match 50%, up to $1.5 million, in donations to DonorsChoose, which is a nonprofit organization that allows people to contribute directly to specific requests by public school teachers for classroom supplies and equipment. Donations are made through Limeades for Learning, with a donation made for each cup of limeade sold.
Freddy's Frozen Custard & Steakburgers
Freddy's Frozen Custard & Steakburgers is offering all teachers a free single-topping sundae all week through Friday, May 6. Teachers must show a valid school ID, and the offer is valid for drive-thru and dine-in orders only.
Make Your Money Work for You
Potbelly
At Potbelly, teachers can get a free cookie or regular fountain drink with the purchase of an entree all week long, through May 8. Just show your school ID and choose an oatmeal chocolate chip cookie, sugar cookie, chocolate brownie cookie or regular-size fountain drink.
Whataburger
Whataburger is offering free breakfast items for teachers during Teacher Appreciation Week. Plus, they can get 25% off retail items in the Whatastore. In addition, 30 teachers who were nominated by their peers will each receive $1,000 for their school as part of Whataburger's Feeding Student Success program, which targets needs at the intersection of food insecurity and education.
Zaxby's
Zaxby's is offering a buy one, get one free deal on boneless wing meals for teachers on Tuesday, May 3. You can order online, in-store or through the app.
Retail
Barnes & Noble
Teachers who sign up for the B&N Educator program save 20% off list prices on purchases for classroom use all year long, and up to 25% during Educator Appreciation Days.
Staples
Office supply giant Staples is offering 20% back in classroom rewards through May 6. Plus, teachers who come in through May 7 get an additional 5% back in rewards for themselves, and a free gift box, including highlighters, glue sticks, stickers, thank-you notes and more.
Make Your Money Work for You
Costco
Costco offers a $20 Costco Shop Card to teachers who sign up for a new membership and agree to auto-renewal. Just verify your eligibility through ID.me.
Joann
Crafty teachers can save 15% on every purchase, every day at Joann fabric and craft stores. Sign up once and save all year long.
Michaels
Michaels appreciates teachers all year long with a 15% discount online and in-store. Just verify your educator ID through the Michaels rewards program.
GelPro
For teachers who stand on their feet all day, a 25% discount on GelPro floor mats may be welcome indeed. Just verify your status as a K-12 or college teacher and score your discount all year long.
Technology
Microsoft
Educators and students with a valid school email address can get Office 365 Education free from Microsoft, including Word, Excel, PowerPoint, OneNote and Teams. Plus, you can save 10% on Surface devices.
Adobe
Software giant Adobe doesn't wait until May to appreciate teachers. They get over 60% off Creative Cloud apps, including Photoshop, Acrobat Pro, Illustrator and more, all the time. Students can take advantage of this discount too, which results in a monthly charge of $19.99 compared to the regular price of $54.99 per month.
Apple
Teachers get special pricing on Apple Macs and iPads all year long. Education pricing is also available to faculty and staff at all grade levels, homeschool teachers, and current and newly accepted college students and their parents.
Bose
Bose offers discounts to educators in the U.S. on headphones, speakers and other audio products.
Verizon
Teachers can save up to $25 per month on the best unlimited plans that Verizon offers. This offer is available for personal lines only, and you have to be able to show that you are a teacher in order to qualify. Verizon also supports the National Education Association and encourages donations on its website.
AT&T
AT&T offers its Signature Program to college and university employees at any time, which includes a discount of $10 per month for each line on the AT&T Unlimited Elite plan.
Lenovo
Lenovo offers 10% off for higher education teachers and students sitewide, every day. Just verify with ID.me for your discount. Parents with children in grades K-12 can get a discount through LenovoParent.
T-Mobile
T-Mobile offers T-Mobile Work Perks to employees of eligible schools. Teachers can get a 15% discount per month on Magenta Max with unlimited talk, text and data.
Travel
Avis 
During Teacher Appreciation Week and all year long, teachers can get up to 30% off Avis Pay Now rates. Make your reservation online and use the Avis Worldwide Discount number D134120.
Budget
Teachers who rent a car through Budget can save up to 35% off Budget Pay Now prices when they rent from participating locations in the U.S. and Canada. To take advantage of this year-round offer, use Budget Customer Discount number Z408915.
Caesars Rewards
Teachers and students can save up to 30% at Caesars properties with the Caesars Rewards program. Confirm your eligibility through ID.me to get this year-round discount.
Clothing, Shoes and Accessories
Bonobos
Teachers get 20% off everything at Bonobos, all year long. Just verify that you are a teacher through SheerID.
Cole Haan
Cole Haan offers 20% off to anyone who orders online using a valid school email address.
Hanes
Current and retired educators can get 10% off any purchase at Hanes.com.
J.Crew
J.Crew offers 15% off online and in-store purchases for teachers and students. Show your teacher ID at checkout, or verify online with SheerID.
Loft
Loft offers an extra 15% off every purchase for teachers, all year long, when you show your teacher ID in-store.
Madewell
Madewell offers teachers 15% off in-store and online. Sign up on the website, verify your status as a teacher (college students are eligible too), and you'll automatically get the discount for a year.
Roxy
Roxy offers teachers a 15% discount on clothing, swimwear and accessories. Just verify your credentials with SheerID and shop online.
Automotive
GM Educator Appreciation Program
You can get a special offer when you lease or purchase an eligible new 2021 or 2022 Chevrolet. The GM Educator Appreciation offer applies to current employees of public and private schools, colleges and universities, and their spouses, and is available from participating GM dealers.
Deals and prices are accurate as of May 2, 2022, and are subject to change.
Make Your Money Work for You