11 Tips To Keep in Mind When Returning Holiday Gifts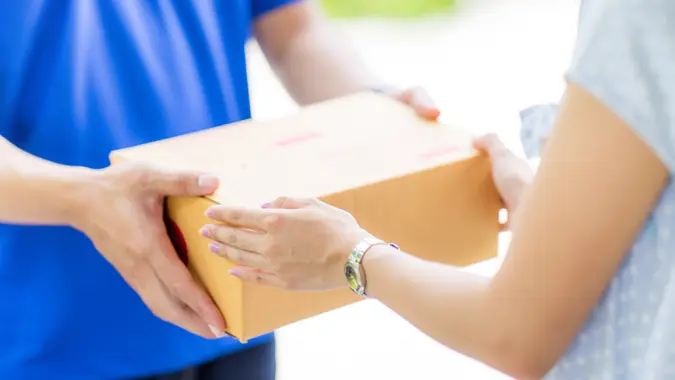 PORTRAIT IMAGES ASIA BY NONWARIT / Shutterstock.com
The holidays are now behind us, but the gifts are still here, and many of them are, perhaps sadly, unwanted. According to a new survey from Magestore, 57% of Americans will re-gift or donate unwanted gifts, while 42% choose to return or exchange them for something else.
If you're among those returning or exchanging your unwanted presents, here are 11 tips you should keep in mind. 
Be Patient and Polite
"First and foremost, you'll want to be sure you maintain patience and are polite throughout the whole exchange," said Julie Ramhold, consumer analyst with DealNews.com. "Retailers are going to be overwhelmed with returns for the next few weeks, and that means associates are going to be dealing with a variety of customers and related issues. Being patient and polite will make the experience better for yourself, but it'll also boost your chances of actually being able to receive a refund — especially if you're missing something like a receipt."
Have the Gift Receipt or Order Invoice
"Having a gift receipt, a standard receipt or even an order invoice will make the whole process infinitely easier," Ramhold said. "Some stores can look up purchases based on method of payment; but, if you're returning a gift, that's obviously not going to be an option since you likely won't have the same payment method.
"Don't be afraid to ask the giver for a gift receipt, even if you have to frame it as a 'just in case' situation to avoid telling them you will never wear the hideous sweater they bought you."
Make Your Money Work for You
Watch Out for Sale Items 
"Many retailers have final sale policies on discounted items and won't allow returns," said Laura Adams, MBA, a personal finance expert with Finder.com. "If your unwanted gift can't be returned or exchanged, consider re-gifting or repurposing it."
Don't Expect a Refund on Shipping Charges
"If you're returning an item in store that was purchased online, don't expect shipping charges to be part of it," Ramhold said. "And if you're shipping something back, be prepared to pay for return shipping. Even if you don't, your refund likely won't include the original shipping charges. Prepare yourself for a refund that may be slightly less than the purchase price, and even more so if you had to shell out extra cash for expedited shipping."
Pay Attention to Deadlines, but Don't Rush
"Most major retailers give you more time than usual to make a return or exchange during the holidays," said money saving expert Andrea Woroch. "Walmart says customers can return items bought as early as Oct. 1 through Jan. 31. But there are some stores that limit return deadlines."
Apple, for example, cuts off returns on Jan. 8, Woroch said. 
"So review each store's holiday return policy and add it to your calendar so you don't get stuck with something you don't want or need," she said. "If you feel rushed to make an exchange, request store credit instead so you have plenty of time to think it through and get something you actually need."
Make Your Money Work for You
Go at the Right Time
"Instead of waiting in long lines for in-store returns or at the post office, steer clear of returning unwanted holiday items immediately after Christmas or on weekends," said Rebecca Gramuglia, consumer expert at TopCashback.com. "The best times for in-person returns are early mornings or weeknight evenings after 7 p.m.
"And, when returning an online purchase, be sure to examine all of the return options available from the retailer. For example, you can bring Amazon returns to Kohl's locations. Some retailers may also be partnered with companies like Happy Returns, where you can locally drop off your return at specified locations for free."
Use Your Credit Card for Extra Purchase Protection
"If you purchased an item you can't return because you missed the deadline or for another issue, check your credit card's purchase protection policy," Woroch said. "Some credit cards offer extra time to make a return even after the store's deadline passed, as well as extended warranties and price matching. You will have to deal with the credit card company directly to make the return, but at least you can get your money back.
"Don't have a card with a good purchase protection policy? Then consider getting a new card. You can compare credit card programs at sites like CardRates.com, which also has a detailed list of those with retail perks." 
Earn Cash Back on Your Returns
"Every time you make an exchange, turn it into cash back," Woroch said. "Take a picture of your exchange receipt using a cash-back app like Fetch Rewards to earn points towards free gift cards to a variety of merchants like Amazon and Target. Redeem points for a gift card to a store you already have merchandise credit for and use it to exchange for a more expensive item you've been eyeing."
Make Your Money Work for You
Restocking Fees May Apply
"Depending on the item, you may have to pay restocking fees," Ramhold said. "These will usually be deducted from your refund, meaning you'll receive less than what you paid in the first place. It's not always a deal-breaker, but it can be problematic if you're returning a gift you received.
"Before you return, you'll want to check the retailer's policy to see if they outline when restocking fees apply to see if you'll be impacted."
Be Ready To Accept Store Credit or an Exchange 
"If you don't have a receipt and the store can't look up the purchase, be prepared to accept a refund in the form of store credit or an exchange," Ramhold said. "It might not be what you want, but it's at least something and still offers the potential for you to get something you actually want or will use as opposed to letting a gift you didn't want sit around and gather dust until you figure out how to offload it."
Keep Track of Your Refund  
"Once a store processes your return, it may take seven business days or more for funds to appear on your credit card," Adams said. "Periodically check your account and contact the store if you don't receive a timely refund."
More From GOBankingRates