9 Ways to Get Out of Buying Presents This Holiday Season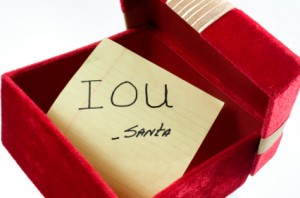 Whether you have to buy a gift for that distant cousin's new baby or make that Secret Santa trade at work, it seems that you always have to buy Christmas presents – not the easiest way to save money.
If you could only get out of buying presents this year, you'd have more to save. Of course, you need some clever excuses to back you up. Here are the top ones to consider:
1. "Rats! I Was Just Laid Off!"
With job-loss numbers at 463,000 for November 2009, even if you're one of the lucky ones who wasn't laid off, you could use the excuse without receiving as much as a raised eyebrow of suspicion.
2. "I Broke My Leg … And I'm Not Insured"
Everyone knows if you need medical attention and you're uninsured in America, you will have no money left to eat, let alone buy a gift – a definite excuse worth trying.
3. "I Haven't Received My Unemployment Benefits Yet"
States like California have fallen behind on unemployment benefits checks for more than 100,000 recipients. You could be one of the unfortunate ones, right?
4. "My Credit Card Limit Was Lowered … Or Better Yet, My Card Was Canceled"
With credit card issuers getting in their last hoorahs before the new credit card regulations are implemented, it's very possible that your $25,000 card limit was dropped to $500 – or even canceled – in the past month.
Make Your Money Work for You
Sponsors of
5. "I Was Mugged Leaving the Department Store!"
According to USA Today, burglaries and robberies have increased 39% and 32%, respectively, since the recession began. This is the perfect reason to say you had an unfortunate run-in with a masked man as you walked out of the store with the gift.
6. "My Bank Closed and Took My Money with It"
With over 133 banks closing so far in 2009, it's not impossible that your bank closed too (and wasn't FDIC insured), right?
7. "My Car Broke Down … And My Internet Is Turned Off"
Everybody knows if you don't have a car to do your Christmas shopping, you at least need the Internet. Without either, you're virtually incapacitated. No shopping for you!
8. "Brangelina, Speidi and TomKat All Said Re-Gifting is Recession-Friendly … And Sexy!"
Okay, so these Portmanteau power couples aren't likely to dish out saving money tips anytime soon. But hey, if you start a quick blog rumor that they did, this may spare you having to buy something for Christmas.
9. "Sorry … I Celebrate Verdukia Now"
There's nothing wrong with celebrating a made-up, non-holiday to avoid buying Christmas gifts – as long as nobody knows it. Just hope the person you share your new holiday with doesn't watch 30 Rock.