10 Valentine's Day Gifts You Can Find at the Dollar Store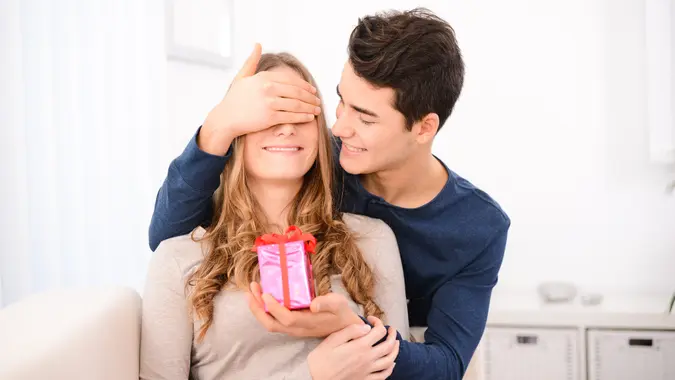 JP WALLET / Shutterstock.com
It may not be as big a spending holiday as Christmas, but Valentine's Day is hardly a thrifty occasion.  According to the National Retail Federation, Americans are expected to spend $23.9 billion on Valentine's Day gifts this year — up from the $21.8 billion they spent in 2021. Consumers will be stocking up on candy, greeting cards, flowers, jewelry dinners and other outings to celebrate their lovebirds.    
But surely not everyone can or should shell out upwards of $175 on wooing their sweetheart this Valentine's Day. Fortunately, there is no shortage of thoughtful and classy gifts that you can nab for your beloved at the cheapest possible shop: the dollar store. You might even test your creative abilities with a fun DIY project using all 99-cent-store items to wow your honey. 
More: 21 Dollar Store Items That Give You the Best Bang for Your Buck
Also: Should You Buy Groceries at the Dollar Store?
Queen Anne Cordial Cherries
"These are a classic Valentine's Day treat in my book, and Queen Anne is far superior to other brands, too," said Julie Ramhold, consumer analyst at DealNews.com. "At the dollar store, you can expect to pay $1.25 for a box of five pieces of candy; that might not seem like a great deal, but at Walmart you'll pay around $1 per candy piece. 
Make Your Money Work for You
"Target doesn't even carry the Queen Anne brand as far as I can tell (they have Cella's instead); and, even though the price per chocolate works out to be similar to the dollar store, it's still slightly more expensive at Target. At the dollar store, the candies work out to 25 cents each, while at Target they're 27 cents each, as well as being a different, disappointing brand."
Chocolate-Scented Teddy Bears
"These are perfect gifts for kids as well as the chocolate lovers on your list," Ramhold said. "They're soft and fuzzy, and reviewers say they smell 'yummy.'"
At big-box stores, shoppers typically can find stuffed animals with small bags of conversation hearts for around $6 to $10 — but these chocolate-scented teddy bears make for a sweeter — and cheaper — gift, going for around $1.25 at Dollar Tree.  
Learn: 34 Dollar Store Secrets You Need To Know Before You Shop
Lindt Lindor Strawberries & Cream White Chocolate Truffles 
"These will set you back around $3.75 for a 5.1-ounce package at Dollar General stores, but that works out to about 73 cents per ounce," Ramhold said. "If you shop elsewhere, you may find bigger packages — 6 ounces for $4.89, for example. But that also works out to be more expensive per ounce — about 82 cents, in fact.
Make Your Money Work for You
"Lindt Lindor truffles are generally a 'fancier' version of grocery store chocolates; so, if you're looking for something nicer than the cordial cherries above, this is a good alternative."
Scented Candles 
"Scented candles are a great Valentine's Day gift because it is romantic and affordable," said Brogan Renshaw, a retail investor and the director of Modelers Central. "Pick an aroma that your partner loves. Showing thoughtfulness about little details like their favorite scent is a priceless gesture."
Most dollar stores have an array of scented candles for only $1.25, while other stores price higher. Walmart sells scented candles for $5 or less, while Target sells them for between $7 and $11.   
Also Find: 6 Walmart Deals That Are Better Than the Dollar Store
Valentine's Day Drinkware
"You can buy Valentine's Day drinkware at the dollar store for cheap while similar drinkware at  Walmart would cost you $12.95," said Chloe Choe, founder and owner of Off Hour Hustle. "The dollar store saves you tons of money and is definitely the better deal."
Candy-Filled Mug 
"This Valentine's Day mug filled with candy at Dollar General is $1.25," said Annie Brown, frugal living blogger at Savvy Honey, noting that at Target a similar mug without candy goes for $7.  
Make Your Money Work for You
Valentine's Day Framed Sign 
A Valentine's Day Framed Sign at Dollar General goes for $1, while a very similar sign goes for $10 at Target. 
"Purchasing this item at the dollar store amounts to $9 in savings," Brown said. "With this amount of money saved, you could even throw in a few more Valentine's Day items from the dollar store and not break the bank."
Extra Tips: 10 Things You Always (and Never) Should Buy at the Dollar Store
Men's Travel Toiletry Bag 
At Dollar General, a men's travel toiletry bag retails for $5. At Walmart,  a similar product costs $9.42.
"Purchasing this item at the dollar store amounts to a little over $4 in savings," Brown said. "With the extra $4, you could purchase travel-size toiletries to put in the bag as well."
DIY Candy Bouquet 
Gift givers with a little extra time on their hands also can find plenty of DIY craft inspiration at dollar stores. Perhaps you can throw together a cute candy bouquet. 
"Choose a glass vase as your base," Ramhold said. "You can opt for simple clear glass vases or more thematic ones that are colorful, decorated with hearts or have a textured surface. From there, you can fill it with candies if you want, or opt to purchase fresh flowers elsewhere to give a more traditional gift as well. If you're particularly crafty, you can even fill the base with candies and then make your own felt or tissue paper flowers to put in the vase, too."
Spa Day at Home Gift Basket
"For under $10 you can easily make your own 'spa day at home' gift basket using Dollar Tree items," Brown said. "To make your DIY spa gift basket, pick out some Dollar Tree items like lotion, bath bombs, body scrub, candles or fluffy socks. Arrange all the items in a dollar store basket and you have a cute spa gift for Valentine's Day." 
More From GOBanking Rates
Make Your Money Work for You