Honor Troops on Veterans Day With Budget-Friendly Care Packages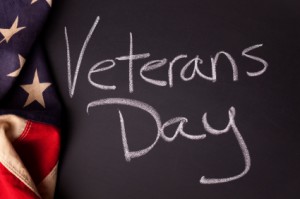 On Veterans Day 2014, we commemorate former military members who risked their lives to protect our nation. But there are also troops who are out in the field, fighting for our country at this very moment. One way to ensure active troops aren't forgotten this Veterans Day is to prepare care packages, which you can do even on a tight budget.
>>See our list of 50 best military discounts for service members and veterans
Saying "Thank You" to Our Troops with Care Packages
Sending care packages to military troops has always been a great way for civilians to personally say "thank you" for their hard work in training and combat each year. No matter what branch of the military you would like to send a package to, you can do it and save money.
Basic Instructions for Sending Packages
1. Find Troop Members: If you don't have a friend or family member to send a care package, there are a number of ways to find troop members. You can use reputable websites like AnySolider.com to search through lists to adopt a soldier, find his or her wants and request an address to send your items.
2. Shop for items: Next, you'll need to shop for items to include in the care package. It's best to include nonperishable food and snacks (i.e. sunflower seeds, beef jerky, hard candy, etc.), as well as items like toothpaste, hand lotion, sunscreen, hand sanitizer, shampoo, disposable razors and bath soap.
Other great items to consider include CDs, DVDs, magazines, notepads and pens to keep troops entertained while not working.
3. Pack Items: After you've found the items you want to include in the care package, take time to pack them individually (preferably in sealable plastic bags), then sort them into a box no more than 130 inches total combined length and width. Ensure the package does not weight more than 70 pounds. A USPS Flat Rate Box will help you save money on shipping.
4. Label Package: Once the items are correctly packaged, you will need to add the correct military address. Packages will pass through the MPO (Military Post Office) to be processed and must contain the correct information to ensure they reach the correct military member.
5. Mail Your Package: Packages are sent via the U.S. Postal Service. Be sure to designate your package as "Priority Mail" as this is the only way military items are shipped.
Dos and Don'ts of Veterans Day Care Packages
Before you get started, keep these dos and don'ts in mind:
Do follow the shipping guidelines exactly. If you don't, the package could take eight weeks or longer if mailed during the holiday season to reach your intended recipient.
Don't mix food with non-food products. If you plan to send both food and hygiene or other products, the items will need to be separated into different boxes. This is because even sealed foods taste pretty awful after being stored with soap or other products in extreme heat for weeks.
Do check military boards. Very often, military personnel take to websites to show appreciation for the items they've received while also listing additional items they need. You may also be able to find personnel to send new packages.
Don't mail inappropriate items. Sending perishable foods or candies that will melt are not recommended since the mailing process takes so long. Also, keep in mind that alcohol, firearms and other weapons are not permitted in care packages. Finally, don't send any products in aerosol spray cans as they may be considered harmful.
Do find a sponsor if you're busy. If you find that you're too busy to put together your own package, consider finding a sponsor to pack and ship items for you. Some sponsors to consider are TreatAnySoldier.com and USO.org.
Sending Items on a Budget
If you're working on a budget but still want to make a difference for troop members, plan how much you want to spend ahead of time. Here are some ways to stick to that budget:
1. Visit a dollar store: There are tons of dollar stores (those that really charge $1 for every item) that can get you the basics you need to include in the package.
2. Use coupons: If there are items you'd like to send that you can't find in the dollar store, don't be shy about clipping coupons to save money. Also, don't forget to shop generic when you can.
3. Make personal gifts: If you have children who want to contribute, have them draw pictures for troops to show their own appreciation.
4. Send unlocked cell phones: You may have one or more unused cell phones laying around the house that you no longer use. Add them to your care package to give troop members and opportunity to set up service and talk to loved ones.
5. Pack video games and players your kids aren't using: Have your kids already moved on to the next game system since last Christmas? Ship the almost-new device and games that are no longer in use to your troop member!
History of Veterans Day: Honoring Fallen Soldiers

Veterans Day was first recognized on November 11, 1918 as a way to commemorate the living and fallen soldiers of World War I. Since that time, the holiday has undergone a number of revisions to become "a celebration to honor America's veterans for their patriotism, love of country, and willingness to serve and sacrifice for the common good." The final version of the holiday was signed into law in 1978.
In honoring veterans, it's easy to overlook the troops who are currently in combat. So if you want to give thanks to not just veterans, but active troops, consider sending personal care packages. As you can see, many of the items troops need and want can be found in your home. So look around for items that have been barely used then shop for the rest in budget stores and make a servicemember smile this year.