Is Walmart Open on Thanksgiving for Shopping?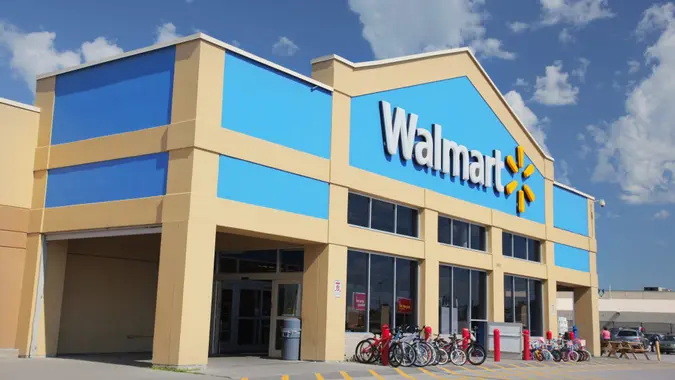 buzbuzzer / Getty Images
Thanksgiving is just around the corner, and so you might be wondering whether Walmart will be open for the holiday in case you need to pick up last-minute supplies for the big turkey day. Here's what you need to know before you head out to a Walmart location on Thanksgiving Day.
See: How To Get Cash Back on Your Everyday Purchases
Is Walmart Open on Thanksgiving?
If you need to do some shopping on Nov. 23, unfortunately, Walmart will be closed on Thanksgiving. You won't be able to stock up on those much-needed supplies, so be sure to get your holiday fixings before then. Walmart will, however, be open the day after Thanksgiving at 6 a.m. if you're looking for some Black Friday deals.
Walmart Holiday Hours 2023
For a majority of traditional or government holidays, Walmart stores are open with regular hours. Although hours can vary by location in some areas, the store hours are typically 6 a.m. to 11 p.m.
The only holidays Walmart fully shutters its doors are Thanksgiving and Christmas Day, with limited hours on Christmas Eve. Below is a breakdown of holiday hours for Walmart in 2023. 
Holiday
Date
Is Walmart Open or Closed?
New Year's Day
Sunday, Jan. 1
Open 6 a.m. to 11 p.m.
Martin Luther King Jr. Day
Monday, Jan. 16
Open 6 a.m. to 11 p.m.
Presidents Day
Monday, Feb. 20
Open 6 a.m. to 11 p.m.
Good Friday
Friday, April 7
Open 6 a.m. to 11 p.m.
Easter Sunday
Sunday, April 9
Open 6 a.m. to 11 p.m.
Memorial Day
Monday, May 29
Open 6 a.m. to 11 p.m.
Juneteenth
Monday, June 19
Open 6 a.m. to 11 p.m.
Independence Day
Tuesday, July 4
Open 6 a.m. to 11 p.m.
Labor Day
Monday, Sept. 4
Open 6 a.m. to 11 p.m.
Columbus Day
Indigenous Peoples Day
Monday, Oct. 9
Open 6 a.m. to 11 p.m.
Veterans Day
Saturday, Nov. 11
Open 6 a.m. to 11 p.m.
Day Before Thanksgiving
Wednesday, Nov. 22
Open 6 a.m. to 11 p.m.
Thanksgiving Day
Thursday, Nov. 23
Closed
Day After Thanksgiving
Friday, Nov. 24
Open 6 a.m. to 11 p.m.
Christmas Eve
Monday, Dec. 24
Open 12 a.m. to 6 p.m.
Christmas Day
Sunday, Dec. 25
Closed
Day After Christmas
Tuesday, Dec. 26
Open 6 a.m. to 11 p.m.
New Year's Eve
Saturday, Dec. 31
Open 6 a.m. to 11 p.m.
Make Your Money Work for You
When Is Walmart Closed?
Walmart is closed on the following holidays:
Thanksgiving
Christmas Day
Walmart's Holiday Return Policy
Walmart's return dates are extended for gifts purchased between Oct. 1 and Dec. 31. The last day for holiday returns is Jan. 31, 2024. These are the return windows for certain items:
Major appliances: 2 days
Marketplace luxury items: 14 days
Wireless phones: 14 days
Walmart protection plans: 30 days
Holiday Hours
Final Take To GO
Walmart has you covered for all of your holiday needs. Many of its locations are open at hours at your convenience, no matter what your schedule looks like. You can get your travel supplies for the long weekend ahead of time. Or, if you need to run out for party favors at the last minute, you won't need to worry about forgetting anything. Just remember that the doors will be closed on Thanksgiving Day.
Editorial Note: This content is not provided by any entity covered in this article. Any opinions, analyses, reviews, ratings or recommendations expressed in this article are those of the author alone and have not been reviewed, approved or otherwise endorsed by any entity named in this article.
Melanie Grafil and Bernadette Steele contributed to the reporting for this article.
All holiday hours were confirmed as of Nov. 15, 2023. Check with your local retailer to confirm specific hours. Hours and policies are subject to change.