9 Ways to Help Earth (and Your Wallet)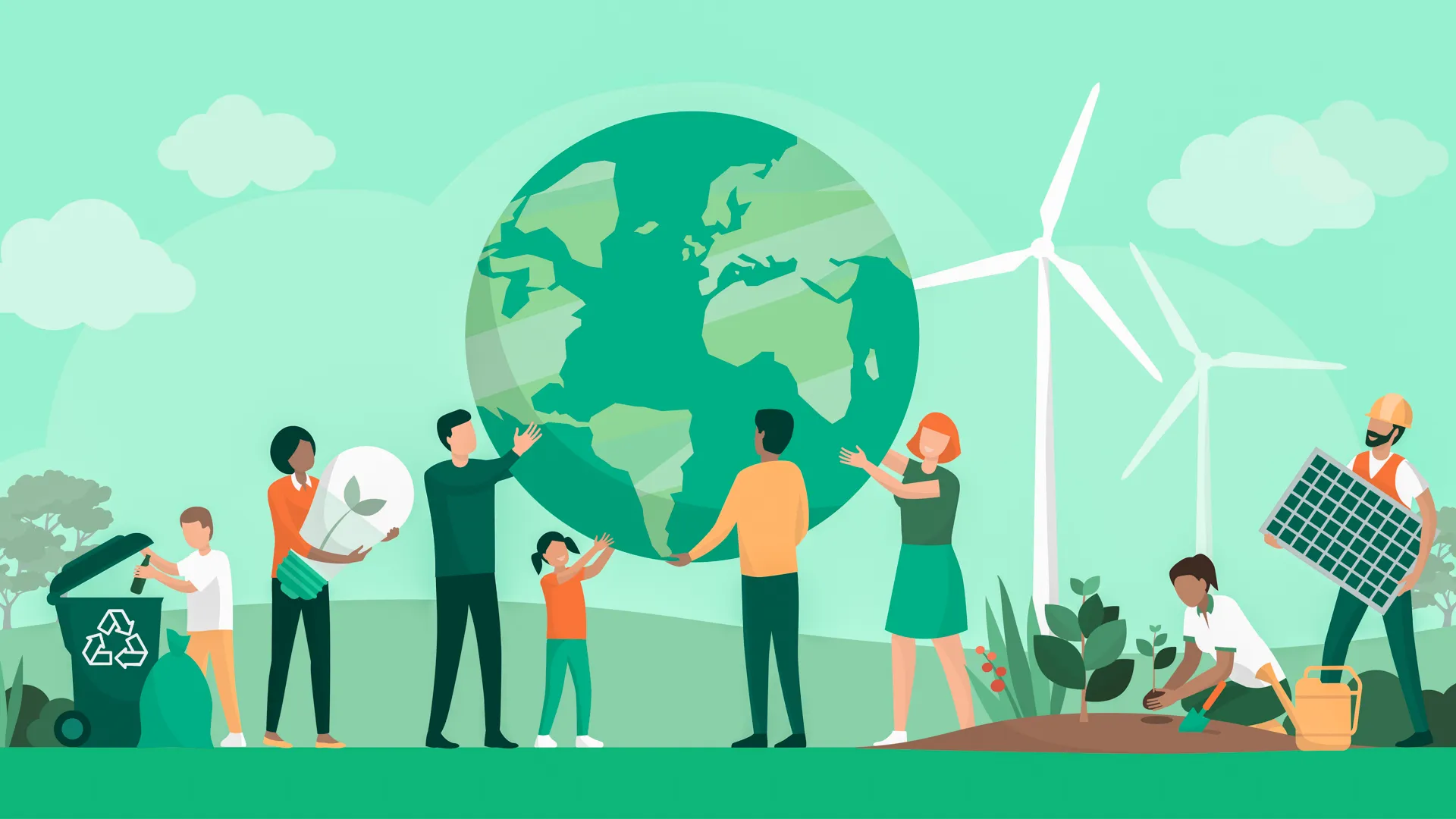 Even for the most dedicated, sometimes it can seem like adopting more sustainable and eco-friendly habits requires spending more money for higher-priced goods and services. 
While it's true that responsibly made products often cost more to both make and buy, there are plenty of ways that living sustainably can actually save you money. Some are easy changes or adjustments that deliver immediate savings. For others, you may have to invest a little more up front – but you'll come out ahead in the long run. 
Whether you're on a solo mission to do better for the planet or shaping habits for a whole family, this Earth Day is a perfect time to start some new daily routines that are green in more ways than one. Here are nine easy ways to get started. 
Go Meatless on Mondays (or More)
Meat production creates twice the emissions of plant-based foods, according to a recent study published in the journal Nature. Methane gas from cow manure, the massive amounts of food required to fatten livestock and the deforestation of land for grazing are all contributing factors.
Meat and dairy also happen to be the grocery categories seeing the biggest recent spikes, with beef prices up 16% over a year ago and other meats, poultry, eggs and dairy not far behind.
You don't have to go vegetarian or vegan to make a difference. If everyone in the U.S. just reduced their meat consumption by 25%, it would cut greenhouse gas emissions by an estimated 82 million metric tons per year. While the environmental impact may not be immediately tangible to the average consumer, you'll certainly notice a difference in your grocery budget. 
Make Your Money Work for You
Reduce Your Food Waste
We toss out an estimated $1,500 worth of food each year (per family of four). Not only is that money you could be spending on better things (like energy efficient appliances), but the environmental impact of that wasted food is exponential. 
Significant C02 emissions are caused by the production, transportation and handling of food — and the U.S. wastes up to 40% of the food it produces every year. Once in the landfill, all of that food doubles down on global warming by releasing methane. 
A few simple ways to curb your food waste: 
Check the fridge or pantry before you shop to make sure you're not buying things you already have.
Plan your meals weekly to maximize usage of the ingredients you're purchasing.
Freeze your extras with clearly labeled names and dates. 
Don't rely on expiration dates to tell when food has gone bad. Use your nose and eyes instead. 
Eat From Your Garden
A single package of seeds probably won't cost you more than $3, and each of those packs contains dozens of servings of fresh produce, whether you want to plant a simple patio herb garden or a backyard full of corn, peas, tomatoes and fruit trees complete with a chicken coop. The math of how much you'll save at the store is obvious.  
As far as doing better for the planet with your garden, you can't get any more local than your own backyard. You're eating food that hasn't traveled across land and sea to get to the store, and the fewer car trips you make to the store, the better. 
Use a Rain Barrel
If you live in an area where it rains, installing a rain barrel or two beneath your drain pipes puts them to work collecting water throughout the rainy season, filling up for when you need to irrigate your garden in spring and summer. 
That's money directly off your water bill, and fewer resources used during the hotter and drier months, when water is increasingly precious in parts of the country.
Make Your Money Work for You
Bulk Up
The bulk aisle at the grocery store is full of options to stock your pantry, from grains, beans, pasta and flour to spices, candy, oils and even pet food. Bulk prices are typically cheaper than buying the same items in brand-name packages off the grocery store shelves. 
Making a habit of bulk buying also can greatly reduce the amount of unnecessary packaging you use and throw away over time. Some stores will allow you to bring in your own clean and pre-weighed containers like mason jars, meaning no wasted packaging at all. And even if you're buying large quantities of bulk items at big box warehouse stores, you'll still win with more volume per package and lower prices per unit. 
Reuse, Reuse, Reuse
Single-use items are out, with large-scale trends heading in the right direction. Cities such as Seattle recently have passed laws banning restaurants from including single-use utensils and straws in takeout orders, while the EU has banned these and a host of other single-use plastic items altogether.
Alternatives to single-use items abound, with money saved to boot. To name just a few: 
Use a refillable water bottle instead of buying bottled water, and install a tap filter on your faucet, if necessary. 
Store your snacks and food leftovers in silicone storage bags or wrapped in reusable beeswax food wrap. You'll pay more up front for these items; but, by not buying box after box of plastic zip bags and plastic wrap, you'll save money over time. 
Bring reusable cutlery with you for takeout food and ask restaurants to leave them out of your orders. 
Make Your Money Work for You
Green Your Laundry Routine
Getting your clothes clean can be rather dirty business for the environment, from the water and energy it consumes to the detergents you use. Fortunately, many of the improvements also will save you money on your energy and water bills. 
Wash less often, only when clothes are dirty and you have a full load.
Wash in cold water whenever possible.
Skip the dryer and line dry your clothes outside (or just dry for 10 minutes in the machine to get the stiffness out, then air dry).
Stop buying dryer sheets and switch to dryer balls to reduce static.
Walk or Bike
Anyone who has had to fill up a gas tank lately is familiar with the cringeworthy prices at the pump brought on by factors like supply and demand imbalances and Russia's war in Ukraine. If sealing the deal on a new EV isn't in your immediate future, the next best solution is to drive less. 
More: Could Surging Gas Prices Lead to Higher EV Sales?
With warmer weather inviting you outside, it's a great time to consider getting to your destination on foot, bike or public transportation. And cutting down on car trips is one of the best ways to directly reduce your carbon emissions. 
Shop Your Closet (Then the Thrift Store)
Fast fashion and trend chasing has fueled a clothing industry that devours natural resources and produces more than 11 million tons of textile waste in the U.S. alone (per 2018 EPA figures).  
Sustainability-minded Gen Zers have flocked to thrift stores to keep their wardrobes looking fresh without the eco-guilt. That is certainly significantly better and cheaper than buying new. The thrifting industry, however, has problems of its own, taking in more castoffs than it can sell with some 80% of donations being shipped overseas or recycled using more resource-heavy processes. 
More From GOBankingRates