7 Ways To Save $1,000 in Time for Holiday Shopping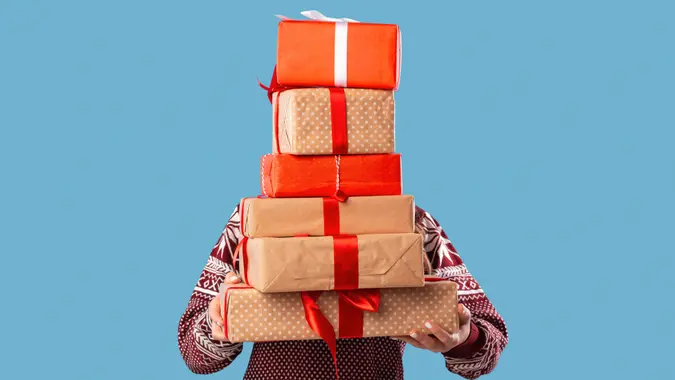 Prostock-Studio / Getty Images/iStockphoto
The holidays are approaching, and with them, the spending frenzy that comes each year. The first and most important financial step this time of year is looking at places where you can save or make more money, according to experts.
If you want to beef up your holiday spending budget, Jake Hill, finance expert and CEO of DebtHammer Relief, suggests trying some aggressive saving strategies to amass an extra $1,000 before the season begins. "One of the best ways to do this is to make large cuts to your non-essential spending," he said, noting that something as simple as cooking all of your meals at home or skipping your morning coffee shop run can give you more funds available for savings.
Experts agree that saving $1,000 in a short period of time requires discipline, planning and a bit of creativity. By following these tips, you can build up your holiday fund and enjoy the festive season without added financial stress. Remember, every small step towards saving contributes to your larger goal.
Here are some ideas to help you on your way.
Plan Ahead and Budget
Once you know where your money is going, you can start to make adjustments to save more. There are many different budgeting apps and tools available, so find one that works for you and stick to it. 
According to Ricardo Pina, finance expert and founder of The Modest Wallet, it's always a good idea to plan ahead and create a budget for any major spending, including holiday gifts.
Make Your Money Work for You
"This will help you stay on track and avoid overspending," he explained. "Start by setting a realistic budget for each person on your list, prioritizing who needs the most expensive gifts." He recommends making sure to account for additional costs such as wrapping paper, cards and shipping fees. "Stick to your budget as much as possible, and if you find yourself going over, try to make adjustments in other areas to balance it out."
Cut Down on Some Expenses
Cut off any costs that aren't important or required in your everyday life. Remember: you don't have to do this forever; you simply have to give up some of the things you can live without for a while to have the holiday budget you need.
It works — it won't put you in debt, and you can even save more than $1,000, which can help alleviate financial stress during the holidays. To start, take a close look at your budget and see where you can cut back. This could mean eating out less, canceling unused subscriptions or shopping around for better deals on insurance and other bills.
Pina notes that one simple yet effective way to save is to reconsider your subscriptions. "If you're signed up to multiple streaming services, magazines or perhaps a gym membership you're underutilizing, consider canceling or pausing these for a few months," he added. "It's surprising how these monthly expenditures add up."
Dining out or ordering takeaway is another area where you can make easy cutbacks. "Try to plan your meals for the week and opt for homemade dishes rather than expensive takeout or restaurant meals," Pina said. "Remember, every little bit helps, and these savings can quickly tally up to a significant amount."
Make Your Money Work for You
Shorten Your Gift List
Not everyone on your list needs a present, said Pina. "It's always nice to show appreciation and give gifts, but sometimes it's simply not feasible."
He explained that if you feel like you have too many people on your list, try cutting it down by only giving gifts to immediate family and close friends. Consider low or no-cost options for some of your list. "You can always send a heartfelt card or make homemade gifts for those you have to cross off the list."
Use Discounts and Coupons
Take advantage of discounts and coupons whenever possible. Pina notes that this goes not just for holiday presents but also for everyday purchases. Keep an eye out for sales, promotions and coupons in stores or online. You can also use browser extensions that automatically apply discounts at checkout.
"Don't be shy to negotiate for a better price, either. Many retailers are open to haggling and may offer you a discount if you ask," said Pina. "You can save a considerable amount of money by being savvy with your purchases."
Sell Unused Items
Another great way to quickly save $1,000 is by selling any unused or unwanted items in your home, Pina continued. "Maybe you can have a garage sale, list items on online marketplaces or try consignment shops." He noted that doing this will not only help you earn extra cash but also declutter your space. "It's a win-win situation!"
Ann Martin, director of operations for CreditDonkey, added that if you have giftable items like books, video games, clothes or handbags, now is a great time to sell them on secondary markets like Facebook marketplace. "People will be looking for affordable holiday deals, and someone else's holiday shopping could help to pay for yours."
Take on a Side Hustle
If you have some spare time, consider taking up a side hustle to earn extra money. This could be anything from freelance work to driving for ride-sharing services or selling handmade products online. "Be creative and think about what skills or hobbies you have that can generate income," Pina urged. "While it may require some extra effort, the additional income can go a long way in helping you reach your $1k goal."
Martin agreed, noting that a side hustle like Uber could help you get there faster. "You'll need to come up with roughly $200 per week. To put that in perspective, rates for driving [for] Uber vary a lot based on location and time of day, but the nationwide average pay is about $20 per hour," she explained. "That works out to 10 hours a week of driving between now and the holidays."
Set Up Automatic Transfers 
Hill suggested automating your savings by setting up automatic withdrawals at relatively frequent intervals. For example, he recommends setting up a recurring withdrawal for every other Friday to take advantage of your bi-weekly paychecks. 
"Saving small amounts more frequently can be much easier for most people than trying to save one lump sum every month," he said.
More From GOBankingRates