6 Ways To Save Some Green This Saint Patrick's Day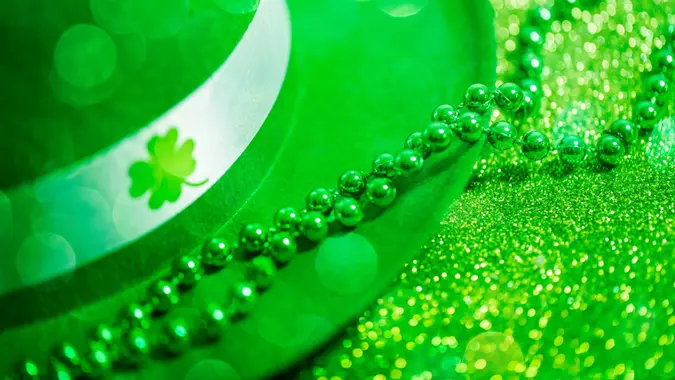 LPETTET / Getty Images/iStockphoto
Are you feeling lucky? Are you feeling Irish? Are you feeling like getting into the spirit of Saint Paddy's Day?
No matter how you choose to celebrate Saint Patrick's Day on March 17, you'll probably want to do it by saving some green. A lot of restaurants and stores are offering great deals for Saint Patrick's Day, but that doesn't mean you have to spend your pot o' gold outside the house.
You don't have to have a four-leaf clover to get lucky when it comes to saving money this Saint Patrick's Day. Let GOBankingRates be your leprechaun guide to saving some green as you toast to one of the most well-known patron saints of Ireland.
Decorations
You can always feel lucky when you shop at Dollar Tree, but especially lucky that you're saving so much money on all of their Saint Patrick's Day decorations, which you can pick up for a fraction of what they cost elsewhere.
Make Your Money Work for You
Get some 18-inch green star-shaped foil balloons, a 12- by 13-inch Saint Patty's Day burlap and metal wall decor shamrock sign, or a pack of Saint Patrick's Day glitter gel window clings — all for only $1.25 each.
Clothing
Get ready to turn your home into a festive Irish cottage while keeping a little something in your pot at the end of the rainbow. 
If you need some deals that sham-rock this Saint Patrick's Day, make sure to check out The Irish Store, for men's women's and kids' apparel that will make sure no one pinches you for not wearing green. 
The Irish Store is offering free shipping on orders of $99 or more with code FSP99 until March 18, 2023.
Corned Beef
You might be tempted to find your favorite local Irish pub offering up a traditional Saint Patrick's Day meal: corned beef and cabbage. Or you might salivate at the thought of having a famous deli like Katz send you a pound of their briniest meat. But all of that adds up to you not having any money left to party the rest of the day.
Make Your Money Work for You
Instead, consider picking up some corned beef that you can prepare at home, with little to no extra prep work. Walmart has a 12-ounce can of Great Value Corned Beef for $3.88 or you can feed the whole family with a 4-pack for $15.22.
Cabbage
The second ingredient you should not spend extra green on is cabbage. In fact, you should opt for white cabbage to celebrate Saint Patrick on your dinner plate.
Traditionally, a cabbage dish served this time of year in Ireland is known as  "colcannon," a derivative of the Gaelic term "cal ceannann," and usually is combined with mashed potatoes. When you stop by Walmart for your Saint Patrick's Day shopping, you can grab a 15-ounce can of Margaret Holmes Seasoned Cabbage for just $1.42.
If you plate it with the corned beef you picked up at Walmart, that's a full meal for under $6.00
Irish Coffee
In 1943​, Chef Joe Sheridan invented the Irish Coffee, saying it had "cream as rich as an Irish brogue, coffee as strong as a friendly hand, sugar as sweet as the tongue of a rogue, and whiskey as smooth as the wit of the land."
Why not pick up all of the ingredients you need to make a few strong cups for all of the lads and lassies who are of age to raise a glass? 
Make Your Money Work for You
Costco is offering a 2-pack of Jose's 100% Organic Mayan Whole Bean Coffee for $39.99 during March while BevMo's new GoPuff service can deliver a 750 ML Tullamore Dew Irish Whiskey straight to your door for $17.99, which means you can celebrate safely right from your own home.
Irish Beer
If the brown liquor bites too much, consider popping open a bottle of your favorite Irish beer to celebrate Saint Patrick's Day. 
BevMo currently has a 12-pack of Guinness Draught Irish Dry Stout beers on sale for $16.99. This iconic beer comes with an infusion of nitrogen and carbon dioxide levels for a "flavor like it was drawn from a tap."
If you are in the mood for green beer, why not grab a 12-pack of Corona Extra for 15.99 at BevMo, then add a few drops of food coloring to get the shade of green that will make you say "Erin Go Bragh."
More From GOBankingRates
Make Your Money Work for You